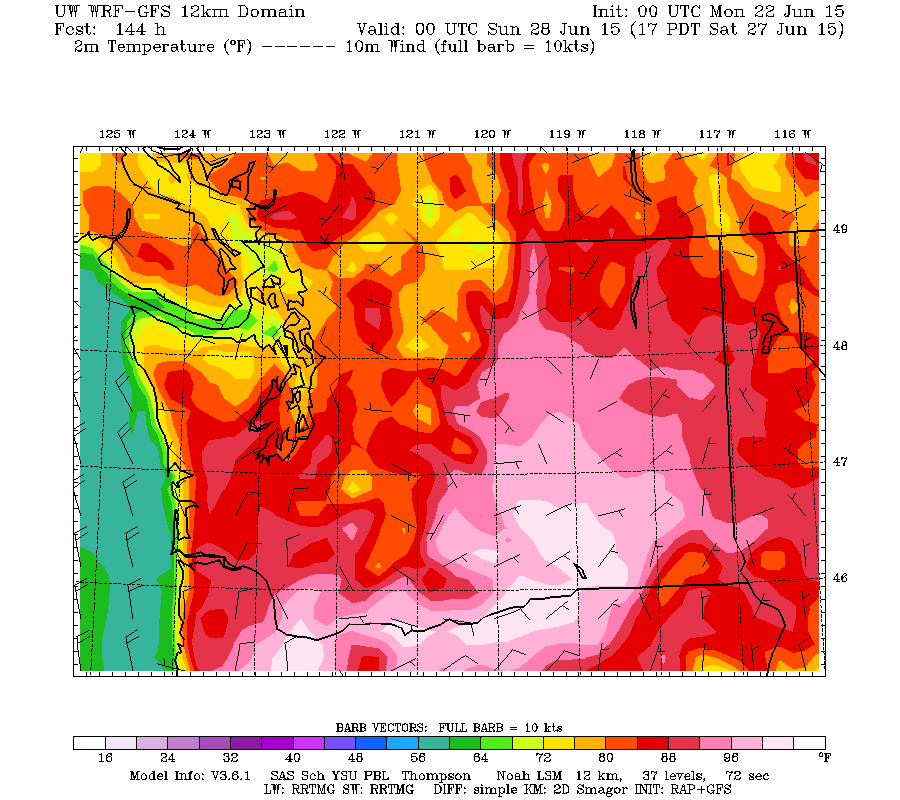 We will definitely start warm and sunny this week. There is a slight chance of showers on Wednesday afternoon, but the way things have gone this month I would not put a lot of weight on it.  I will keep an eye on that chance today and tomorrow to see if the models are more consistent than they have been.
Pleasant start to the week… Getting Very Hot on Weekend
We should stay in the 17-25º C range for most of the week.  However, there have been rumblings in the long range models that we could get into a heatwave starting Saturday and Sunday and the UWash model is starting to see that as well.
For comparison here is today's high which is actually only predicted to be up to 18ºC on this chart though I think that is a little conservative.
Here is the chart for Saturday afternoon.  Serious heat has come up from the South with highs up to 31ºC on the Island and 33º C in the Fraser Valley (which could be where we get to as well).
The numerical graphs from the Canadian GEM and US GFS models agree. (click for full size)
The Canadian forecast has the heat peaking Sunday at just over 30º C.
The US GFS model is a little more extreme and late with the heat peaking on Monday near 35º C with heat index approaching 40º C (100º F)
These are still a long ways out so do not take them as gospel, but the fact the two different models agree does give them more weight.
Below is a 16 day composite of many models.  They do a poor job of estimating maximum temperature for our small area however, the overall trend is valuable information.
We can see the heat peaking on Sunday (agreeing with Canadian model) but not backing off a whole lot. The uncertainties stay on the high side until Wednesday July 1.  They back off on the 2nd/3rd and then come back strong the 4th, 5th, and 6th.  We will see how it plays out.
Have a great Monday!