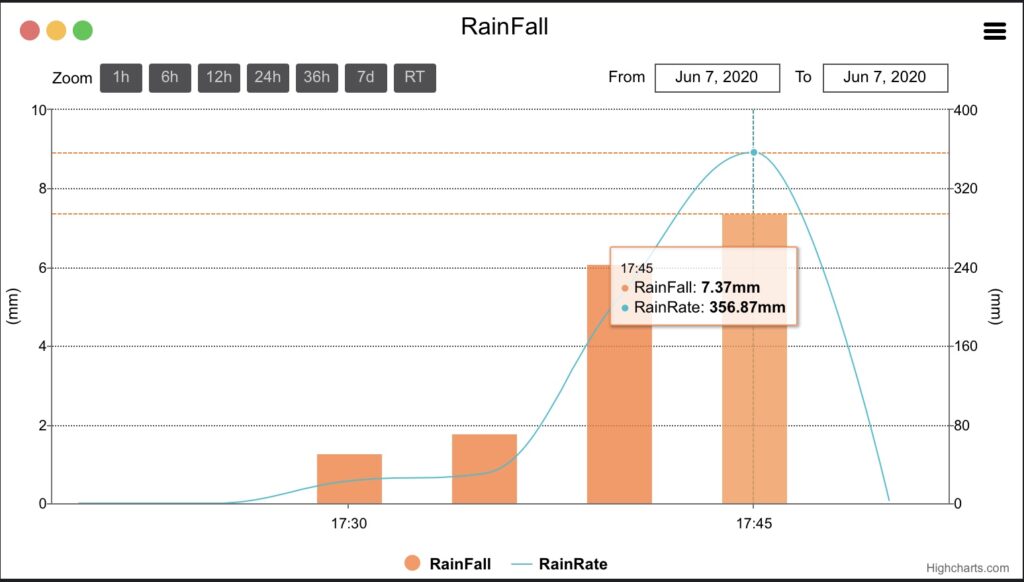 So we had some rain Sunday
It wasn't a lot for a whole days worth… but it was a lot for a few minutes!
Here's the proof:
That might not look like much, but we got about 16 mm (2/3 of an inch) in the 20 minute period between 17:25 and 17:45 on Sunday. And the majority of that, about 13 mm in just 10 minutes.
Let's break it down further (note you can get to the actual graphs I am using to see the data yourself by going to the Data View on the front page and tapping/clicking on the weekly link under the rain gauge. You zoom in with a pinch out or drag.)
Take the second bar in the graph. It shows just under 2 mm in five minutes and a peak rain rate of 30.23mm/hr.
Under normal circumstances that would be considered a heavy rain. Rain rates of 15-30mm/hr are pretty common during a winter storm. Environment Canada usually issues rainfall warnings if we expect to see 50 mm in 12 hours or 100 in 24.
Now look at the next bar! 6.1 mm measured in 5 minutes and a rate of 209 mm/hr!
But then it intensified and the biggest accumulation saw 7.37 mm in 5 minutes or 356 mm/hr!
That is 10x more than what we would normally consider a heavy rain. This was truly torrential.
I did a little searching and found this article from the NOAA about typical tropical storm rainfall.
Tropical storms and hurricanes or their remains are capable of producing extremely heavy rainfall and often produce serious flooding and flash flooding. A presentation by Rusty Pfost documented some of the more impressive rainfall associated with tropical cyclones. He notes that rainfall rates of up to 6 inches [152 mm, 15cm] per hour have been reported and that 43 inches [1000mm, 1 metre] of rain was reported in 24 hours at Alvin, Texas as a result of the remains of Tropical Storm Claudette. Flooding resulting from the rainfall associated with tropical systems accounted for 292 deaths during the 1970-1999 which was 59% of the total deaths from tropical systems (Rappaport et al. 1999).

https://www.wpc.ncep.noaa.gov/research/mcs_web_test_test_files/Page1637.htm
So by that source what we experienced was just a little taste of what can come from Tropical Storms or Hurricanes. Given how many reports there were of our streets and sidewalks turning into raging rivers in central Port Alberni, it is no wonder people were so impressed.
Alberniweather has certainly never seen anything like it since 2005.
The Island Weather station at Alberni Elementary saw a similar amount but seems to have missed or been left out of a bit of the downpour and measured it just a bit earlier.. It measured about 10mm in 10 minutes.
Suffice to say, we got plenty of rain. If you want to see some videos check out Sunday's blog post and also check out the CTV link here where they gathered a bunch of video as well.
On to the forecast. Rain Tuesday
It might seem like nothing much but we are expected to get some reasonable rain amounts. 15-20mm in the next 24 hours. (Rather than 15 minutes!)
Below is the imagery going from Monday 2-5AM to Tuesday night. It begins across the Island in the 2-5AM period, intensifies in the early morning and then tapers off before noon. However, showers linger, particularly around central VI, into Tuesday night.
The last image shows more showers Wednesday morning too, the gardens really do not need any water this week.
For the most part the action should be over by Thursday and we should see some nice sunny breaks. But it won't warm up just yet. There are not any expected dry spells for at least the next week.
But at least there aren't any more torrential thunderstorms forecast either!