Monthly Summary February 2016 – Records – El Niño and looking ahead to end of storminess.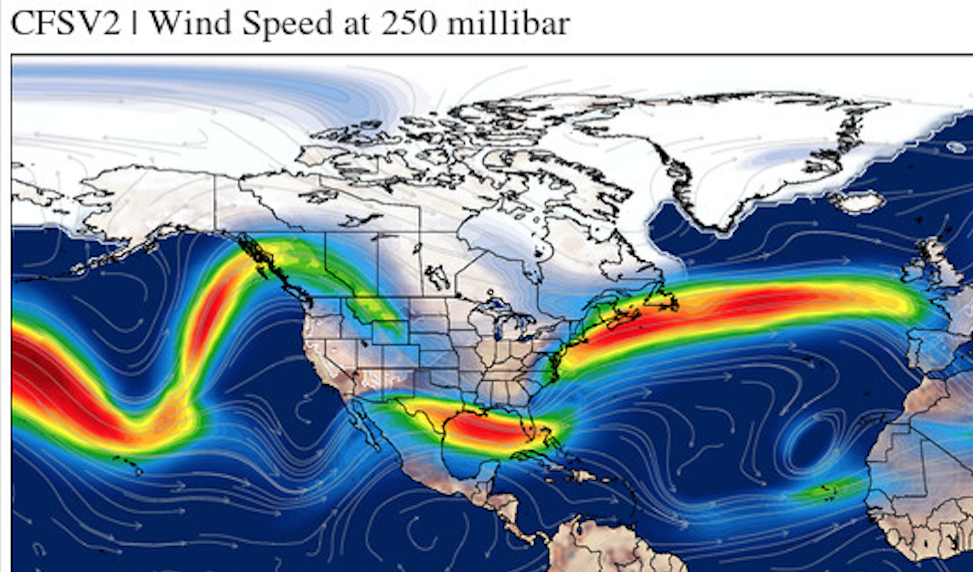 An Above Average February dwarfed by 2015 but still well above average.
While it wasn't quite as extreme as February 2015, this February did deliver one possible all time daily record for high temperature.  See down in the records section for more on that and the incredible (and probably false) reading from 1916!
We continue to struggle with reliable readings from the Alberni Airport weather station, especially for rainfall. However, that didn't stop us from recording average temperatures around 2ºC higher than normal, with 3º C or so in town.
We set a new station record on February 5th for rainfall with 61 mm measured.  It was 2nd only to a reading of 90mm for that day in 1963.
Lots of info below!  Enjoy!  I will have a regular post tomorrow morning.
---
El Niño update
The March El Niño update will be posted next week.  However, I expect it to say much the same as the February 11 update.
A transition to ENSO-neutral is likely during late Northern Hemisphere spring or early summer 2016, with a possible transition to La Niña conditions during the fall.
The long range outlooks from global models further down this post support this transition to a 'neutral' El Niño.  It appears to be happening quite rapidly in fact.  I would not be surprised if they declare the 2015/2016 El Niño officially over as of April's update.
This graphic below (from here) is a little difficult to get your head around at first, but it shows the progression of El Niño quite well as expressed by Outgoing Long Wave Radiation.  In other words, this is how much more or less heat than normal the earth is sending back to space from the El Niño region. (likely in Watts per square meter)
Basically look at it from top to bottom in slices in line with each month.  Each slice is the region of the Pacific where El Niño presents itself and the different colours show the warm and cold areas of ocean.  You can see El Niño strengthen from about July and peak in January with areas of red.  At the bottom of the graphic, February and March show it backing off considerably.

I also had a question from a reader asking why El Niño seems not to have sent rain to California as it normally should.  It is due to the Subtropical Jetstream usually strengthening while the Polar jet weakens during an El Niño.  That has not happened uniformly this winter, which is why we haven't seen the constant rain in California.  However, over the past week the two jets have actually been very close together and now California is bracing for very stormy weather down there.
Here is the JetStream today.  Notice the polar and subtropical merge off of Japan and then split again over North America.
If you go to the Climate Reanalyzer and check out the daily maps for the jetstream (250mb) over the past couple months you'll see this pattern most often.

Notice the jet splitting and going high to the north and well south of California into Baja and Mexico.
There have only been about 3 period, around Christmas, the end of January, and now, when either the sub tropical (southern) jet was aimed squarely at California.  I don't know whether this is normal or not.
---
Well Below Average Snowpack Seems Huge
The latest snowpack survey and commentary has not yet been released by the River Forecast centre.  That should come this week and I'll post it in one of my regular posts.
The snowpack data continues to show (dark blue line) below normal snowpack for this time of year.  But again compared to last year which was essentially zero and will be the 'minimum' of record from this point on, this is huge.  It is encouraging to at least see some recovery.
---
Outlook — Gradually improving.
Here are the 16-day GEPS consensus graphs from SpotX.  It looks like the stormy pattern may continue for at least another week as we have about 150mm of rain forecast to come our way in that time and some hints at strong winds as well (particularly on Wednesday).   It then drops to around 50mm over the following week with some hints of temperatures nearing 20ºC  to start spring break on the 19th and less cloud cover.


Three-Month Forecasts 
North American Multi-Model Ensemble (NMME) 3-month Temperature, Precipitation and Sea Surface Temperature.
The heat in Canada, is now set to back off for the next 3 month period (April May June), which has to be a relief.  Rather than the 3-4ºC higher than normal anomalies predicted for the January/February/March timeframes, we are now seeing "only" 2ºC warmer than normal forecast.  Still way above normal, but at least not to the ridiculous, and presumably El Niño pumped extreme.
Here is the January run (we missed the February run!) which was very extreme in predicting near-term warmth.  It is quite a difference, which is a good thing.
Here is the Precipitation Forecast for the next three months.  Similar to the temperature forecast, the intensity has backed off.  We now see more areas of wetter than normal precipitation throughout the continent except most notably in our specific region.  Still not a great forecast for the runup to fire season but better than the previous months.
Last month's (actually from January!) forecast for the previous 3 month period. Notice the Island has no colour, indicating normal.  Which is what we got in February.
You can see in the December forecast how much drier the previous 3 months were expected to be.
Global seasonal forecasts
Global Temp and Precip Spring, Summer, Fall and/or Winter forecast from current and last month runs (generally only 1 of 2 seasons are within the forecasts).
This months forecasts: Summer 2016.  The forecasts for summer have not changed a whole lot.  Still remain warm, and near normal precipitation.
Here is the last forecast for the same season.
Sea Surface Temperature next 3 months
And finally the Sea Surface Temperature anomaly for the next 3 months. Compared to the two previous forecasts, El Niño is definitely slated to go away now.  Receding into memory.  However, it is worth noting that the abnormal warm waters off North America's West Coast remain strong.  And anomalies in Alaska north of the panhandle and in the high Arctic over Europe are very strong.
Last months' forecasts.
That's it!
---
Monthly Timelapse Video
---
Daily records set this month at the Airport (and compared to other stations* for "All Time")
Two new Airport high temps, two rain, including 1 possible all time high temp records.
February 5 rain 61.8 mm : #1 was 90.5 mm in 1963 at Port Alberni City. 
February 12 high 11.8º C: #1 is 15.0º C in 1907 at Beaver Creek.
Possible All Time Record: February 25 high 14.5º C : #1 is 21.7º C (!!) in 1916 at Beaver Creek.
February 28 rain 23.8 mm: #1 is 94.7 mm in 1946 at Port Alberni City.
(!!) This Beaver Creek high temperature was so high that I checked all stations within 200km of Beaver Creek to see if any others got close.  The highest was 16º in Ucluelet and Britannia beach in Vancouver on the 26th, 1916, not the 25th (it got up to 20ºC in Port Alberni on the 26th).  Is it possible Port Alberni got more than 5ºC warmer than anywhere else?  I find it hard to believe especially when the extreme highs are very consistently in the 15-16ºC range in Port Alberni.  So I think we should count that as an all time high for the date.
*Short Term (since 1995) Airport Records are compared to the 30+ year weather stations of record since 1895 at Beaver Creek, Port Alberni City and Robertson Creek.
---
February 2016  Minimum, Overall and High Daily Average Temps See last month's and last February's summary.
Alberniweather: 3.2º C, 5.5° C, 9.1º C
Alberni Elementary School : 3.1º C, 5.5º C, 9.1° C
Maquinna Elementary School: 2.9º C, 5.1º C, 8.5° C
Neptune Canada Station: 3.4º C, 5.6º C, 9.1° C
Overall City Average: 3.2º C, 5.4 C, 9.0º C
Environment Canada Airport: 1.6º C, 5.1° C, 8.5º C
1981-2010 EC Normal (Robertson Creek): -0.6º C, 3.0º C, 6.6° C
---
Precipitation for February 2016:
Alberniweather: 222.2 mm
AES: 214.8 mm
MAQ: 211.8 mm (Maquinna down, using Nick who lives close by)
NEP: NA (not measured)
Overall City Average: 216.2 mm
EC: (Not Relevant 10 Days Missing Data! 216 mm measured)
1981-2010 Env Canada Normal (Robertson Creek): 239.6 mm
---
City Stations Temperature Difference from normal:
3.8° C, 2.4º C, 2.5º C
Official (Airport) Temperature Difference from normal:
 2.2º C, 2.1º C, 1.9º C
City Stations Precipitation difference normal:
 -23.4 mm (90.2% of normal)
Official (Airport) Precipitation difference from  normal:
 NA

---
Days of Precipitation for February 2016*
>= 0.2 mm:  Normal: 17.2 : This Month: 25
>= 5 mm:  Normal: 10.2 : This Month: 9
>= 10 mm: Normal:  7.5 : This Month: 8
>= 25 mm: Normal: 3.2 : This Month: 1
*Denotes incomplete official Airport station data so using data from Alberni Elementary.
---
Comparison to recent months of February at Alberniweather