Model increases Rain total, Mother Nature delivers likely record. Family Monday dry at least :)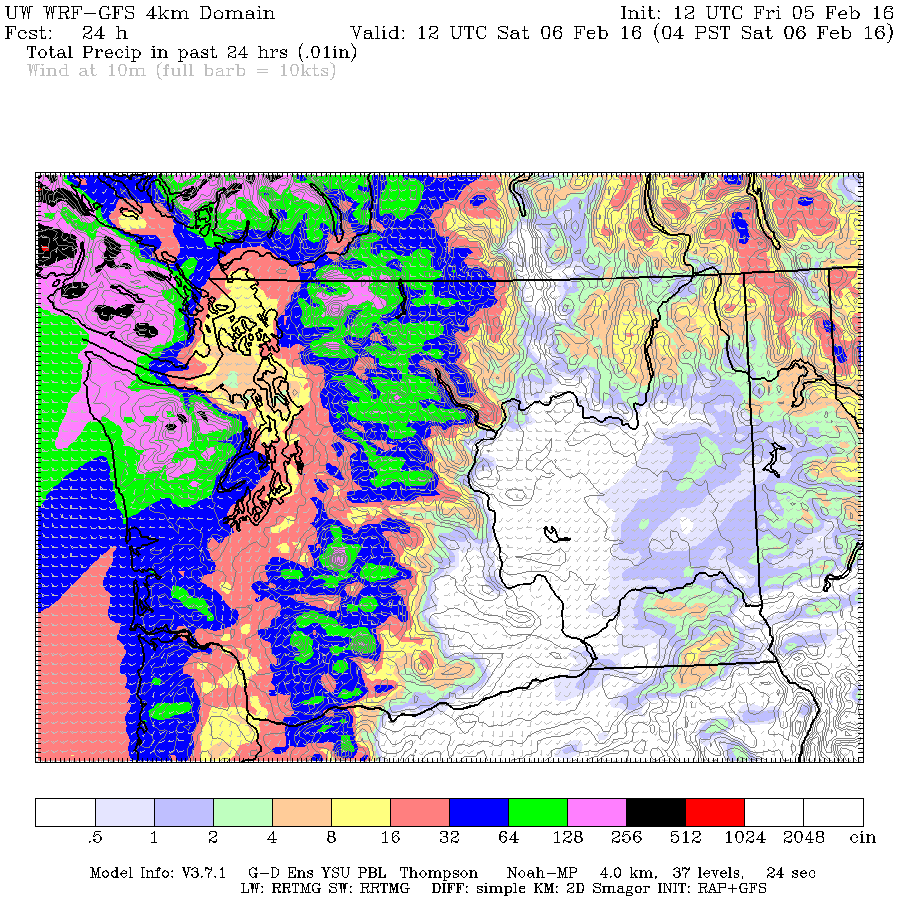 For the second time in two weeks, the UWash model has underestimated the amount of rain expected… it happened last wednesday too when we got a near record all time daily amount and we are on our way to another one now.
The record at the Airport was set on this day in 1996 at 43.4 mm. Alberniweather has received 39.9mm so far so it is very likely not only that the Airport has received that but also received more which would put it at or over that record.  The all time record for the day is 59 mm set in 1952.  We are unlikely to reach that but you never know.
This amount of rainfall was unexpected, neither the UWash model I posted yesterday nor the EC forecast expected more than 30mm.  But this mornings UWash run (which completely around 9AM) bumped up its forecast for 4AM Friday-Saturday to up to 60mm. (Pink instead of green)
The peak of the rainfall should have passed by now according to the model and it should taper off and then stop by 7PM tonight.  There will be some lingering showers off and on overnight and through Saturday.  Sunday will see anoer weaker (predicted!) rain storm move through Sunday morning.  Family Day monday looks dry!
Fingers crossed! 🙂
Website now Hacker free.
I want to apologize again for the malware that managed to get onto my website over the past month.  It has caused a lot of problems both for people viewing the website and for me trying to be rid of it!  I can confidently say now not only that it is clean (see image below) but that I also have new software installed that is constantly monitoring and blocking nefarious hackers from messing with the website.  (I get at least a dozen notifications a day!) You may still get a message from your browser or anti virus telling you there is a problem but this should go away soon and if it has not please add the page to your "safe site" or "whitelist".
if you are ever unsure of "any" website go to the https://sitecheck.sucuri.net web checker and you can check out any address.  Mine is good! Happy Long Weekend!