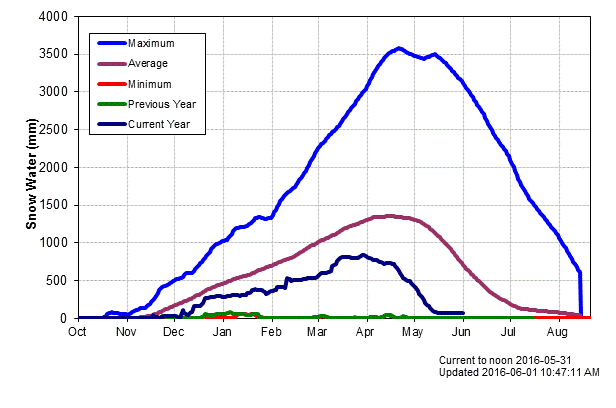 Like last year, very warm and dry May follow same in April.
We didnt set a lot of new short term records at the Airport but we did set at least one of each for high temp, rain and, unusually, a low temperature.  While the highs did come near all time records, the low did not.  The all time low temp record for May 30th when it hit 3.5ºC at the Airport was a chilly -2.2º C in 1950.  We haven't seen frost for a long time.  Instead, our strawberries ripened.
We were 2.5ºC warmer than normal for our afternoon highs both at the Airport and in town.  The most notable stat I think is the rainfall. Even though we set a day record on the 28th for the Airport for rain, we had less than half the normal number of days of rain for May and correspondingly only around 1/3rd of the normal accumulation.
Have lots of info below on the lack of snowpack, the fire danger flip-flop, El Niño/La Niña, and the outlook for the Summer and Autumn months.  And of course, plenty of stats and the monthly time-lapse.
Oh, and have I told you my new webcam should be here by the end of June! *fingers crossed*! 🙂
Enjoy the post and the heat this weekend!
---
Well Below Average Snowpack Declining
The South Island snowpack at Jump Creek (near Nanaimo Lakes) basically melted away as of the middle of May.  Obviously this is below normal for this time of year and won't help the fire or drought situations.
---
Wildfire Situation
Here is the current BC map as of June 1.  Check it out compared to the map at the beginning of May, quite the difference.
The danger has clearly shifted to the West Coast as the drought there has dragged on.  There are thankfully only a few High danger areas and only one station at Extreme (in the NW sector) but that will change after this weekend I am sure.
The fire danger for the Alberni Valley (Beaver Creek) and most of the Island has fluctuated of late.  It will rise with this weekends heat.  Currently we are at moderate and it is forecast to go to High by Monday.
The current  National Map as of June 1 looks much much nicer than the beginning of May below as a whole but there are pockets in BC that we can see starting to dry out particularly on Vancouver Island.  Ontario is the greatest area of concern currently.
Last month:
---
16 day Outlook — Gradually drying.
Here are the 16-day GEPS consensus graphs from SpotX.  We can see the heat peak quickly this weekend and then gradually diminish and stabilize towards mid-month though there does appear to be a chance for warm weather again next weekend. Precipitation through mid month is around 30mm which would put us halfway to our 60mm normal.  


El Niño Discussion from May 12:
Here is the latest El Niño status bulletin from the NOAA
La Niña is favored to develop during the Northern Hemisphere summer 2016, with about a 75% chance of La Nina during the fall and winter 2016-17.

Most models predict the end of El Niño and a brief period of ENSO-neutral by early Northern Hemisphere summer (Fig. 6). The model consensus then calls for increasingly negative SST anomalies in the Niño 3.4 region as the summer and fall progress. However, there is clear uncertainty over the timing and intensity of a potential La Niña (3-month Niño-3.4 SST less than or equal to -0.5°C).
"There is clear uncertainty".  Oh scientists, you crazy!  In other words, they are quite confident there will be a La Niña event but the exact timing and strength of it is still yet to be determined.  Stay tuned!
Three-Month Forecasts 
North American Multi-Model Ensemble (NMME) 3-month Temperature, Precipitation and Sea Surface Temperature.
Like it was from the March to April models, the April to May models have again moderated as we move past the halfway point of the year. The next three months in North America are still above average temperature-wise but not nearly as extreme as through the Winter months. This is a good thing for the wildfire situation, or at least a less bad thing.
Here is the April run showing May/June/July which was more extreme then it is expected to be going forward.
Here is the Precipitation Forecast for the next three months.  Again most of BC is under a normal to slightly higher than normal precip expectation for the next 3 months.  That is a good thing for wildfire season.  The exception is Vancouver Island and the Lower Mainland which has the distinction of being the only place other than some tiny spots in Alaska and Quebec that may have below normal precipitation.  Considering our lack of rainfall the past couple months I would say these have a good probability.
Last month's  forecast for the previous 3 month period had our area expecting normal precipitation.
Global seasonal forecasts
Global Temp and Precip Spring, Summer, Fall and/or Winter forecast from current and last month runs. Only 1 of 2 seasons are within the forecasts in any given month.
This months forecasts: Summer 2016 and Fall 2016
Summer 2016:
The forecasts for Summer in the May runs didn't change much from April.  It is still slated to be warmer than normal, but not extremely warmer in most of the land areas of the world.  La Niña seems to be strengthening and precipitation is mostly normal except in the SW Pacific islands.  Overall, it looks like a warm, but not extreme summer.
Here is the last month's forecast for Summer 2016.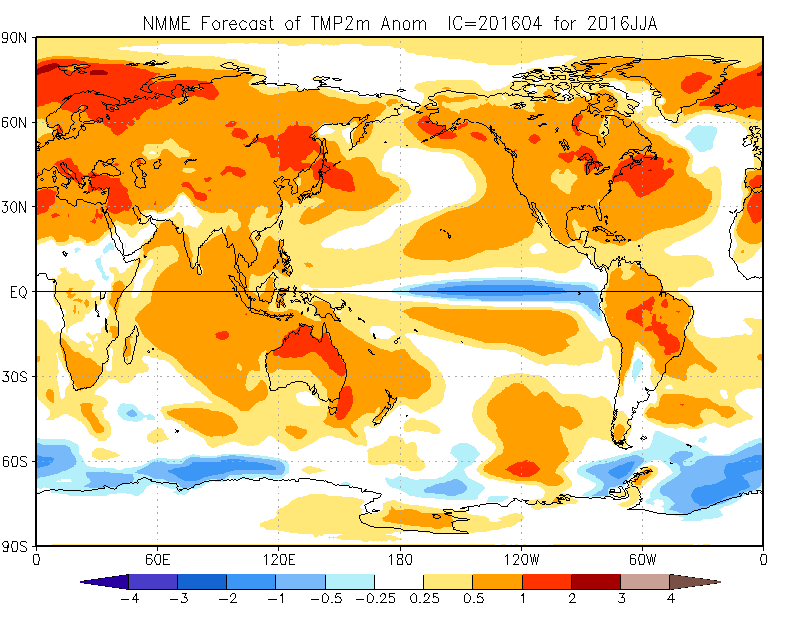 Autumn 2016:
La Niña is signaled loud and clear in the tropical Pacific with that bright blue cooler than normal area of water and that seems to have strengthened since the last forecast.  Perhaps as a result, heat has shifted from North America to Northern Europe and Russia.  Precipitation is generally normal though I do notice some dry patches expanding in the NE Pacific.
Last months Autumn forecast:
Sea Surface Temperature next 3 months
Sea Surface anomalies show the heat along North America's west coast backing off again in terms of above normal behaviour. The patch of cooler water in the central north Pacific seems to be getting larger as is the La Niña signal down in the tropics.
Last months' forecasts.
That's it!
---
Monthly Timelapse Video
---
Daily records set this month at the Airport (and compared to other stations* for "All Time" since 1900)
Two new Airport high temps, one rain and one low.
May 2

high

28.9º C: #1 is 30.0º C in 1945 at Port Alberni City.
May 10

high

 26.2º C: #1 is 29.4º C in 1946 at Port Alberni City.
May 28 

rain

16.9 mm: #1 is 51.1 mm in 1923 at Port Alberni City.
May 30

low

3.5º C: #1 is -2.2º C in 1950 at Beaver Creek.
*Short Term (since 1995) Airport Records are compared to the 30+ year weather stations of record since 1900 (1895 for rain) at Beaver Creek, Port Alberni "City" and Robertson Creek.  Note that records pre 1950 may be more likely to over-estimate high temperatures.
---
April 2016  

Minimum

, Mean, and 

High

 Average Temp and Total

Precipitation
Alberniweather: 9.1º C, 15.1° C, 21.6º C, 20.6 mm
Alberni Elem. School : 8.7º C, 14.8º C, 21.1° C, 35.8 mm
Maquinna Elem. School: 9.0º C, 14.7º C, 21.1° C, 34.5 mm
Neptune Canada Station: 9.1º C, 14.6º C, 21.4° C, NA
Nick's Station (Maquinna area): 8.7º C, 14.6º C, 20.9° C, 28.2 mm
Overall City Average: 8.9º C, 14.8 C, 21.2º C, 29.8 mm
Environment Canada Airport* : 6.8º C, 14.0° C, 21.1º C, 33.8 mm
1981-2010 Normal (Rbrstn Creek): 6.0º C, 12.3º C, 18.6° C, 87.8 mm
---
Differences from Normal
City Temperatures:
+2.9° C, +2.5º C, +2.6º C
Official Temperatures:
 +0.8º C, +1.7º C, +2.5º C
City Precipitation:
 -58.0 mm (33.9% of normal)
Official Precipitation
 -54 mm (38.4% of normal)

---
Amount : Normal Days : Days This Month
>= 0.2 mm: 15 :  7
>= 5 mm:  5.2 : 2
>= 10 mm: 2.9 : 1
>= 25 mm: 0.54 : 0
* No Airport data for May 6/7 but 0 rain recorded elsewhere.
---
Comparison to recent months of May at Alberniweather