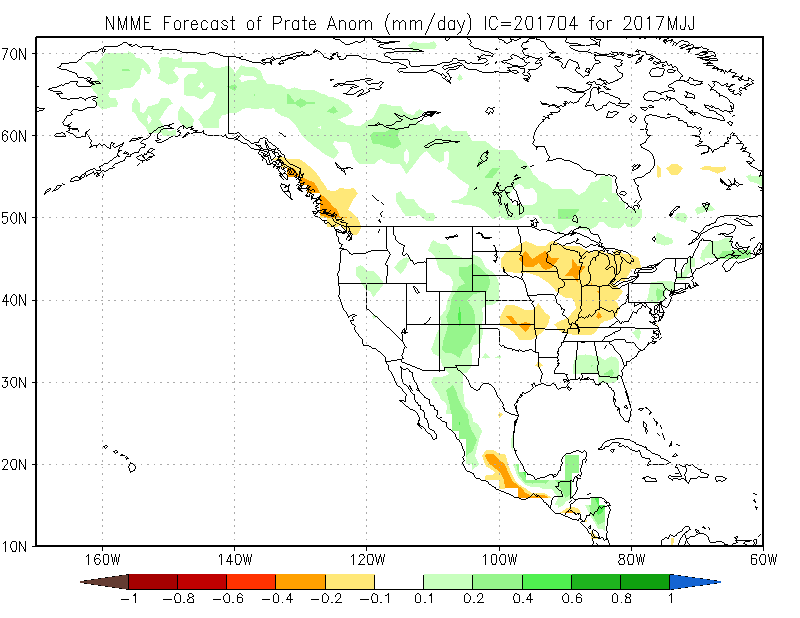 March 2017, the month it rained every day but one.
If you're suffering from déjà-vu that might be because in October we had a very similar headline.  It rained 29 out of 31 days in October and now the same in March officially… and actually, since the days of rain measurement doesn't include "Trace" amounts, you can chalk up #30 on a Trace amount of rain. So, all but one in total.  Add this to the incredibly snowy February and the never ending cold and snow of December and January and you can be forgiven for thinking this winter may just be enough to make you head to warmer climes.  But have hope friends, there is warmth and dryness on the horizon, including this very Easter Weekend!  But first, lets look back at the March that was, then we can look forward to the Spring, Summer and even Fall to come.
In the City we averaged 2.3ºC for our lows and 8.5ºC for our highs for an overall average of 5.0ºC.  At the Airport (so a little further in the Valley) it was similar but a little cooler, 1.0 ºC for the lows, 8.2º C for the highs and 4.6ºC overall.
While it certainly seemed cold and terrible and we thus heard lots of exclamations like "this must be the coldest ever!"… it's actually not even in the top 5 coldest since the Airport station was built in 1995.
In fact, what March 2017 can really be noted for is how bland it was.  It was as grey statistically as the skies were throughout the month.  There was not a single record, low, high or rain, broken.  One record was tied at the Airport on March 20 when we got down to -3.7ºC which was a repeat of 2014 but that was nowhere near the all time low for the day of -10 in 1913.
Most Notable Event of March 2017
There was rain measured every day except one!
River and Drought, Snowpack and Future Outlooks continue after the monthly stats below!
---
Monthly Timelapse Video
You can check out the videos at:
https://www.youtube.com/user/alberniweather/videos
---
Daily records set this month at the Airport* since 1995 and compared to other stations** for "All Time" since 1900.
One tie low temperature record.
*May have used Backup Data source at Environment Canada WeatherStats.ca
**Short Term, since 1995, Airport Records are compared to the 30+ year weather stations of record since 1900 (1895 for rain) at Beaver Creek, Port Alberni "City" and Robertson Creek.  Note that records pre 1950 may be more likely to over-estimate high temperatures.
---
March 2017  

Minimum

, Mean, and 

High

 Average Temp, Total 

Precipitation 

and 

Highest Wind
Alberniweather: 2.4º C, 5.0º C, 8.7º C, 286.8 mm
High Wind: S 48.3kph on the 29th
Alberni Elem. School : 2.3º C, 5.0º C, 8.6° C, 347.2 mm
High Wind: 27kph on Multiple
Maquinna Elem. School: NA, NA, NA, 426.0 mm
High Wind: SSE 29kph on the 22nd
Nick's Station (Maquinna area): 2.2º C, 5.2º C, 8.1° C, 302.6 mm
High Wind: S 42.5kph on the 3rd
Neptune Canada Station: NA, NA, NA, NA
High Wind: NA
Overall City Average: 2.3º C, 5.1º C, 8.5º C,  340.7 mm
Environment Canada Airport* : 1.0º C, 4.6º C, 8.2° C, 310.8 mm
High Wind: WNW 41kph on the 18th
Normal 1981-2010 (Rbrstn Creek): 0.7º C 5.7º C 10.5° C 223.8 mm
*Used Backup Data source at Environment Canada WeatherStats.ca
---
City
+1.6° C, -0.6º C, -2.0º C, +116.9 mm (152.2% of normal)
Official Airport
+0.3° C, -1.1º C, -2.3º C, +87.0 mm (138.9% of normal)

---
Amount : Normal Days : Days This Month
>= 0.2 mm: 20.5 :  29
>= 5 mm:  10.4 : 21
>= 10 mm: 7.3 : 13
>= 25 mm: 2.6 : 2
*Used Backup Data source at Environment Canada WeatherStats.ca
---
Comparison to recent months of MARCH at

Alberniweather
MOST SIMILAR ALBERNIWEATHER MARCH TO THIS MONTH? March 2006
March 2006 had an identical average temperature of 5.0ºC. 2006 had higher high temperatures at 9.8ºC vs. 8.7ºC but lowers lows at 1.7ºC vs 2.4ºC.  Rain was similar.
---
River and Drought Conditions
There are no advisories or causes for concern.  BC River Forecast Centre site. 
The overall Drought Level picture will begin to be reported in April.
---
Snowpack Situation
Our snowpack is close to or just above normal for this time of year as you can see below. This bodes well for the Spring and Summer.
South Island/Jump Creek (near Nanaimo Lakes) elevation 1134m
The north Island has recovered a little bit but is still tracking slightly below normal for this time of year.
North Island/Wolf Creek (near Gold River) elevation 1422m.
---
16 day Outlook — A little Warmer but cloudy!
There is a definite warming trend in the images below. Next week looks pretty rainy, but from that point on, we might just have a variable, but decent end to April and beginning of May.  Lets hope!

---
SO-neutral conditions are favored to continue through at least the Northern Hemisphere spring 2017, with increasing chances for El Niño development by late summer and fall.
Three-Month N-America Forecasts 
North American Multi-Model Ensemble (NMME) 3-month Temperature, Precipitation and Sea Surface Temperature.
The Temperature anomaly for the next 3 months.
The May, June, July temperature outlook remains much warmer than normal across Canada and the US though trending a little less warmer than normal on the West Coast.  As usual, the Arctic regions are the most extreme with temperatures between 2-3ºC above normal.
It is worth noting though that if you go back to the September outlooks… they did predict normal temperatures in a pocket of of the Pacific NW as opposed to warmer than normal everywhere else.  So in that sense, it did predict it perhaps better than we gave the day-to-day forecasters credit for.
Precipitation Forecast.
The next three months of May, June, July are expected to be quite a bit drier than normal.  So that might mean after April, we might be wishing for more rain even after the long winter?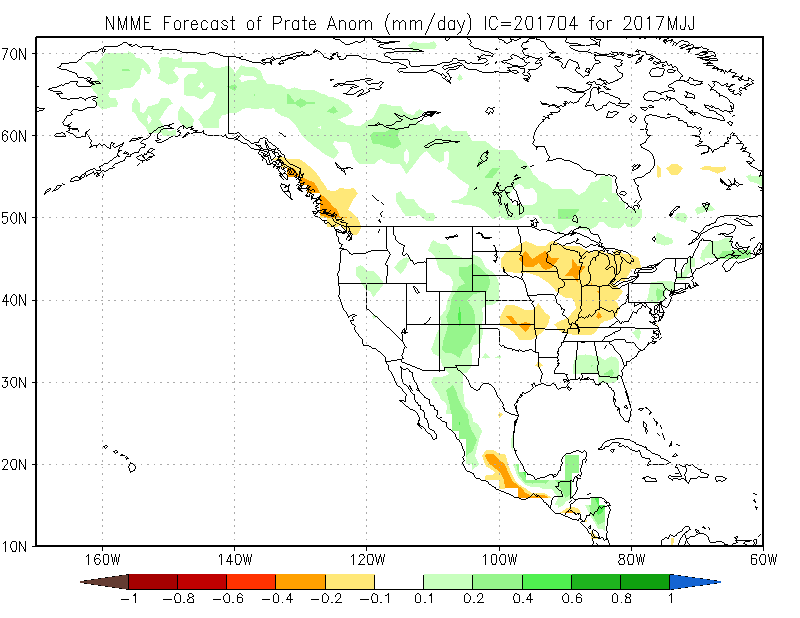 Global seasonal forecasts
Global Temp and Precip Spring, Summer, Fall and/or Winter forecast from current and last month runs. Only 1 of 2 seasons are within the forecasts in any given month.
This months forecasts: Summer 2017 and Fall 2017
Temperatures
Summer – a little warmer than normal, but not extreme.
Fall – closer to just normal but note the huge warmth in the Arctic due to and contributing to melting ice.
Precipitation Forecasts
Summer – Normal almost across the Northern Hemisphere
Fall – Notice a drier trend in the PacNW region.  May be concerning for Salmon stocks or the beginning of the 2017 snow season.
Sea Surface Temperature next 3 months
Note the large area of normal or even colder than normal waters off of the West Coast of North America.  Perhaps this bodes well for salmon stock returning this year, but we will just have to wait and see.
That's it!