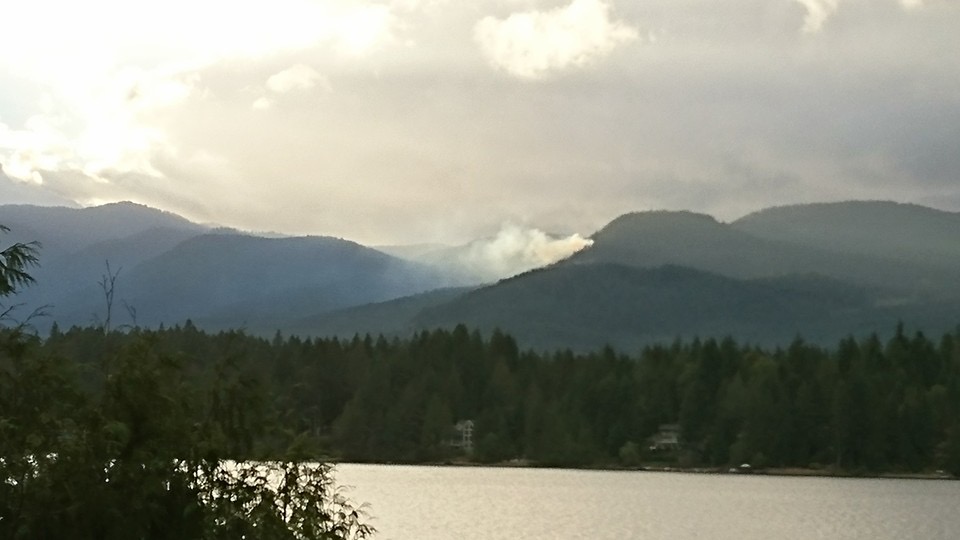 (Headline Photo by Rob Frolic)
We got a reprieve from the heat on Sunday but the cool temperatures also brought some afternoon thunderstorms.  And extremely heavy rains.  Particularly in the central Island area.   This caused heavy downpours that likely contributed to two simultaneous crashes on Highway 4 that affected the road for hours.
My station reported a peak rainfall rate of 113mm/hr!
The heavy downpours yesterday produce some impressive stats.    The 113mm/hr average is a 5sec instantaneous look at the rain rate produced by the Davis Vantage Pro station.
Checking it over at the handy minute-stats at Islandweather we see:
Alberniweather: Between 6:11PM and 6:12PM: 1.02mm in a minute equals 61mm/hr.
Alberni Elementary: Between 6:16PM and 6:17PM recorded 1.27mm in a minute which equals 76.2mm/hr
Those are heavy downpours!  Each only amounted to about 5 and 8mm of rain respectively.
The thunderstorm also sparked a wildfire in between Sproat and Great Central lake.
Helicopters responding to wildfire near Sproat Lake. #bcstorm #bcwildfire @BCGovFireInfo photo Rob Frolic pic.twitter.com/tmkZtnCXXJ

— Alberni Weather (@alberniweather) August 22, 2016
As of 8PM Sunday night it was only 20m x 20m according to ACRD CAO Russel Dyson.  Residents report Helicopters are on the scene this morning.
There are also major fires burning near West Kelowna and Penticton.
Monday's weather should help with the fire situation a little as temperatures will be normal in the mid-twenties. There is no rain and there are no signs of thunderstorm activity today either.
Hot (but not quite as hot) week ahead.
We will return to afternoon highs at or above 30°C Tuesday and lasting through Friday.
And finally, if you are wondering about the poll from last time, of 63 voters,  twenty one said we would get above 36 and nineteen said we would get 36. Those 19 win! Our high on Thursday was the highest of the year at 36.2°C and rounds to 36°.
You may now brag to all your friends.  🙂
Happy Monday!