Last day to enter your First Snow Guess – It might snow Monday??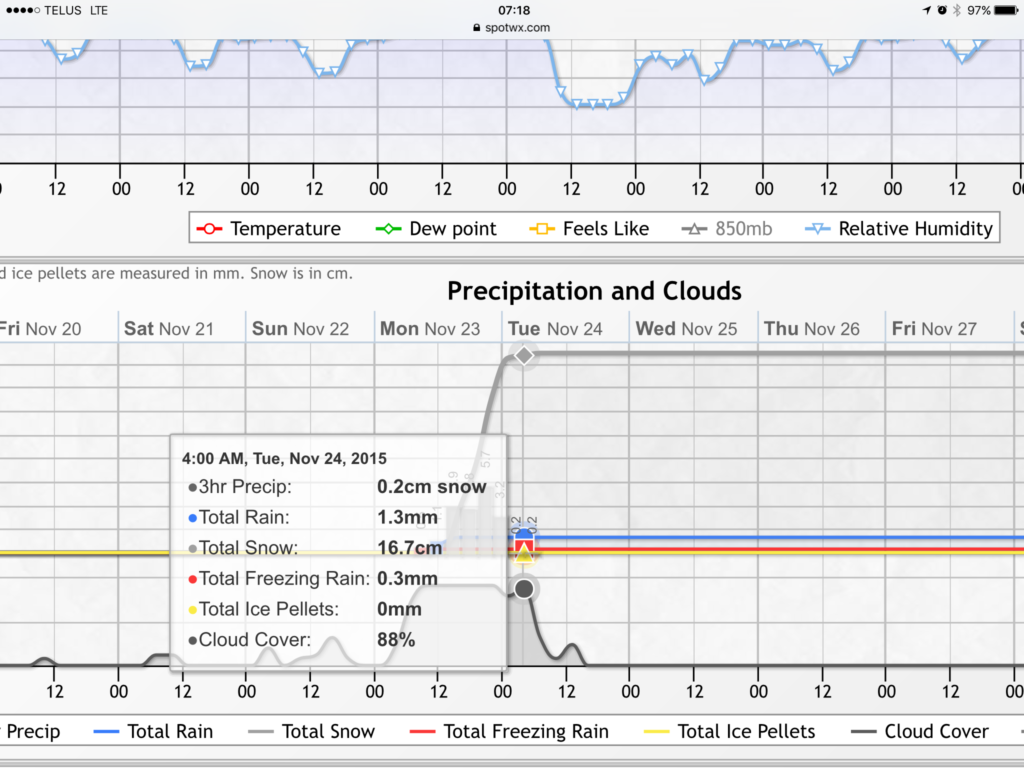 This is your last chance! Click here to enter the contest before 8PM today and you will have a chance to win fabulous prizes from Healthy Habits and Boomerangs café!
I will also be drawing a number from 1 to the number of Likes on the Alberniweather Facebook.  So go like it if you haven't already to be entered to win! Winner will receive a prize from Healthy Habits!
BRRRR It's cold and sun. But snow? Maybe….
The morning fog has kept us from getting too cold over the past few days.  Campbell River Airport is registering -4°C right now. We are only -1°C at the Airport and nearly exactly freezing, -0.1°C, here in town.
The sun will break through by late morning at least. We should continue this pattern Saturday and Sunday.
The question is… Will we see snow on Monday?  The models have a weak front sweeping down from the North Monday morning.
Here is the rain forecast for Monday 7AM.
Some light showers… Below is the 24hr forecast between Sunday and Monday afternoon for rain and below that snow.
As you can see, the snow does not appear to be at low elevations.  According to this model, this  is likely to be a threat only for the mountain passes.  However, there is always the outside chance that snow will fall and stick at least for a short time, especially with morning timing and the cold air sticking around after the weekend.
And in fact, the UWash model is the only one that does *not* predict accumulating snow for us for Monday.  Below are the predictions from the GFS, Canadian, and NAM models.
The NAM is closest to the UWash.  The Canadian is totally winter wonderland.
Take your pick.  😉
I will keep an eye on it and probably do a post Sunday sometime to see where we are at then.  Until then, go get that guess in and have a great weekend! 🙂