June 2015 Summary – Incredible Consistent Highs – Airport Station Creates 11 Records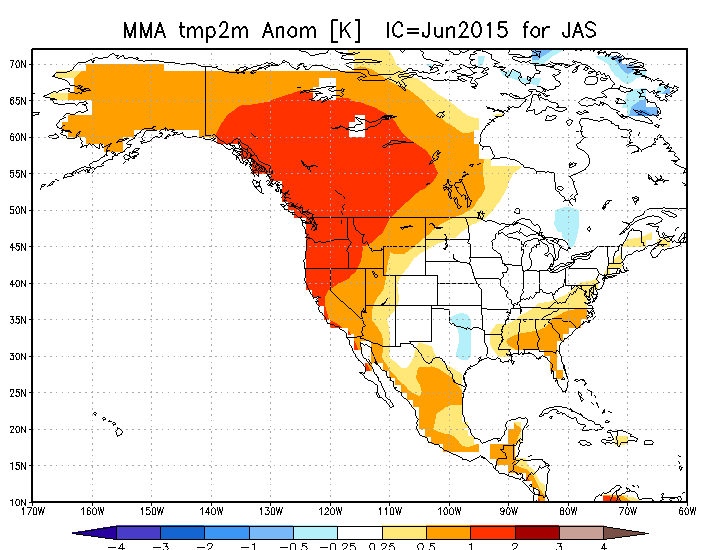 May was just 4º C above normal for highs… thought that was a lot?  Well, June highs beat it at 4.8ºC at the Airport.  Speaking of the Airport, it set 11 new records for high and low temperatures, including one all-time high, and one high rainfall even though we only received 22% of our normal precipitation.
The overall average for the month of June of 18.0º C and the average high of 26.7º C were more comparable to August than June normals.  (18.5ºC and 26.1ºC) The average high was actually higher.
I tracked a new variable this month due to the rain… "Days of Rain".  The normal days of measurable rain is 13.  We had 3.  Even more unusual perhaps that of those 3 days, one was a record amount for the day since 1995. (not All Time).
We smashed the All Time high for June 27 for any long period station in the Valley going back to 1900 with a temperature of 36.6ºC which beat the record holder of 34.5ºC at the Robertson Creek station in 2000.
My greatest concern for the traditionally hottest months of our year (July/August) is that if we continue the trend of 4º C above normal averages we could have extremely hot days at or above 40º C coming at us soon.   We will see what happens.
---
Fire Danger at Extreme – Backroads Closed -Campfires banned
As expected and predicted in this summary last month, we got to Extreme fire conditions within the first 3 weeks of June after a brief dip, we are back now and will likely stay there until we get some real rainfall.
Below are the May 31 (left) and July 1 (right) wildfire threat level images. (click for larger)
The entire province has risen in fire danger rating, but especially the South and North Coast areas and the Northern half.  You can expect even more red next month.
Island Timberlands closes access to their land
As of June 30, 2015 Island Timberlands put out a notice to the public that "due to the current extreme wildfire hazard conditions", they are, "restricting all public access to it's private managed forest lands effective immediately. Access will remain closed until further notice pending significant precipitation."
This is to be expected.  I was in a meeting a couple weeks ago with Western Forest Products representatives and they said their large number of metrics on the health of their forest lands across the Island are "off the charts".  They are very concerned that any fire that caught hold in the area could end up being catastrophic.
---
Rainfall measures back in full at Airport!
I think maybe someone finally noticed.  For the first time in nearly a year, the Airport reported values (including zero's) for precipitation on every day of the month.  We can all breathe a sigh of relief that we have proper official data collection again.
---
Water Restrictions Continue in City of Port Alberni at Level 1
We have been on Level 1 restrictions (odd/even numbered days/addresses) for a couple weeks now.  I would expect to go to Level 2 in the next week or two.  The City is monitoring the levels of the reservoirs very closely.
---
El Niño update
The latest El Niño forecast was released June 11th. The confidence for the El Niño conditions to last through fall and winter has increased and unlike  The main synopsis  of the latest one is:
There is a greater than 90% chance that El Niño will continue through Northern Hemisphere fall 2015, and around an 85% chance it will last through the 2015-16 winter….
In May the forecast said:
…. Collectively, these features reflect weak to moderate strength El Niño conditions.
In the latest June update their language changed markedly:
Collectively, these atmospheric and oceanic features reflect an ongoing and strengthening El Niño.
So what does that mean for our weather?  Since we know that El Niño's can affect our weather quite a bit?
Across the contiguous United States, temperature and precipitation impacts associated with El Niño are expected to remain minimal during the Northern Hemisphere summer and increase into the late fall and winter
So we will have to wait and see.
---
Outlooks — Spring and Summer looking warm and dry.
The 15 day precipitation forecast was surprisingly accurate last month so lets do that again.  We got our little bit of rain all at once at the beginning of the month… and then nothing.  We didn't end up getting what it thought we might around the 13th.
Here was last months start for comparison:
Here is the graph for the start of July:
Don't expect much.. or maybe any at all.
---
The NMME 3-month outlooks are available here.  Outlook for Temperature, Precipitation and Sea Surface Temperature for the next three months are compared below.
Warm and dry conditions extend and persist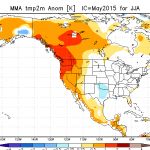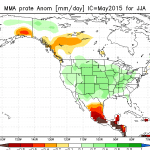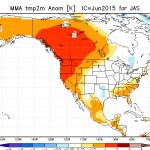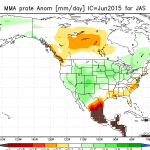 Top row is last months 3-month prediction (June/ July/ August) and below them is the next three months (July/ August/ September) Left shows temperatures remaining way above normal for huge parts of Western Canada and the United States and a similar expanding of slightly drier than normal conditions
Below is the same side-by-side for Sea Surface Anomaly map for last months next three months and this months next three.
We can see the El Niño region actually backing off a little bit but the heat along the North American Pacific coast expands considerably.
That's it!  Check the data for the month is below!
---
Monthly Timelapse Video
---
Daily records set this month at the Airport (and compared to other stations* for "All Time")
Six new Airport high temps, 4 new lows, 1 new rain high, 1 all time high temp .
June 1 Rain 13.4 mm : #1 is 37.3 mm in 1962 at Robertson Creek.
June 7 high 32.2º C: #1 is 36.1º C in 1903 at Beaver Creek. 
June 8 high 31.3º C: #1 is 37.2º C in 1903 at Beaver Creek.
June 10 high 29.2º C: #1 is 35.6º C in 1932 at Port Alberni City.
June 13 low 4.8º C: #1 is -1.7º C in 1945 at Beaver Creek.
June 15 low 4.8º C: #1 is 1.1º C in 1923/45 at Beaver Creek.
June 20 low 5.6º C: #1 is -0.6º C in 1911 at Beaver Creek.
June 21 low 5.1º C: #1 is 1.7º C in 1911 at Beaver Creek.
June 23 high 26.9º C: #1 is 32.2º C in 1926 at Beaver Creek.
June 27 All Time high 36.6º C: Beats 34.5º C in 2000 at Robertson Creek.
June 28 high 35.2º C: #1 is 36.7º C in 1951 at Beaver Creek.
*Short Term Airport Records are compared to the 30+ year weather stations of record since 1900 at Beaver Creek, Port Alberni City and Robertson Creek.
---
June 2015  Minimum, Overall and High Daily Average Temps See last month's and last June's summary.
Alberniweather: 12.7º C, 19.4° C, 26.3º C
Alberni Elementary School : 12.3º C, 19.1º C, 25.7° C
Maquinna Elementary School: 12.6º C, 19.0º C, 26.0° C
Neptune Canada Station: 12.8º C, 19.2º C, 26.7° C
Overall City Average: 12.6º C, 19.2 C, 26.2º C
Environment Canada Airport: 9.4º C, 18.0° C, 26.7º C
1981-2010 Env Can Normal (Rbrtsn Creek): 9.0º C, 15.5º C, 21.9° C
---
Precipitation for June 2015:
Alberniweather: 8.9 mm
AES: 11.4 mm
MAQ: 7.8 mm
NEP: NA (not measured)
Overall City Average: 9.36 mm
EC: 14.2 mm (A FULL MONTH OF RAIN DATA! YAY!)
1981-2010 Env Canada Normal (Robertson Creek): 62.2 mm
---
City Stations Temperature Difference from normal:
+3.6° C, +3.7º C, +4.3º C
Official (Airport) Temperature Difference from normal:
 +0.4º C, +2.5º C, +4.8º C
City Stations Precipitation difference normal:
 -52.84 mm (15.0% of normal)
Official (Airport) Precipitation difference from  normal:
 -48.0 mm (22.8% of normal)

---
NEW: Days of Precipitation
Normal >= 0.2 mm:  13.1
Normal >= 5 mm:  4.2
Normal >= 10 mm:  1.7
Normal >= 25 mm:  0.36
This Month >= 0.2 mm:  3
This Month >= 5 mm:  1
This Month >= 10 mm:  1
This Month >= 25 mm:  0
*Denotes incomplete data for the month
---
Comparison to recent Junes at Alberniweather (unless specified)