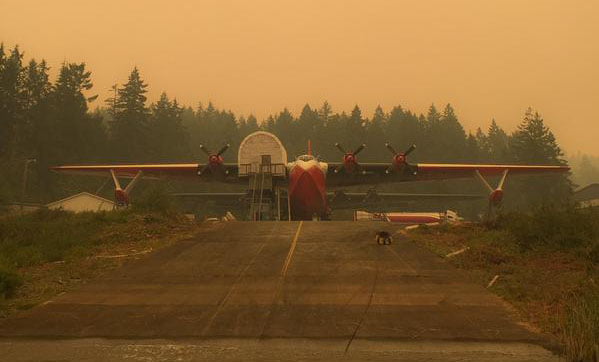 I think the featured image is the image that truly defined this month both weather-wise and as a community.  That is why I chose it. (It was taken by Ben West).
July again above average for temperatures and below average for rainfall.  The overall average for the month of July was 19.2º C and we got between 20 and 30 mm of rain depending where you were in the Valley.
For the 2nd month in a row we recorded 6 new highs at the Airport station.  Even though none of them were all-time highs compared to the historical stations (though a few came close), it is worth noting that the 12 new highs set at the Airport in June and July means that almost 20% of all of the daily high temperatures for those two months have been set in one year.  For a station with a period of more than 20 years, that's significant.
It was a very busy month… lets get into what it looked like and what things will look like in the months to come with a strengthening El Niño.
I'll have a forecast post up on Tuesday, enjoy the sun.
---
Fire Danger at Extreme Again and contributed to massive fires including at Dog Mountain.
Check out the side by side of the beginning of July and beginning of August.  (click for larger)

Which is worse?  Well… hard to say really, but I'd submit that there is a lot more to burn and a lot more people under threat in the south part of the Province than in the north end so things have only gotten worse, especially in our most populous areas on the South Coast.
Last month was of course dominated by the Dog Mountain Fire which was covered extensively starting here with a "small fire" post, and continuing here, here, here, here, here, and finally ending days and 400 hectares later, here .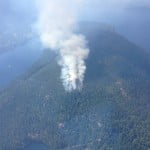 It was a very challenging time.  Ben West uploaded a fantastic video showing the extent of the blaze and its effects on the mountain at least to this point.  The ACRD still has an evacuation order in effect for the cabins as there are concerns about falling debris and slope stability especially when the rains finally come in fall.
Mars Fighting Fire Posted by Ben West on Tuesday, July 29, 2015
The good news is that out of all that fire and smoke and danger emerged the Mighty Martin Mars… it was perhaps this photo that was shared ironically throughout the social media world that finally made the difference.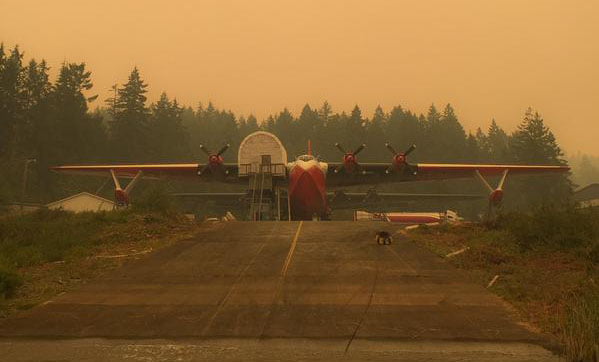 Bravo to all who fought so hard to get her back in the water and doing her thing including at Lake Cowichan this past week.
Mars Fighting Fire Posted by Jody Kerrone on Tuesday, July 28, 2015
Ya.  Kicking Ass, Taking Names… Martin Mars Style.
---
Record Hot Days all over Pacific Northwest including here.
Seattle set a new and continuing record this month for number of days over 90ºF (32ºC).  I have no doubt we have likely set a similar record but unfortunately I just don't have the time right now to sift through our own numbers.  Maybe on a sleepless night sometime in the future :).  If all of our stations were in a searchable database maybe I could… are you listening Environment Canada? 🙂
---
Water Restrictions in City of Port Alberni at Level 2
We are on Level 2 restrictions. There is no word yet on whether we will be moving to Level 3 restrictions.  Click the link for the details on Level 2 restrictions.  Other areas are already on Level 4 restrictions where lawn watering and many other uses are totally forbidden.
The Province is also at Drought Level 4, the highest level, for much of the South West part of the Province.   Incredible drought that is likely to persist for the next 2 months.
The latest report from the River Forecast Centre on local rivers says:
Sproat River near Alberni (08HB008) is currently recording a flow of 2.14 m3/s, which is 17% of the median flow (1st percentile) and close to the recorded minimum flow for this period of time.
---
El Niño update
The latest El Niño forecast was released July 9th. The confidence for the El Niño conditions to last through fall and winter has increased:
There is a greater than 90% chance that El Niño will continue through Northern Hemisphere winter 2015-16, and around an 80% chance it will last into early spring 2016.
In June the forecast said:
…. There is a greater than 90% chance that El Niño will continue through Northern Hemisphere fall 2015, and around an 85% chance it will last through the 2015-16 winter….
So the chances of El Niño have only grown.  As it did last month the report says:
these atmospheric and oceanic features reflect an ongoing and strengthening El Niño.
So what does that mean for our weather?  Since we know that El Niño's can affect our weather quite a bit?
Across the contiguous United States, temperature and precipitation impacts associated with El Niño are expected to remain minimal during the Northern Hemisphere summer and increase into the late fall and winter
Check out the long range models from IMME below to see a little more detail.
---
Outlooks — Spring and Summer looking warm and dry.
Here is the graph for the start of August:
Don't expect much.. but there is a chance for at least some towards mid-month.  I am not expecting it to truly relieve our drought conditions or contribute to lowering the fire risk outside of a handful of days.
---
The NMME 3-month outlooks are available here.  Outlook for Temperature, Precipitation and Sea Surface Temperature for the next three months are compared below.
Warm and dry conditions continue and sea remains hot.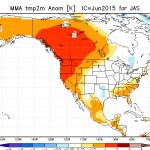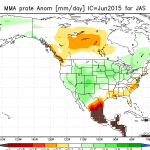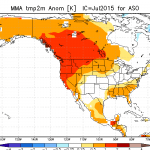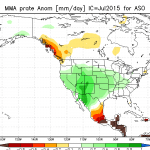 Top row is last months 3-month prediction (July/ August/ September) and below them is the next three months (August/ September/ October).  Left shows temperatures remaining way above normal for huge parts of Western Canada and the United States and a similar drier than normal trend in or area.  Note that the green wetter than normal area has strengthened a little in California.  This may be due to El Niño starting to take effect as we get into Fall.  This is be good for their drought that's for sure but it doesn't look like it will be helping us.
Below is the same side-by-side for Sea Surface Anomaly from last months model run looking at July, August, September and this months run looking at August, September, October.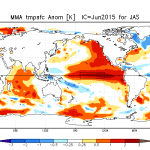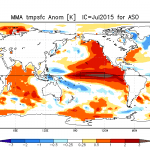 We can see the El Niño region strengthening after pulling back some last go-round and the abnormal ocean heat along the West coast of the Americas becoming more pronounced as the heat sticks around into the 'cooler' fall months.
That's it!  Check the data for the month is below!
---
Monthly Timelapse Video
Fun part of this video is watching the smoke roll in.  It is quite dramatic.
One of my cameras is clearly at the end of its life. I have another one coming.  Unfortunately, I have given up on the 360º view lens and will instead try to gradually add wide angle lens to my current setup and then gradually add a 3rd and 4th camera to give more coverage.  I would much prefer a one camera solution but there just doesn't seem to be an affordable, good quality, solution.
Make sure you switch it to HD.
---
Daily records set this month at the Airport (and compared to other stations* for "All Time")
Six new Airport high temps (again), 1 new rain high, no all-time records.
July 1 high 34.2º C : #1 is 38.9º C in 1942 at City of Port Alberni.
July 2 high 36.4º C: #1 is 37.2º C in 1942 at Beaver Creek. 
July 3 high 35.3º C: #1 is 36.1º C in 1922 at Beaver Creek.
July 9 high 32.7º C: #1 is 40.6º C in 1926 at Beaver Creek.
July 18 high 35.2º C: #1 is 37.8º C in 1944 at Beaver Creek and City of Port Alberni.
July 26 rain 5.6 mm: #1 is 13.2 mm in 1940 at City of Port Alberni.
July 31 high 35.0º C: #1 is 39.0º C in 2009 at Robertson Creek.
*Short Term Airport Records are compared to the 30+ year weather stations of record since 1900 at Beaver Creek, Port Alberni City and Robertson Creek.
---
July 2015  Minimum, Overall and High Daily Average Temps See last month's and last July's summary.
Alberniweather: 14.5º C, 20.7° C, 27.5º C
Alberni Elementary School : 14.0º C, 20.5º C, 27.1° C
Maquinna Elementary School: 14.4º C, 20.4º C, 27.3° C
Neptune Canada Station: 14.6º C, 20.5º C, 27.4° C
Overall City Average: 14.4º C, 19.2 C, 27.3º C
Environment Canada Airport: 11.8º C, 20.5° C, 27.9º C
1981-2010 Env Can Normal (Rbrtsn Creek): 10.9º C, 18.3º C, 25.6° C
---
Precipitation for July 2015:
Alberniweather: 15.5 mm
AES: 24.8 mm
MAQ: 18.0 mm
NEP: NA (not measured)
Overall City Average: 19.43 mm
EC: 24.8 mm (Two Days Missing)
1981-2010 Env Canada Normal (Robertson Creek): 31.0 mm
---
City Stations Temperature Difference from normal:
+3.5° C, +0.9º C, +1.7º C
Official (Airport) Temperature Difference from normal:
 +0.9º C, +2.2º C, +2.3º C
City Stations Precipitation difference normal:
 -11.57 mm (63.0% of normal)
Official (Airport) Precipitation difference from  normal:
 -6.2 mm (80.0% of normal)

---
NEW: Days of Precipitation for July 2015
Normal >= 0.2 mm:  8.1
Normal >= 5 mm:  2.0
Normal >= 10 mm:  0.8
Normal >= 25 mm:  0.12
This Month >= 0.2 mm:  8
This Month >= 5 mm:  2
This Month >= 10 mm:  1
This Month >= 25 mm:  0
*Denotes incomplete data for the month
---
Comparison to recent Junes at Alberniweather (unless specified)