January 2015 Summary – Dry and Warm – No Snow – Robertson Extreme.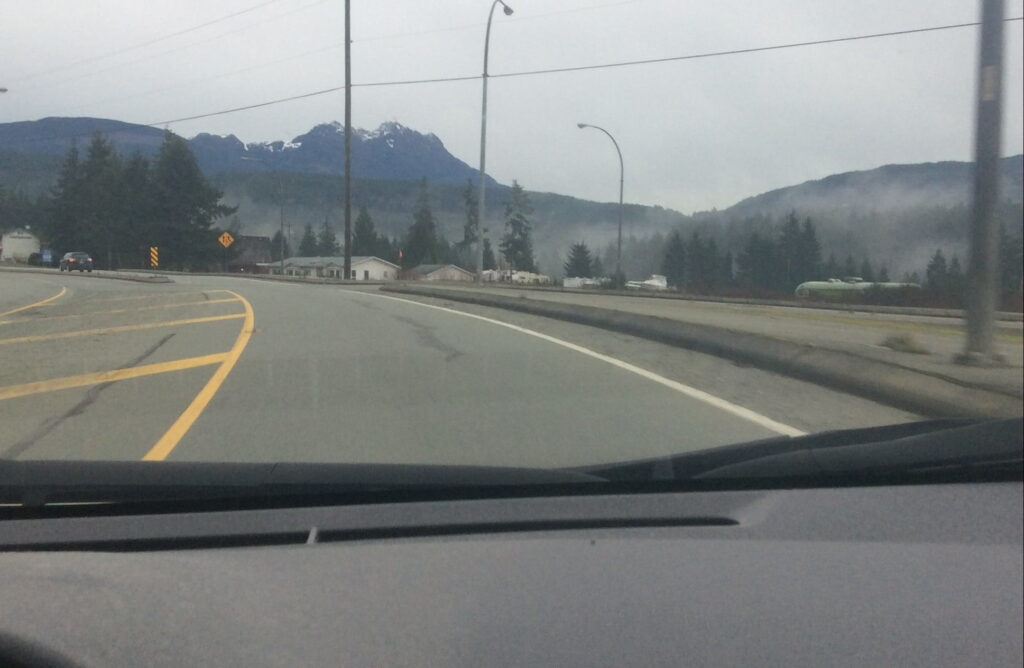 A very warm and somewhat dry January smashes records and sets course for new low snowpack.
---
Temperatures Way High – Snow Pack Way Low
Temperatures well above normal mean no snow anywhere.
I took a quick p
icture of our mostly bare mountain as I was headed out of town this morning.
That mountain should be a lot whiter than it is.
We have seen in the news that Mt. Washington and Cypress Mountain in Vancouver closed their hills early this week due to lack of snow.
The snowpack data tells the same story.  The dark blue line shows that the snowpack south of Mt. Arrowsmith is at zero.
Last year (in green above) was bad too but it actually had a small snowpack that built right around now.  No such luck yet this year.  Lets hope we get the bump in late February or March.  More on that below.
---
So why no snow?  It's too warm.
Last year, it was warm, around 1ºC warmer than the average. (+0.84ºC, 1.11ºC and +1.3ºC for minimum, overall and high average respectively) for but it was also extremely dry.  Remember that we had the driest 'monsoon' period on record.  We only got 84mm of rain in December 2013.
This year, it was much closer to normal for the October to February 'monsoon' as you can see from my compilation of data below. (click for larger)
So all else being equal, we should not have had the same problems with our snowpack this year… so what's the difference? Temperature.
As stated above,  temperatures in January last year were +0.84ºC, 1.11ºC and +1.3ºC from normal for minimum, overall and high average respectively.  This year temperatures were +2.9º C, +1.8ºC, +2.0ºC from normal.  A difference of one degree, or in the case of night time mininums, over two degrees, can certainly make the difference for whether snow will or will not fall.  
As you will see in the summary below, we set six new daytime highs at the Airport station including 4 all-station records.  Robertson Creek recorded an incredible 19.0ºC on January 24.
---
Rainfall measuring woes continue at Airport.
Our normal rainfall for January is 317 mm.  City stations received 52.5% of that.  Half of normal. The Airport Station only recorded 6 days of rain and 25mm in total.  It is no longer a reliable station for rainfall.  Robertson Creek is back online now it seems… in all, the current state of Environment Canada weather monitoring in the Alberni Valley is not satisfactory.
---
2014 – Corrections
Sometimes, I make mistakes.  Looks like I made one when I was compiling the stats last month for the 2014.  Actually it wasn't a mistake as much as an omission.  As in, I failed to check the Robertson Creek records and they did indeed get updated.  The general statement remains the same.  It wasn't an all time record hottest year for Port Alberni though it was close and even though it was a record globally.  Due to my mistake, 2014 was ranked lower than it should have been for our area.
Here is the original table I presented last month.
And here is the corrected table.  I expanded the list to include the top 10, click for larger version.
I have updated last months post to reflect that change.
Wherefore art thou El Niño.  Stuck in Neutral.
The February update continues to show only a modest chance of El Niño developing before spring and Neutral conditions afterward. This basically means that after basically an entire year of expecting an El Niño to form, we have really had nothing but Neutral conditions and that is expected to continue.   Because our climate is so heavily influenced by the Pacific, this means that we won't have that familiar push of either El Niño or La Niña to perhaps help our longer term forecasts.
---
Monthly Outlooks
That brings us to the monthly outlooks.
The NMME monthly outlooks are available here.  Take with a grain of salt.
Here were last months precipitation predictions for February – Normal
We ended up with half rainfall.
Here were last months temperature predictions for February – Above normal.  The large area of grey, 80% above normal, in the Gulf of Alaska area is concerning…
We most certainly were above normal.  And likely due to continued above normal sea surface temperatures on our coast.
Here is the prediction for March in terms of actual anomalies predicted:
Precipitation Half Below Normal.
Temperature 2ºC Above Normal.
That's it for this update!  PHEW!
---
Daily records set this month at the Airport (and compared to other stations for "All Time")
No new lows, six new highs, one too high, no rain.   Four all time daily records set including one very extreme and unbelievable.
Jan 16 high 9.9ºC: #1 is 10.6º C in 1920 at Port Alberni.
Jan 18 high 9.6º C: #1 is 10.6º C in 1946 at Beaver Creek.
Jan 24 high 13.3º C and 19.0º C:

ALL TIME HIGH TEMP

.  Beats 10.0ºC and 10.6ºC in 1905 and 1936 at Beaver Creek and Port Alberni respectively. However Robertson Creek recorded 19.0ºC on this same day!  I am very sceptical that it is a valid temperature but if true would be a new all time high for the month of January beating 15.6ºC set at the Port Alberni station on January 28th, 1940.
Jan 25 high 12.5º C and 13.0ºC: ALL TIME HIGH TEMP FOR AIRPORT AND ROBERTSON CREEK. 

Beats 12.2ºC and 10.0ºC in 1906 and 1924 at Beaver Creek and Port Alberni respectively.

Jan 27 high 12.8º C and 12.5ºC: 

ALL TIME HIGH TEMP FOR AIRPORT AND ROBERTSON CREEK.

 

Beats 11.7ºC, and 12.2ºC in 1940 at Beaver Creek,  and Port Alberni respectively.

Jan 28 high 9.8º C: #1 is 15.6º C in 1940 at Port Alberni.
Short Term Airport Records are compared to the 30+ year weather stations of record since 1900 at Beaver Creek, Port Alberni and Robertson Creek.
---
---
*Denotes incomplete data for the month
January 2015 Average Minimum, Overall and High Daily Temps
See last month's and last January's summary.

Alberniweather: 3.4º C, 5.3° C, 7.5º C
Alberni Elementary School : 3.4º C, 5.3º C, 7.6° C
Maquinna Elementary School: 3.2º C, 4.9º C, 7.0° C
Neptune Canada Station: 3.6° C, 5.3º C, 7.5º C
Overall City Average: 3.40° C, 5.20º C, 7.40º C
Environment Canada Airport: 2.6º C, 4.9° C, 7.1º C
1981-2010 Env Can Normal (Rbrtsn Creek): -0.3º C, 2.0º C, 4.3° C
---
City Stations Difference from normal: +3.7° C, +3.2º C, +3.1ºC
Official (Airport) Difference from normal: +2.9º C, +1.8ºC, +2.0ºC
---
Precipitation for January:
Alberniweather: 156.0 mm
AES: 169.8 mm
MAQ: 173.8 mm
NEP: NA (not measured)
Overall City Average:166.5 mm
EC: —- (25.2 mm measured from only 6 days of reported data!)
1981-2010 Env Canada Normal (Robertson Creek): 317.0 mm
City Stations Diff. normal: -150.5 mm (52.5% of normal)
Official (Airport) Diff. from  normal: —- not enough data
Comparison to recent Januarys at Alberniweather (unless specified)