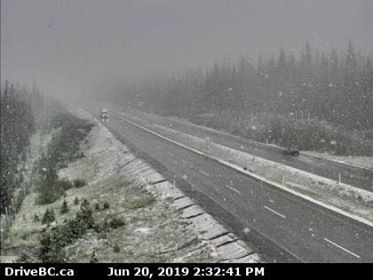 Summer Solstice is here.
It is officially the first day of summer and the longest day of the year. Today is a spiritual day for many. For others it is the official start of vacation (or in the case of K-12 students, tantalizingly close!). If you want to get the most out of your yard and garden, or maybe out camping. You'll have the longest night and earliest morning tonight and tomorrow.
Lots of Good news – Unexpected Rain
We got an unexpectedly large amount of rain on Wednesday and we are still feeling the results as the forests soak it up and our lawns go just slightly more green.
My automatic rain gauge is unfortunately not functioning but reports from other stations indicate we got around 8-10mm of rain which is more than we've had since Easter.
It had an unexpected impact on our wildfire rating as well. The difference between Wednesday and Thursday across the province, but especially on the south coast is remarkable.
Is it late or early snow?
The improvement might have something to do with the snow on the Okanagan connector yesterday!! Like… wtf. lol.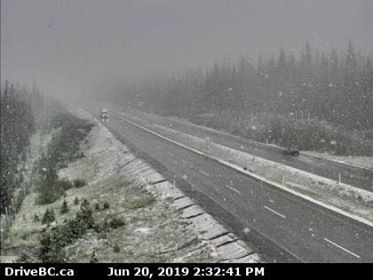 Someone mentioned that this was "late season" snow. But how do you define late? If that snow had fallen today, after the summer solstice, would it have been "early season" snow?
Someone needs to figure this out!
No snow, but cooler and a little rain Sunday and into next week.
We should get some spotty rain starting Sunday afternoon and then continuing in the afternoons on Monday and Tuesday.
An interesting pattern sets up with a low parking off the coast of Washington and Oregon on Tuesday and gradually sending weather our way with a potentially severe bout of rain moving East to West over the North Island on Thursday as the low moves ashore into WA/OR.
There is actually real accumulations of rain possible on the 10 day forecast you can see the temperatures falling as well before recovering into the 20s with sunnier weather for Canada Day weekend.
Canada Day Weekend looking mixed but promising.
The Canada Day weekend is traditionally pretty hit and miss for weather and this year looks to be no exception. The good news is the greatest chance for cool and wet weather will be at the beginning of the weekend and all models agree the latter half of the weekend, Sunday and Monday, should be sunny and warm.
That's it for now! Have a great solstice, Happy Summer, and have a great weekend!