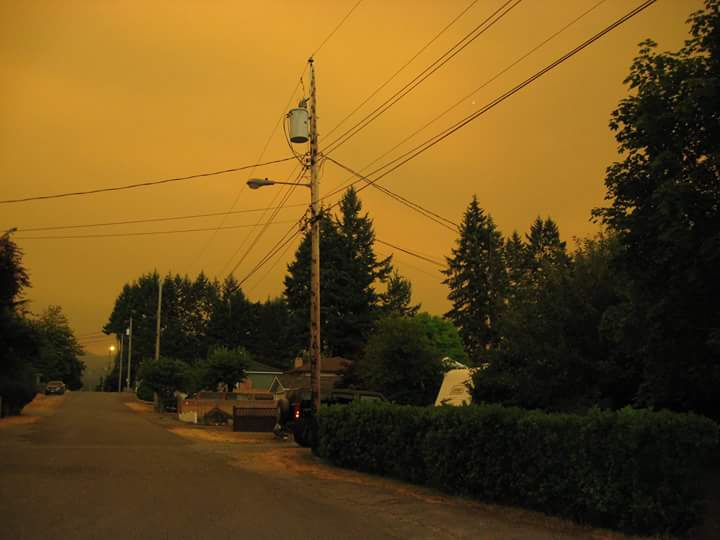 The new Bring back the Mars petition is going to hit 10,000 by the end of the day.  Incredible.  You can sign it here.
Final July 5 Update 10:55PM
While we all worry about these fires, as we should.  Let us not forget the one thing that made this so much more likely.  Us.
#climatechange
Stay safe out there folks.  I'll be back tomorrow updating this post.
Update 9:55PM
A resident, Jeremy Linning, just started a Periscope Live Stream of the fire.  You can see it coming down the mountain. Click the Green to see it. (note, the picture is sideways)
Update 9:40PM
BC Wildfire service just announced that a contracted tree faller has died while working on the Sechelt fire.
Please take this opportunity to think about those 1000 firefighters and 400 contractors that are working now in the forests of BC.  The whole force is out there according to the Vancouver Sun.  Strength to them and their families and friends that support  them.
The main page for the Dog Mountain fire has still not updated but the front page now says the fire is 45 hectares, up from 35 at 3PM.
Update 8:20PM
Wind coming hopefully tomorrow morning to clear away this smoke, but might also cause more active fire behaviour.  See the green area of 10knot (19kph) winds.  Probably a little less here.
Update 7:50PM
Air Quality Advisory issued.
Here is the text of the statement: (it is not yet on the website, I received it through email)
WILDFIRE SMOKE ADVISORY ISSUED For East and South Coast of Vancouver Island

(July 5, 2015) Nanaimo. The Ministry of Environment in collaboration with Island Health has issued a Wildfire Smoke Advisory for the east and south coast of Vancouver Island from Campbell River to Victoria, including the interior community Port Alberni, because of forest fire smoke that is affecting most areas. Smoke concentrations will vary widely as winds, fire behaviour and temperatures change. This situation is expected to persist until meteorological conditions change.

Avoid strenuous outdoor activities. If you are experiencing any of the following symptoms, contact your health care provider: difficulty in breathing, chest pain or discomfort, and sudden onset of cough or irritation of airways. Exposure is particularly a concern for infants, the elderly and those who have underlying medical conditions such as diabetes, and lung or heart disease.

For information on current air quality in or near your community please visit: www.bcairquality.ca
Update 5:20PM
If you are wondering where the satellite picture came from of the smoke, go to the NASA MODIS site here.  It is a fantastic site and updates very frequently as the satellite orbits.
Update 4:20PM
A new update from bcwildfire.  No change in size. One interesting note: "Status: Active
This fire is burning aggressively on the top of a mountain and has backed down the slope, now within 60 meters of the cabins. "
Here is an excellent satellite picture from the NASA MODIS satellite that shows very well the source of most of the smoke near pemberton, but our fire is contributing too for sure.  Environment Canada says in a Special Statement that winds tonight should clear the smoke for tomorrow.
Update 1:45PM
I just noticed Environment Canada updated their forecast to include "local smoke".  They say it will clear early this afternoon and still reach 35º C.  But I just can't see us getting to that temperature unless there is wind and I can't see wind coming without the temperature gradient.  We are near the same temp in the Valley as the West Coast.  No gradient, no wind.
Air Quality Index is still OK but no doubt if you are near the fire you will feel it.  I have a headache from the smoke.
Update 1:30PM
Back from the lake.  Got a ton of photos too many to post here. You can see the full Album here or click on the image below
Wild fire BC has updated their info. Summary: 21 firefighters, 3 helicopters, 35 hectares.  Area has been evacuated and rolling debris makes area dangerous.
ACRD has released a statement too:
Presently the fire is not contained.
20 ha. In size (now bigger)
More air support is being assigned. Coulson's Sirkosky has been assigned.
A local contractor is attempting to establish road access on the west end.
Work is being done to establish a machine fire guard to prevent the fire from leaving Dog Mountain.
Hillside is unstable with a potential with rocks and trees to come down without warning.
RCMP, Sproat Lake Marine Patrol and Search and Rescue are on the water advising boaters to stay clear of helicopter bucketing operations.
The Regional District has declared a local state of emergency and an evacuation order has been issued.
Update 11:55AM
Am on lake now watching two helicopters bucket fire including a Coulson corporate heli.
Go to my twitter page for more.  Signal not good enough for big update here.
Could on helo has returned now two buckets #sproatfire #portalberni pic.twitter.com/lCyQDpG9ZS

— Alberni Weather (@alberniweather) July 5, 2015
Update 10:50AM
Lots of smoke in the air. And soot from yesterday.  Also, there is a meeting of the Emergency ops centre this morning and thhe city and acrd will likely communicate after that.  There is also pictures of the fuel truck from Coulson fueling something. Just rumours at this point.
Update 10AM – Make Way for Scoopers
Reports from folks on the Lake indicate that while the fire has definitely grown overnight, it does seem to be less vigorous this morning and crews seem to be having some success.  There is just one helicopter on it right now.  Speculation on my part, but the heavy smoke cover might hinder larger aircraft (including the Mars) from participating in the effort.
The last update the status of the fire on bcwildfire is still from 7PM last night.
The RCMP is also requesting that folks try to keep their distance from the fire so the helicopters can scoop from the lake.
This sky is crazy.
………..
This post will update throughout the day.
What an incredible sky this morning.  This smoke is from both the fire at Sproat Lake but mainly fires from the Interior and Northern BC.   The entire South Coast of BC is under the same kind of haze.  I have lots of local pictures from Facebook at the bottom of the post. You can see the smoke on the Satellite picture.

While it seems strange and a little scary thankfully, it is just smoke. The sproat fire is still on the uninhabited side of the Lake (aside from the small number of Cabins at the bottom of Dog Mountain that have been evacuated) and the cool morning has helped cool the fire too.
What we have to look out for is heat in the afternoon (more on that below) and wind.
Air Quality OK
You might be worried about Air Quality.  The Port Alberni station reports that the particulate level right now is ok.  It is still well below the warning level at the black line in the bar below.
Cool mornings are good. Still going to be Hot today but maybe not as hot.
The good news is that we cooled right down overnight.  At its worst yesterday we were at 36º C at the Airport (a record) and 12% humidity.  Perfect conditions for serious fire activity.
This morning it is only 16º C and 70% humidity.  This should help fire activity quite a lot.
I am frankly unsure how this haze will affect the afternoon high temperatures.  Environment Canada still says we will reach 37º C but I am inclined to believe this layer of smoke will limit the power of the sun.  If we get that heat, and the resulting dry air, it will be bad for the fire, especially if there is wind as well. We'll see.  I will be learning today.
More Updates on Fire through the Day
I'll be continuing to update the situation on the wildfire through the day.  It is currently listed as 20 hectares.  (Oddly, the Wildfire of Note page says only 5 hectares, but it is obviously larger than that).
I will keep adding to this post throughout the day.  I have the good fortune of possibly getting out on a boat to see the situation up close later this morning.