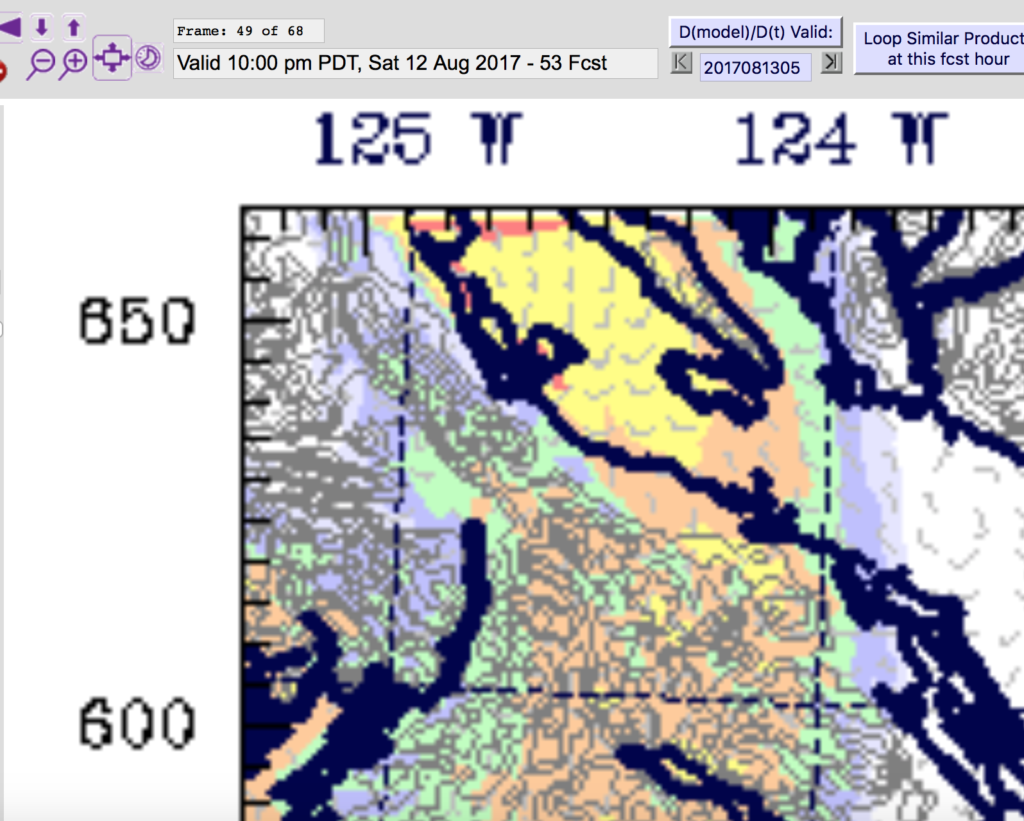 UPDATE 5:30PM: The forecast has cleared for Sunday!!
We are still expected to get showers starting at 6 or 7PM Saturday, however, the new forecast model has made almost all the showers go away before 7AM Sunday!
There are some showers near the hills but other than that, Port Alberni and the Alberni Valley look clear!!
UPDATE 3PM FRIDAY: ITEMS IN BOLD ARE UPDATED.  ALL HOURLY IMAGES HAVE BEEN UDPATED WITH LATEST FORECAST.
Today, Friday, will be the final day in this long stretch of hot and dry weather. We have not had measurable rain at the Airport since July 22 and the last time we had a significant period of rainfall ended way back on June 18.  So while the showers coming this weekend are going to be a downer for the drag races and the Shaker, it's definitely going to be a little bit of relief.
Good Luck to everyone in the Drag Races!  
Don't forget to take the Train or Speeder to and from the City and to the Five Acre Shaker at McLean Mill! You can hop on and off!
And make sure you sign and share the petition for the Martin Mars! This fire season is NOT OVER YET!
Here's the general forecast for the three days.
Friday:
There is no precipitation in the model forecast for any time on Friday except for a faint hint of moisture in the 10PM-11PM hour Friday night.
UPDATE 10-11PM now clear/dry
That hint gets a little stronger in the 11PM-12AM hour with a faint band of moisture over the Valley at that time. This may or may not produce a shower. . UPDATE: Moisture now shown over Port Alberni 11PM-12AM and lingering through 2AM-3AM. 
The moisture then moves away from the Alberni Valley Saturday morning and focuses more on the South Island. So that is good news!
However, that's not the main event for the weather.  That starts around 6PM on Saturday evening.  Below is an hour by hour look at the rain.
In Summary: Friday should be fine, Saturday through the day should be cloudy but good. Rain starts Saturday Evening in 6PM hour and then showers linger Sunday morning with the last threat of showers leaving us Sunday afternoon.
6-7PM slight chance of moisture. 
UPDATE: 6-7PM LIKELY START OF SHOWERS…. I HAVE UPDATED ALL OF THE HOURS IMAGES AND DESCRIPTIONS BELOW.  
RAIN BEGINS A LITTLE SOONER AND THE BREAK ON SUNDAY MORNING IS ALSO EARLIER.
SHOWERS LIKELY TO START BY 8 OR 9AM SUNDAY AND MIGHT LINGER.   THEY WILL START AGAIN AFTER NOON.
SUNRISE START for THUNDER IN THE VALLEY SUNDAY?
7-8PM Rain Begins in all areas.
8-9PM: First wave is through, showers continue.
9-10PM: Isolated showers as next wave approaches.
10-11PM : 2nd wave of Rain arrives. Peak of the rainfall.
11PM-12AM Showers Lingering.
12-1AM Possible showers continue to linger.
1-2AM Starting to dry out.
2-3AM Still Dry in the Valley and City but plenty of showers in the hills.
3-4AM Still Dry, but cool. Only 13ºC.
4-5AM Dry and the moisture starting to move away from the hills as well.
5-6AM Drying out more.
6-7AM It has been mostly dry in the Valley for 3hrs now.. hopefully with the sun up it will be warming and the ground will be dry.
7AM-8AM  Continuing dry but don't be fooled.
8-9AM A Shower creeps back in from the North and East bad news for both McLean Mill and Thunder in the Valley.
9-10AM: Moisture lingers around the City and Hills, possible showers for both McLean and TiTV.
10-11AM Things might get a chance to dry out a bit.
11AM-12PM Some showers clinging to the Beaufort (McLean Mill) but rest of Valley dry.
12-1PM: Dry for all.
1-2PM: A threat of rain down the Inlet, but nothing in the City or Valley.
2-3PM: That threat of rain down the Inlet now moves up into the Harbour. Possible showers in town.
3-4PM: Possible showers in the Harbour and City mostly dry elsewhere.
After 4PM there are a few lingering showers around the Valley but everything should be done by 8 or 9PM. No threat of showers afterward.
That's it!