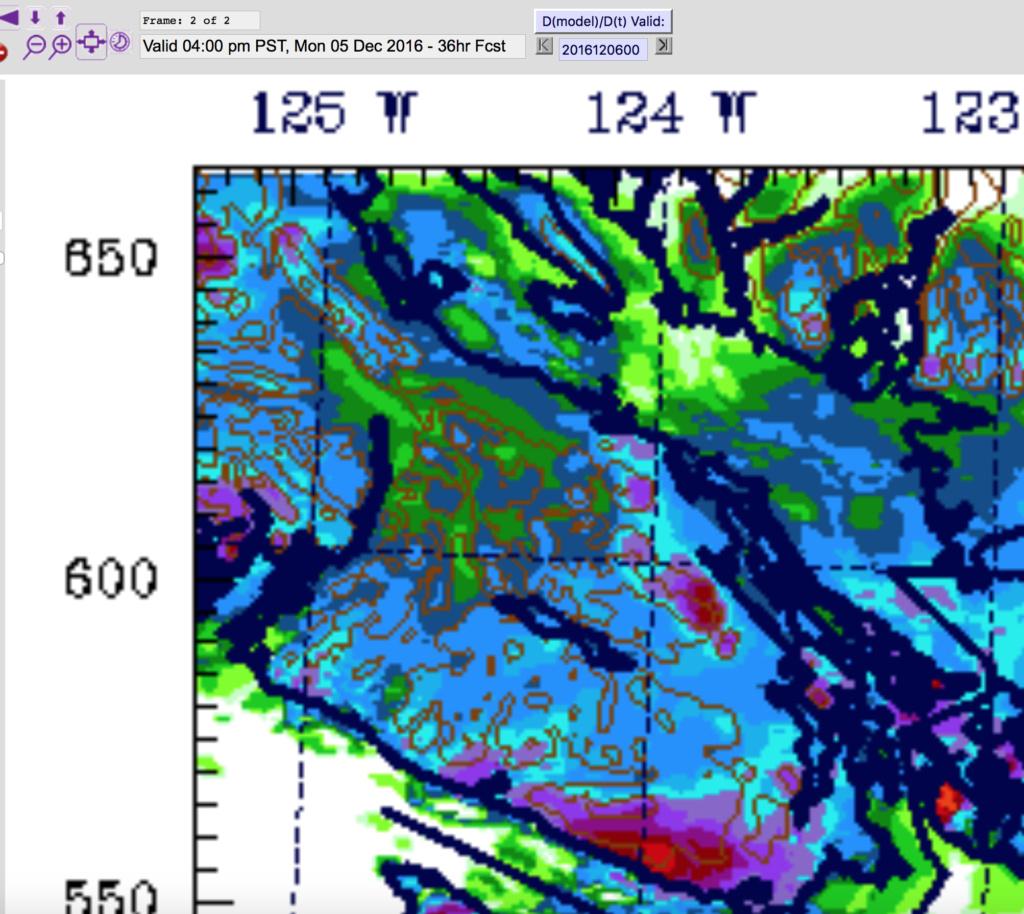 Update 8:45AM — Cowichan and Courtenay still expect snow through Monday.  Nanaimo late.
The morning model still expects pockets of snow to develop by 10AM this morning and lasting most of the day in the Lake Cowichan area as far north as Ladysmith and in the Courtenay area.
In the evening the focus might shift more toward Nanaimo and maybe Parksville while the other regions taper off.
UPDATE 8:30AM
Mostly slushy conditions between Port Alberni and Nanaimo. No real snow on the road on my drive in to VIU.  The most snow was in Nanoose and in south Nanaimo.  We'll see how things go later this morning if winds pick up from the East.  There were also some flakes falling in Whiskey Creek and Little Qualicum Falls. Likely the coldest spot… but no real umphf to back it up.  Stay alert and stay safe on the roads.  Conditions can change and it is supposed to get much colder tomorrow especially so watch for ice.
If you're thinking this cold weather must be a sign global warming isn't happening (I know my readers here are much smarter than that!) don't forget that for every action there is an equal and opposite reaction.
North America is being flooded with colder than normal Arctic air… and warmer than normal air from the North Pacific (which would normally head our way) is flooding into the Arctic.
Santa will need shorts and a T-Shirt.
Coldest air of season moves south across North America while North Pacific ridge floods #Arctic w/ well above normal temperatures this week pic.twitter.com/7FqCgN2VHq

— Zack Labe (@ZLabe) December 4, 2016
Update 6AM
Nothing in town but the rest of the Island is getting a good bit of snow.  This is just the start. Snowfall warning for East Coast. Radar is almost exactly as forecast for this time from last nights model.
Update 9:45PM — Mostly the same forecast, just starting a little later.
Here is a map key with locations (click for larger).
Here are the totals for the day.  The Courtenay area and north Nanaimo look to be the big winners!
Snow to begin around 1AM in Port Alberni lasting to around 4AM.
Looks like about 2 inches or 5cm maximum in Port Alberni.  That is all.
It is a very different story on the East Coast.
Snow is expected to start around 5AM and it will be off an on all day in patches along the coast.
5AM-6AM we see the heaviest Island snow in the Duncan, Mill Bay, Lake Cowichan and Malahat area and some in Courtenay.
By 6AM the snow starts to move north with it starting in Nanaimo.
The mid morning hours will be focused in Nanaimo.
The afternoon should see Nanaimo taper off but then Courtenay and Buckley Bay start to get the heaviest snow fall of the day.
Alright here we go!  The morning models are coming out so it's time to figure out where the snow will and won't fall.
Totals for Monday
Here are the totals up to 4AM on Monday on the high resolution map.  Greens like Port Alberni, are below 2 inches (5cm).  Blues are in the 3-4in/5-10cm range.
Notice there is not too much on the East side at this time… the winds will shift in the morning and deliver this between 4PM Sunday and, mostly Monday, 4PM Monday:
Heaviest accumulations (in purple) look to be Lantzville and Mill Bay/Malahat.
Also heavy in Nanaimo, and Buckley Bay/Denman/Hornby.
Hour by Hour:
First snowfall in Port Alberni is forecast for between 10PM-11PM.  The map shows about 0.5in in an hour.
The snow tapers off (and likely turns to rain) from 11PM-12AM
A little more falls in the 2AM-3AM hour.  Also notice the winds shifting to the east in the Fraser Valley and snow starting in Vancouver and across the Strait in Cowichan and Nanaimo.  Also look at Victoria getting over 1in (2.5cm) in the hour.
Things get really interesting after that… here is the hour by hour series, watch the winds swing to the East across the Strait and push snow onto the East Island.
This is a pretty clear "Strait Effect" situation and this pattern continues through the afternoon and evening delivering the most snow to North Nanaimo, Malahat and Buckley Bay.
Port Alberni is unlikely to see much, if any, through the day on Monday.
Good luck and drive safe out there!  I will update this further tonight after the Sail Past at Harbour Quay!