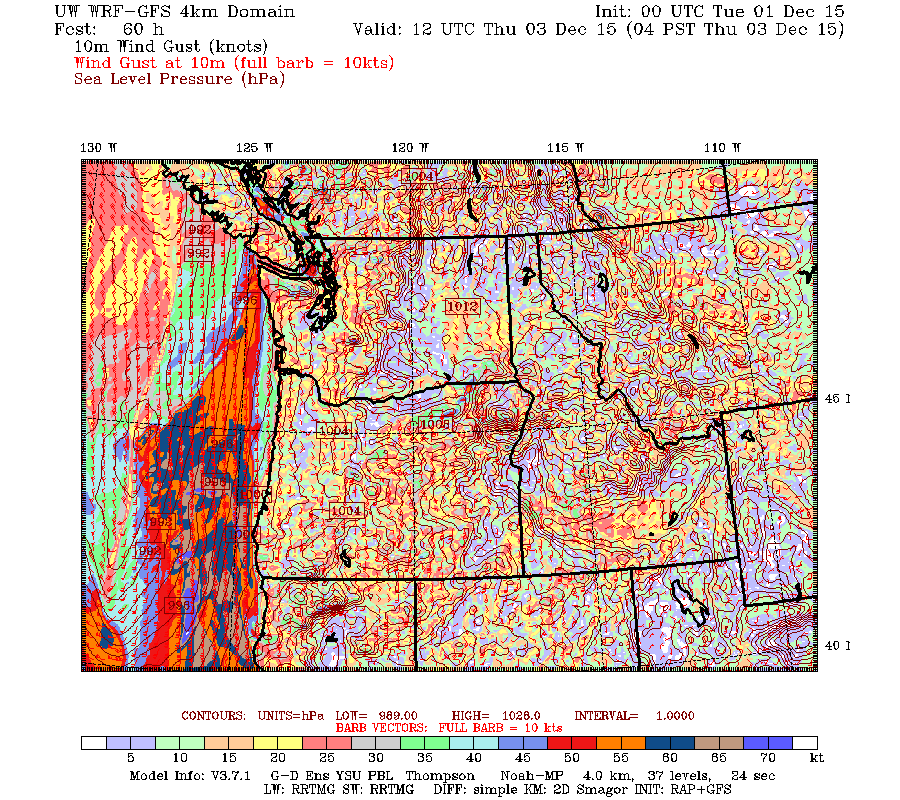 Now that the threat of snow is gone we are left with rain for most of the rest of the week, and a lot of it.
Below are forecasts for the 24 hour periods between 4AM Tues to Wed., Wed to Thursday, and Thurs-Fri. Green is 1.2in or 30mm.
On average each day is probably going to give us around 20-30mm. Even though it is drizzling as I type this, the rain today (Tuesday) won't really get going until 9-10AM and will continue through until late tonight.
We will get a little bit of a break Wednesday and then another blast of rain and wind will come starting Wednesday evening and lasting all the way through Thursday 
Thursday has the potential for serious wind.  But before we get there there is going to be some wind for the East and West coast of VI today peaking around noon.
The big threat though will be Thursday when a strong low is going to track up along the coast from California.
Wind from it may start  early Thursday morning.  Timing for this storm is still pretty loose but it seems the wind will generally begin Thursday morning and Thursday evening.
The latest model has the low jumbled against the coast and coming ashore just north of the Columbia river well to our south on Thursday afternoon.
As long as the forecast remains for the low to make landfall well to the south then we should be fine.  We will have to keep an eye on it though as the day approaches.
Have a great Tuesday everyone.