Heat returning for weekend. Weather data of Devastating Ft Mac Fire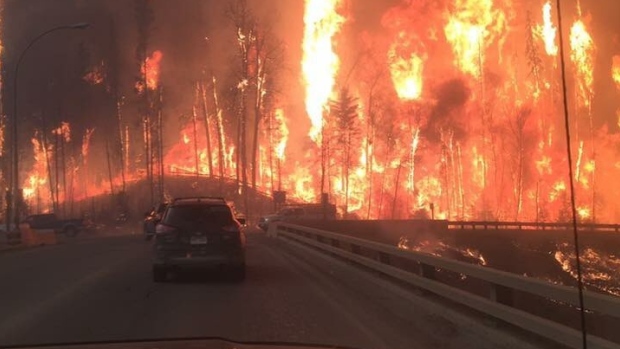 First:
Please donate to the Red Cross to help the thousands of refugees that are now in need. It really is like a war zone.
For our area, a brief bit of rain yesterday actually delivered slightly more than UWash forecasted, but still just 3mm over the past 24 hours.
We will now shift back to a dry and warm pattern with the heat building to the high twenties on Friday and Saturday before breaking again Sunday.  There is no precipitation forecast through Wednesday next week.
50,000 83,000(!) Climate Change Refugees Evacuated from massive fires. The Weather Data.
The images from Northern Alberta yesterday and this morning were incredible, sad, terrifying, devastating.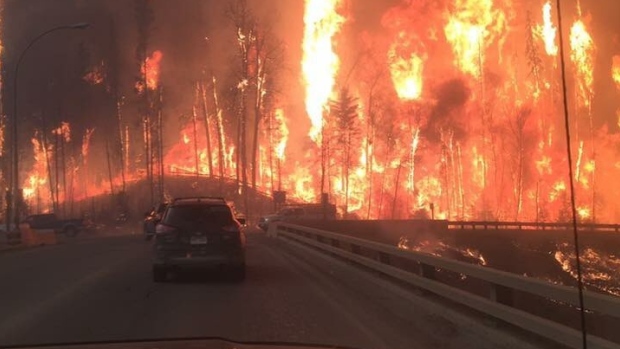 A friend of mine from Port Alberni who escaped last night told his wife it was like an apocalypse.  It is not going to get much better today, in fact it might get worse as the forecast is for the same hot and very dry (<10% humidity!) and high gusting winds from the West.  They will hopefully get some relief tomorrow but it will be too late for a huge number of people.
So far at least 1600 structures have been burned!
BREAKING NEWS: #Alberta Premier @RachelNotley estimates 1,600 structures destroyed in #FortMacFire #ymm @GlobalBC @globalnews

— Sonia Sunger (@SoniaSunger) May 4, 2016
The hot spot yesterday in Canada was tiny Garden River, Alberta which hit 33.3°C it is about 300km Northwest of Fort McMurray in Wood Buffalo National Park. Fort Mac wasn't far behind at 32.6°C.
Fort McMurray has an excellent long period station stretching from 1944 to today. Yesterday's temperature was the hottest May 2nd ever recorded at that station, breaking the mark by an astonishing 5°C.
I went through all the monthly data since 1913 using two stations at Fort McMurray. Here are the top April and May Temperatures in Fort Mc Murray:
April 29 1939 35.0º C (Suspect?)
April 29 1980 32.2º C
May 29, 1936 36ºC.
May 26, 1986 34.8ºC
May 21 33.9 1916
May 28, 1944, May 20, 1961, May 13, 1971, May 25 1934 and May 28 1995 it hit 32.8ºC
So  one thing we can definitely take away from this is that this is the hottest start to May ever recorded in the Wood Buffalo region.    It is very rare for it to be so hot, so early in the year.
The fire behaviour that we are seeing here is extreme and catastrophic.
This reminds me of my meeting just last week with the BC Wildfire service.  They came to the Air Quality Council meeting at the ACRD offices to talk about the fires we had here last year and the behaviour (and smoke issues) they saw from those fires.
They said what is changing is the severity and the timing of the fires.  The season is getting longer, and the behaviour is getting worse.  The Coastal Fire Centre saw more hectares burned in 2015 than in all the previous 50 years combined.  They also said that now, often when they call other provinces or states for help, they get a "no, we were going to call you" response.  And that is exactly what BC had to tell Alberta yesterday because of fires in BC's north.  The services are stretched to their limit.  Climate Change is hitting these people that are trying to protect us the hardest and it is putting lives and livelihoods in danger as we are seeing now with devastating effect in Fort McMurray.
Thankfully, Coulson has sent a helicopter and there is another asset on the way from Australia.  Western Canada is going to need everything it can get.  Check out the national map.
I just downloaded all of the fire maps for this day in the Natural Resources Canada archive since 2000.  This year is definitely the  the worst, most extreme and widespread fire picture we have seen at this time of year in their records.
For a complete look at all of the links to global warming and climate change including many things we have talked about before on this blog, go check out this excellent article.
And here is another "Climate Context For the Fort McMurray Wildfire".
In 2012 Mike Flannigan, a forest researcher at the University of Alberta said, "In a warmer world, there will be more fire. That's a virtual certainty… I'd say a doubling or even tripling of fire events is a conservative estimate".
The tragic irony is all too clear.  I personally reject the idea that we can't link this single extreme event to climate change but yet say that "extreme" events like it are made more likely by it.  In order for one of those statements to be true, the other has to be true as well.  The positions are one and the same in my mind.  We have to stop pussyfooting around the issue.  How many disasters like this will it take before we really make massive changes in how our society fuels itself?  And science is telling us these are just the beginning of the changes that we have already set in motion. I can't imagine what we have coming at us in the future.  With the Slave Lake fire in 2011, the Calgary floods in 2013 and this fire now… Alberta seems to be taking the brunt of the hit in Canada.   We must do absolutely everything possible to prevent these tragedies escalating in the future.  That means ending fossil fuel use as soon as we possibly can. With images like this, suffering like this, the largest evacuation in Alberta history, how can we not?
In the immediate though, please donate.