Happy New Year! Full 360 view of Valley and new Weather Data view!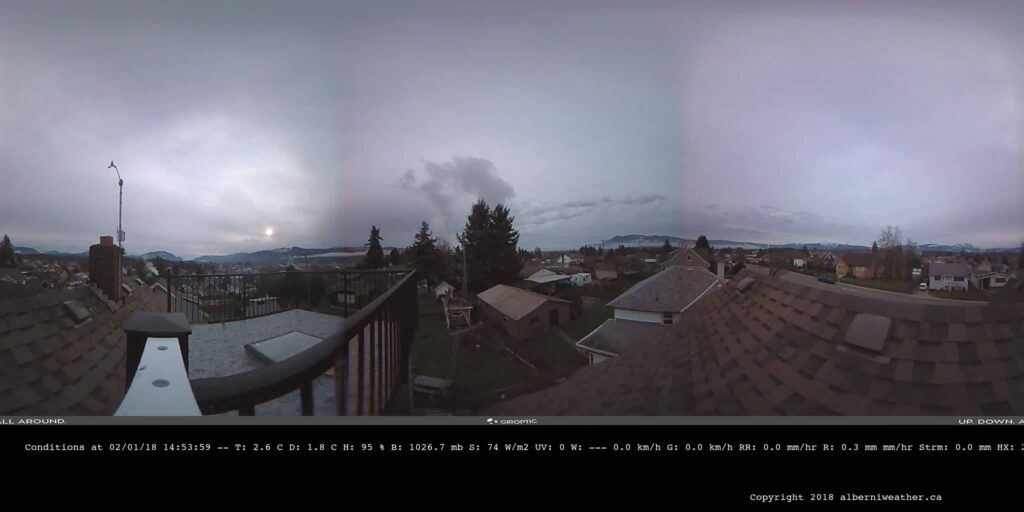 I have been quiet on the blog since Christmas but that doesn't mean things haven't been happening!
I am very happy to say that after 12 years of shifting views from webcams all over my house… I have finally achieved what was my ultimate vision all along!  A 360° view from the top of our house in both live video and still image!
The Giroptic 360cam I bought in 2016 and installed last spring delivered the live video to Youtube. Then I was able to extract webcam style images from it, with an overlay, this fall.  And yesterday I moved it from my porch to our new roof deck on top of the house!
You can see the still image, and the live Youtube feed, from the Webcams page of course.
The 2nd thing I have been working on is the backend services.  I had to move away from the "wview" weather server software I had used since November 2005 as it was no longer supported.
This is why the new graphics appeared and why it seems like some of the weather stats went away.
This holiday season I was able to create a new Weather Page Here. 
It looks like this!
It has a lot more of the raw data that us weather nerds like.  This will not be permanent as i intend on integrating this page layout more directly into this blog, but it is better than it has been for a while. And it UPDATES AUTOMATICALLY.
I am back at work tomorrow so you can expect a new forecast blog then!
Happy New Year! 2018 is starting great for Alberniweather! 🙂