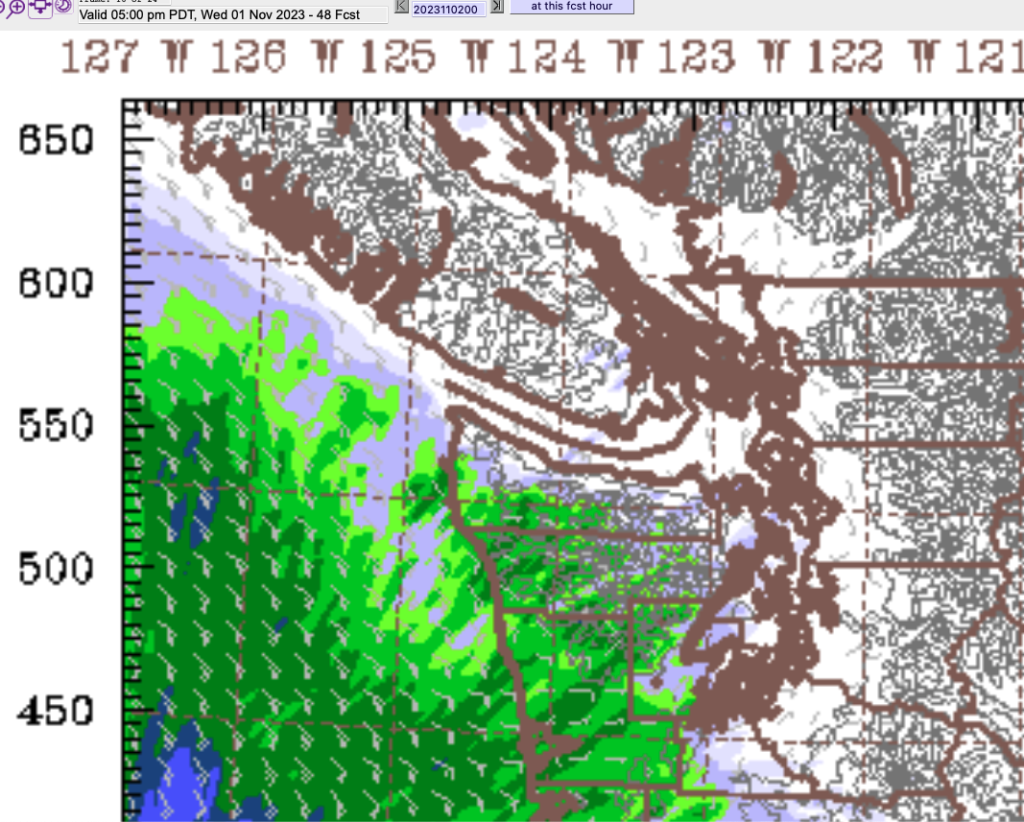 It's going to be a perfect halloween evening for kids to get out and find that candy! 🙂
The clear (if not foggy) and cold conditions will end on Wednesday night as a frontal system moves onto Vancouver Island.
Expect rain to begin around 5PM on the West Coast and 8PM further inland.
We should be into heavy rain before midnight that will extend through the night.
Rain should taper off to showers by sunrise on Thursday morning.
Showers will linger throughout the day on Thursday for most areas but it should stay relatively warm with temperatures hovering around 6-9ºC. It might be windy after the showers move through on Thursday as well.
A couple days break – then rain Saturday and continuing
We'll get a couple days of break between storms, before a similar front moves onto the Island on Saturday evening followed quickly by another front on Sunday evening.
Expect rain to begin late Saturday morning or early afternoon, followed by a break on Sunday morning, and then another bout of rain Sunday evening. Showers and likely blustery conditions look like they will continue on Monday and Tuesday
Strong storm next Wednesday
Take this with a grain of salt as it's at the end of the forecast model, but there is an interesting storm suggested on Wednesday that could bring 100kph+ winds to areas offshore of the North Island.
Since it's more than 7 days away though, we'll take that as a "Trick or Treat". 🙂
Have a great day!