Happy First Day of School! Possible thunderstorm today. Great Fall Fair Forecast!
First week of September will feel very much like summer.
Well, the fish were happy with the rain on the weekend even if the Salmon Festival visitors might not have enjoyed it that much (nor my Garage Sale goers! :)) but at least it was nice on Monday!
We are still more than a two weeks away from the astronomical start of fall, and this week will definitely feel like summer even if the mornings are a little cool.
Except for the chance of a thundershower today, there is no precipitation in the forecast until maybe Sunday. A great week for the Fall Fair!
Highs will be in the high twenties all week!
Possible thundershower Tuesday
Environment Canada is expecting a possible thundershower this afternoon for the Nanaimo and Duncan area and the UWash model sees that as well.
The 11AM-2PM period sees some thundershower activity along the ridge lines west of Nanaimo and south of Mt. Arrowsmith. We'll see if that materializes today.
Horrific Hurricane Dorian still pounding The Bahamas as Category 3 Major Hurricane.
Hurricane Dorian made landfall in the northern Bahama Islands as one of the strongest Atlantic hurricanes ever recorded with a pressure of 909hPa and sustained winds of 185mph/300kph gusting to 220mph/354kph.
Here is the full 48 hour view from the Microwave Satellite imagery. It shows the landfall and the subsequent stall over Grand Bahama for the past day which has undoubtedly led to massive destruction from both the winds and storm surge of more than 20 feet in some places.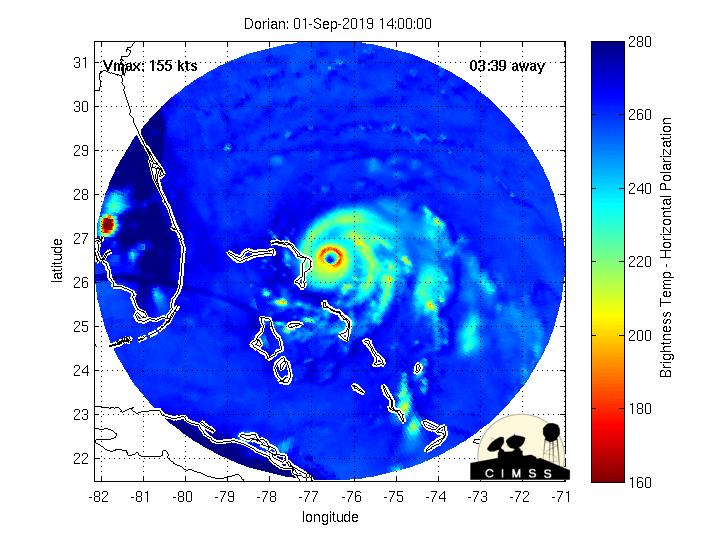 The good news, if there is any, is that the stall has likely preventing a catastrophe affecting millions of people along the Eastern US from Florida all the way to North Carolina.
The hurricane has weakened to a still very dangerous Category 3 storm with winds this morning of 175kph. It is expected to follow the coast northward and possibly make landfall in North Carolina. It is still likely to cause a lot of damage as it moves north.