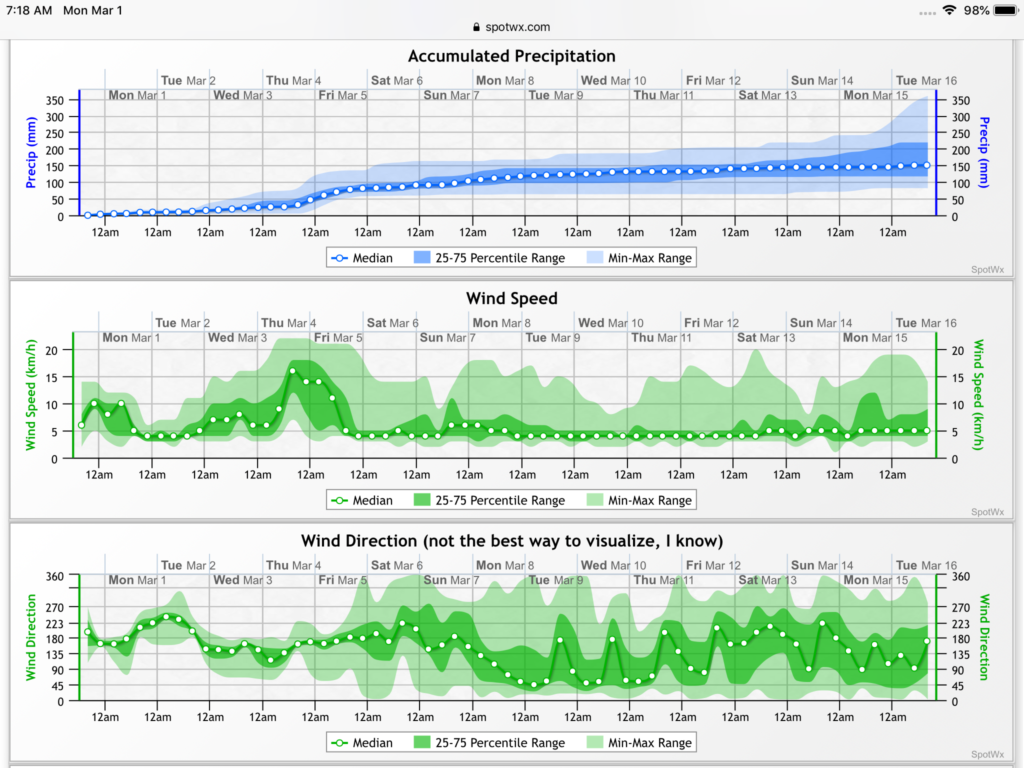 March 1st! Where did Winter go!?
We still have twenty more days until the equinox – you can see the exact time on the front page in the Almanac – but for statistical purposes, today marks the start of the March/April/May spring period! We had a chilly and slightly snowy February, as we often do. But the road ahead looks a little warmer and wetter.
10 degree days – Showers
We might see some brief flurries/wet snow on Tuesday night as temperatures will dip toward zero overnight but otherwise, expect showers and rain Monday with highs to 10°C and the same every day this week except Wednesday when we might get a break.
Long term outlook steady – foggy?
The 16 day outlook model looks pretty steady in these same temperature ranges for the first half of the month.
In fact the precipitation and wind forecasts look quite flat. We might be in for a foggy and grey and after this week, dry, first half of the month.
We'll see how it shapes up!
Continuing work on website behind the scenes.
I've been working away at a few things behind the scenes to make the website a little more responsive and mobile friendly. I hope to have those ready soon. If you ever have suggestions on how something can be improved don't hesitate to leave a comment or send me an email.
Have a great day!