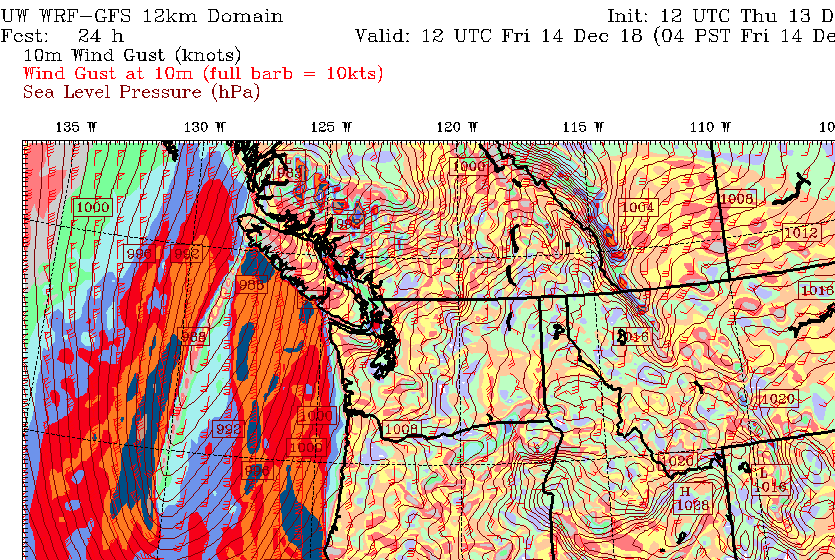 You'll see further updates through the Twitter thread and #AlberniWxStorm hashtag below! If you have any weather reports tonight or tomorrow, tweet them with that hashtag and they will appear here!
Live Updating Twitter Thread
[custom-twitter-feeds hashtag="#alberniwxstorm" num=8]
[custom-twitter-feeds hashtag="#bcstorm" num=2]
We have a storm coming! Here's the initial look and then you can follow the ongoing thread here or on @Alberniweather and at the #alberniwxstorm hashtag. If you're on Twitter go follow it there and send in your reports and comments or questions. They'll show up on this blog too!
Initial Post – The Models have Settled Down
The good news is the extreme storm that the model showed on Tuesday and Wednesday has disappeared from the forecast. We still have a potentially strong storm coming, but not the extreme beast that was on those initial maps! What we have now actually looks a lot more like what the model predicted on Monday.
More good news: This will mainly be a wind event, not a rain event. We'll still have plenty of rain, but it won't be as much as we had in the past 24 hours for example. Between 4AM Friday and 4AM Saturday only up to 30 mm is expected. This should help a little to keep the trees from being too weak if we do get strong winds.
Now, on to the Wind Storm! Here is the current prediction:
That looks a lot different from yesterdays forecast!
The biggest differences between the new and old forecast is:
The old forecast showed a very tight, circular storm. That indicated a deep low and that made for the very strong winds. The new forecast still has strong winds gusting over the ocean at up to 60 knots (100-110kph) but that's a far cry from the huge are of white 80knot (140kph)+ on yesterday's forecast!
The new forecast has the low further south on the Island and so winds are going to impact a lot more people. Tofino and Ucluelet have wind warnings of 90-100kph. The East Side of the Island have warnings up to 70kph as does Greater Victoriaand Vancouver. I expect Vancouver will have This more southerly track is responsible for that and will also cause Ferry troubles for potentially all the ferries between Courtenay and Tsawassen.
There will be two 'waves' to this storm.
The first wave will begin late Thursday evening. The later sailings for BC Ferries may be affected by this. I've circled the areas of strongest winds below. The top image is 4-7PM and you can see the winds get stronger in the second image which is 10PM-1AM.
So the entire Friday evening and night will likely see strong winds on the water and gusty winds on land in Nanaimo and Courtenay and Victoria as well as the West Coast.
The main system comes ashore in the morning on Friday. The strongest winds should be between about 8AM and 11AM Friday morning depending where you are on the Island. We could see gusts to 60-70kph in Port Alberni.
Expect Ferry disruptions all day Friday though because after the front passes around noon on Friday, it will be followed by strong Westerlies and North Westerlies all Friday afternoon. So if you're on a ferry boat any time on Friday, expect a rough right.