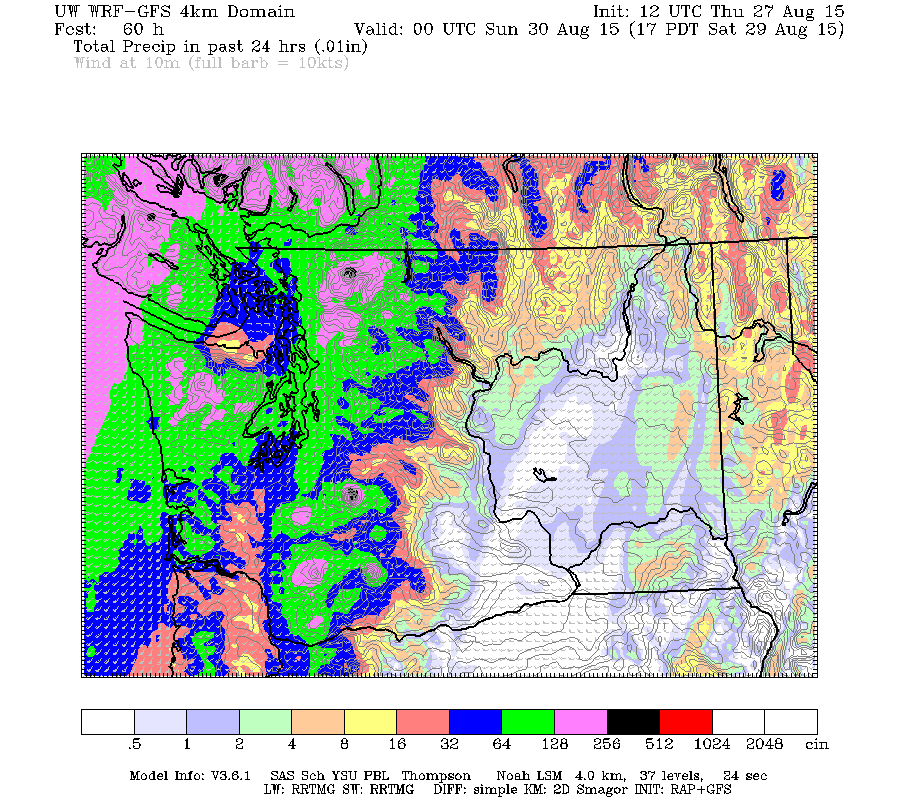 Updated 10PM
Special weather statement has been continued.
Latest has fire hose aimed slightly north so not on us quite so squarely. But ever seen a loose firehose? 🙂 #BCstorm pic.twitter.com/Llv88rvm8v

— Alberni Weather (@alberniweather) August 28, 2015
Update 6PM – Special Weather Statement Issued Flooding Possible.
Here is the full statement please read all.
Issued at 2015-08-27 22:55 UTC by Environment Canada:
Special weather statement issued for:
East Vancouver Island, B.C. (081300)
West Vancouver Island, B.C. (081400)
Inland Vancouver Island, B.C. (081500)
Current details:
Heavy rain over the South Coast this weekend.

A major change in the weather pattern will develop on Friday. The high pressure system that has trapped wildfire smoke over Southern B.C. will finally shift east thanks to a pair of incoming storms. The storms will merge two jet streams into a single river of sub-tropical moisture that will bathe the South Coast with the first significant rainfall in months.

Weather models are indicating 80 to 120 mm of rain over the South Coast between Friday night and Monday morning. 20 to 30 mm of rain is expected to carry over into the mountainous regions of the interior during the same period.

Due to the drought conditions over these regions, the soil has a reduced capacity to absorb water. Heavy rainfall thus increases the risk of flash flooding. Additionally, given the recent prolonged dry period, road surfaces may become slippery resulting in poor driving conditions.

To mitigate the risk of flash flooding, make sure drain spouts and sewer covers are free of debris , so water can freely drain. During heavy rains, avoid roadway underpasses, drainage ditches, low lying areas and water collection areas. They can unexpectedly flood or overflow. Do not try to drive across a flooded road. You cannot tell the condition of the road under the water.

The public is advised to monitor future forecasts and warnings as warnings may be required or extended.
I am going to try a new method of displaying the graphics.  Please let me know what you think by emailing alberniweather@gmail.com or leaving a comment or Twitter/FB.  Don't be shy.
The models seem to be jumping all over the place with these forecasts, so take everything that is said down below with a grain of salt.  However, we are now well within the 3 day window where the forecasts are traditionally very good.  So make preparations as necessary.
Immediate Forecast backs off – Spotty Showers now all day Friday.
I was worried this might happen and it appears to have indeed happened.  The stream of moisture bringing the bulk of the rain has now slip even further south.  We have been left with a secondary band delivering isolated showers through Friday.
Here is a slideshow of the system showing 3hr accumulations from 11PM Saturday-2AM Friday and onward.
And here is the final accumulation up to 5PM Friday afternoon.  Our total is only up to about 4mm.

But Saturday now Means Business
The trade off in the model appears to be the forecast for Saturday which all of a sudden seems a lot more organized than it did yesterday.
I'll do the pictures in traditional form this time.  Let me know which you prefer.  Again the action starts between 11PM and 2AM and the rain does not let up until after 8PM Saturday.
Those images don't need much explanation, the firehose is turned squarely on us.
Here is the total accumulation from 5PM Friday through 5PM Saturday… this leaves off a bit but gets the worst of it.
We are perfectly in the cross hairs for up to 60mm (2.5″) of rain.  If we get all of that watch out.  There will be consequences, possible flooding.
There is also a possibility for some gusty winds.  You can see the small, but powerful low coming ashore in Oregon on Saturday morning below.  I don't expect too much wind activity here.
This forecast could change. But due to the severity, I will be keeping a close eye.  If Environment Canada issued a Statement or Rainfall Warning I'll post it here in an update.  Next post will be tomorrow afternoon/evening to see how the forecast for Saturday changes.
Sunday Backs off, more rain Sunday night into Monday
There are still showersbut it backs off overnight and into Sunday morning.  Another pulse comes through Sunday night into Monday but we'll see how the forecast changes.