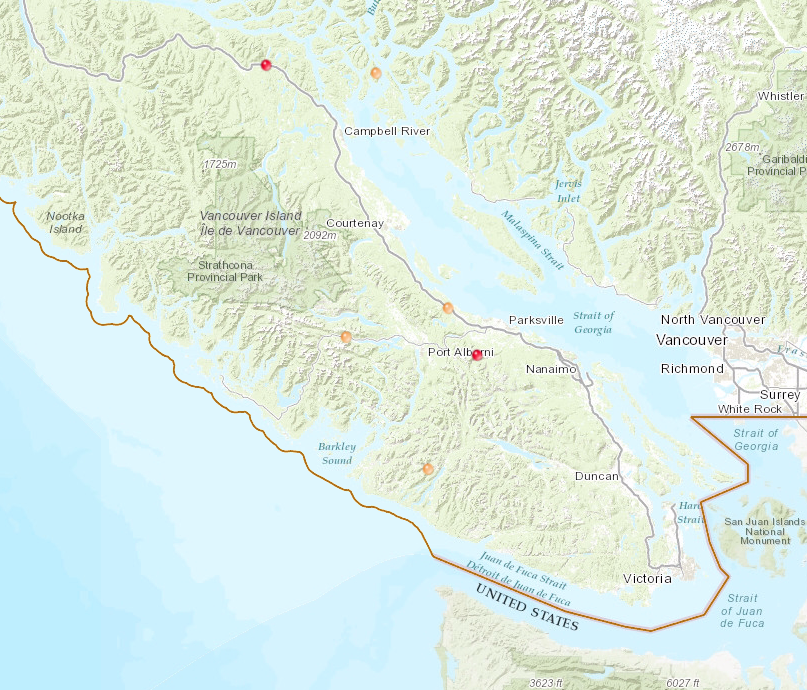 Update 3: Sooke fire now under control.
It appears all 4 fires are now under control. There was never any word about the one near Coombs, so it appears to be good as well.
As always, a huge thanks to all fire crews, from the wildfire service to the local volunteers and full time fire brigades.
It's going to be a long summer.
Update 2: Cameron Main fire under control
Have heard from Elena at the AVNews that the small fire up Cameron Main was "industrial" and is already under control. Good news!
Update: ITS RAINING
Looks like there is a downpour directly over Alberniweather! Hopefully it spreads over the whole town! Spotty showers popping up along the centre of the island. Not a bad thing!! Yay! Environment Canada says there is a small chance of thunderstorms.
Original post
Please folks, be careful out there, particularly in clearings and near any recently logged areas.
The Taylor Flats Fire is now listed as "Under Control" by BC Wildfire and the size is steady at 1.82 hectares.
However, four new fires have appeared on the Island today (as of right now, only 3 are on the map).
One is north of Campbell River near Rock Bay and listed as 0.25 hectares. Media reports indicate it is now "under control".
https://vancouverisland.ctvnews.ca/wildfire-under-control-north-of-campbell-river-1.4473438
Another is near Coombs/Mt. Arrowsmith listed as 0.01 hectares. It appears to have been very small. So hopefully it is taken care of.
Yet another just appeared as I was writing this post (2:30PM) on Cameron Main just east of Port Alberni. A very similar location to last year.
And a fourth, not shown on the map yet, is being reported by Media outlets as near Sooke. When it appears on the map, I'll update the image here.
There has been no lightning so while the cause of the fires has not been determined, it obviously was not natural.
We haven't had any significant rain, so even though it is not very hot, the fire danger is creeping higher particularly on the East Island.
Most of the Island including the North and West Coast are now rated at "High".
Again, Please folks. Be extra careful, particularly in clearings and near any slash areas.