Update Sat 4PM – Flood Warning downgraded to Watch – Flooding Rain Possible Monday after Sunday dry-out.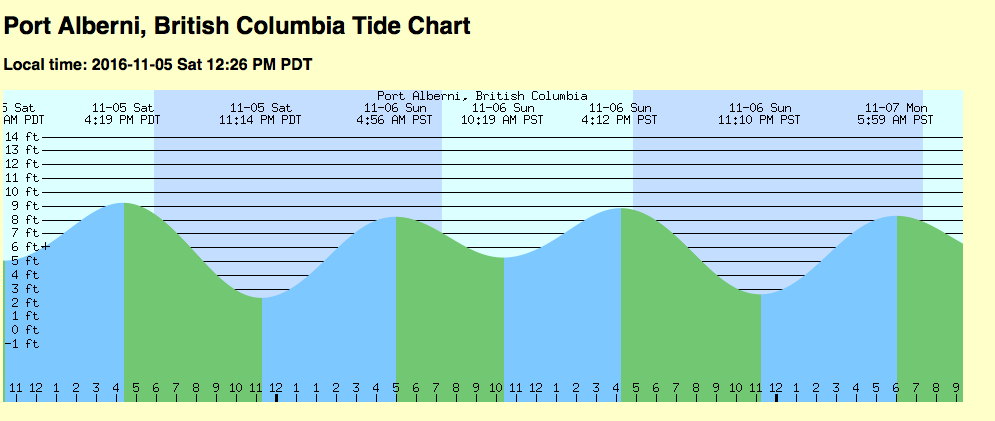 Update Saturday 4PM
The River Forecast Centre just downgraded the Flood Warning for the Port Alberni and Central Vancouver Island Area to a Flood Watch.  This is good news in that it should indicate that the rivers will begin to recede tonight and hopefully more tomorrow after the rains end.
We still have Monday to deal with and I would be surprised if the Watch was downgraded further to a High Streamflow.  More likely is that the Watch will continue until the end of the rain events early next week.
Take care out there.
And if you're bored… I got a new webcam!  It's a live stream!  I am testing it right now.  It might go on and off.  It's just my basement 🙂  The plan is to have this thing up on the roof for a full view of the Valley!
……….
The rains are starting to ease in the Valley as last night's system has pushed through and left unsettled showers behind.
The rivers remain very high and the Somass is raging.  Flooding has occurred on Tseshaht reserve and they are sandbagging as well as evacuating some residents.  Flood Warning remains, check the BC River Forecast Centre for details and updates (there should be an update sometime this afternoon)
We should have a mostly dry afternoon and evening before a brief bit of showers invade around 11PM.
The next major system will invade starting in the 6PM (PST) hour on Sunday.
Peak rain rates are forecast to occur in the 11PM Sunday-12AM Monday hour with rain rates of 4mm per hour (yellow) in the City and 8mm per hour (salmon) in the Sproat and deep Valley areas and  16mm per hour (blue) in the western mountains that drain into Sproat and Great Central Lakes..
The rain should end locally in the morning on Monday but will continue in the mountains most of the day in advance of another system on Tuesday.
Totals for the 24 hours between 4PM Sunday and 4PM Monday:
Port Alberni: up to 30mm (green)
Sproat Lake/Valley: up to 60mm (pink)
Western Mountain catchments: over 60 to 100+mm (black/red)
The highest times of the rivers will be difficult to predict as the water filters down through the mountains and lakes but they are likely to get very high on Monday/Tuesday and further into next week.
Tides are building to the Full Moon on the 14th as well so we will need to keep an eye on the Tide tables to know when flooding might be at its worst.  The highest tide in the next 5 days is 9.2ft Saturday at 4:19PM and then 5AM and 4:20PM Sunday, 6AM and 5:20PM Monday.  The next 9ft tide is 5:20PM Wednesday.