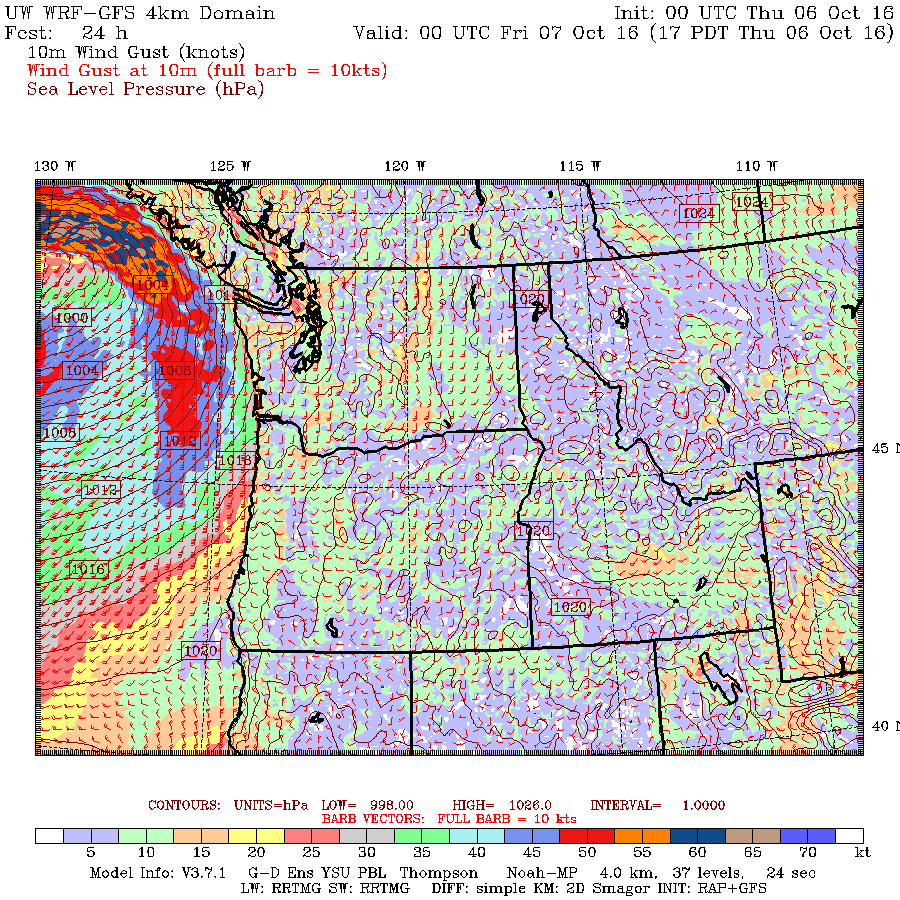 6AM Friday
Looks like the wind decided to come at us on the back side of the storm instead of the front. Stay safe out there. This too shall pass by late morning. 🙂  Top gust 64kph. At 3am
Updated 9:30AM – Final Look
An updated look from this morning's model runs.  A wind warning remains in effect for West and East Coast Vancouver Island as well as Greater Victoria and the Southern Gulf Islands. The rain looks like it will start just a little earlier than expected.  The first drizzle starts between 2-3PM.
Rains will build through the evening to the 8-9PM hour when we see rain rates of 8mm/hr (salmon coloured areas).
Rains should peak in the 9-10PM hour and then start to taper off and stop before sunrise Friday.
The strongest winds look like they will occur between 5-8PM and be in the 20-30kph (10-15knot) from the East or SouthEast with slightly higher gusts possible. They should not be enough to cause serious damage but might cause some branches or snags to fall as it is the first blow of the fall season.
Winds in the Georgia Strait will peak in the 35knot/60kph range with higher gusts.  This is where the wind warnings come in for East and West Island, particularly for more northerly parts of those regions like Comox and Courtenay.
More general 20-30kph Easterlies will set in after the storm passes on Friday morning and early afternoon.
Updated 8:30AM
Environment Canada issued Wind warnings this morning for West and East coast of Vancouver Island.
It's officially fall.  Here comes our first storm of the season:
The latest model run is one of the strongest in terms of totals for rainfall in our area with the Alberni Valley firmly in the green 16-32mm with higher elevations nearby and closer to the West Coast getting into the 60mm range in the 12 hours between 5PM Thursday and 5AM Friday.
As you should see from the animation at the top.  The system is a fast mover.  Rain won't start until after 5PM Thursday and it should end before 5AM on Friday.
The low is impressive but not especially deep at 99.4kPa.
There will be patches of near hurricane force winds offshore parts of the West Coast particularly north of Clayoquot sound but closer to the South Island, Tofino and in northern Georgia Strait we should only see winds in the 80-90kph range overnight.
Maximum winds in the Alberni Valley should not be more than 30-50ph but considering how much the models have jumped around, if the system is off slightly and the winds line up the Inlet just right we could get some stronger gusts.
So there ya go… are first go at a Fall Storm.  Should be fun.  Batten down the hatches. Bring all the patio furniture in from the yard.  Warm up the fire and some hot chocolate and find a good book.  It should be all done before morning on Friday. 🙂
If the forecast changes significantly in the morning I'll update this post.