Final hottest days – Over 40°C – Possible hottest Port Alberni days ever recorded. Heatwave breaks Tuesday. Water Restrictions. Extreme Fire Danger.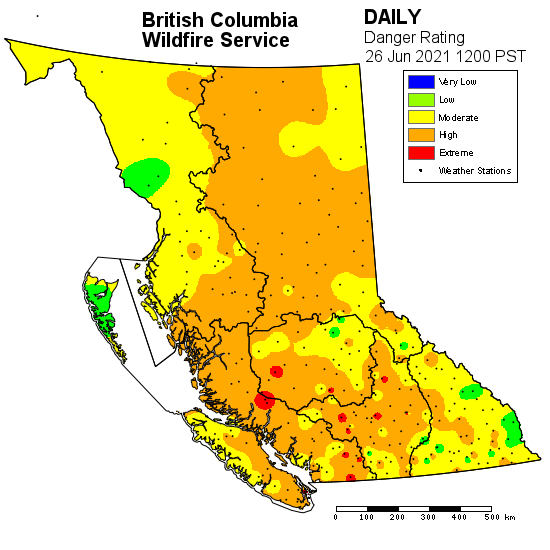 The oppressive heat continues today but there is an end on the horizon. Sunday and Monday will mark the final days of this heatwave. They will be the hottest of all.
Sunday 41°C possible.
There is a tiny sliver of good news this morning. And that is that we managed to still get down to 19.8°C this morning. That is just 0.5°C more than the 19.3°C on Saturday. The Airport also got down to 17.3°C which was just shy of a degree more than 16.5°C yesterday. So that's good. The expectation was that the heat would build more than that and we would stay above 20°C.
That said the forecast is still very very hot. Here is the picture. Notice the brown patch in the Alberni Valley and in the Fraser Valley. These are 40-42°C temperatures Sunday afternoon.
Monday – Warmer morning – Possible 42°C All Time Record
The final day of the heat wave should be Monday, and it will be the most extreme of all, and possibly the most extreme temperatures ever recorded.
Morning: The forecast only has temperatures going down to 22-25°C. Hopefully it is wrong and we manage to dip under that.
Monday Afternoon – 40+°C widespread across the Island and Lower Mainland
The picture is incredible to see. Port Alberni is forecast to reach between 42-44°C. But Nanaimo, Parksville, Duncan, Cowichan, Victoria, Vancouver and the entire Fraser Valley is also expecting to see temperatures of 40°C and above. This is beyond extreme and into never before seen, territory.
Records have fallen and will fall.
As I mentioned in a tweet yesterday, we broke the all time record for June 26 yesterday:
The Airport data is officially missing from June 25, but preliminary data suggests the Airport beat its 2017 maximum 34.7°C with 35.1°C on Friday.
However, today and Monday are the big ones.
If we reach the forecasted 40°C we will easily smash the all time Valley records for June 27 set this day in 2015 with 36.6°C and 37.0°C at the Airport and Robertson Creek stations respectively.
If we reach the forecasted 42-44°C on Monday we will obliterate the 2015 record at the Airport (35.2°C) and the all time June 28 record of 36.7°C at Beaver Creek (1951), but we will also easily eclipse the highest temperature ever recorded in the Alberni Valley. Records in the Alberni Valley date back to 1900. The highest temperature was nearly 100 years ago on July 10, 1926: 41.7°C at the Beaver Creek station.
The temperature has gone over 40°C less than a dozen times since 1900 and the Airport station has never had a temperature over 38°C over 40.0ºC since it was installed in 1995.
Water Restrictions (alternating days) start July 1 in Port Alberni
Moving on from the forecast, this is a reminder that watering restrictions will come into effect July 1. You should water only on an odd or even number day based on your address.
You should only water between 6-9AM and 6-9PM. The restrictions do not apply to hand watering or micro-irrigation systems. Here is the full release, click to go to the City website.
Fire Danger moving to Extreme Sunday
As you can see the majority of the province and Island are under High risk ratings. That will begin to change today.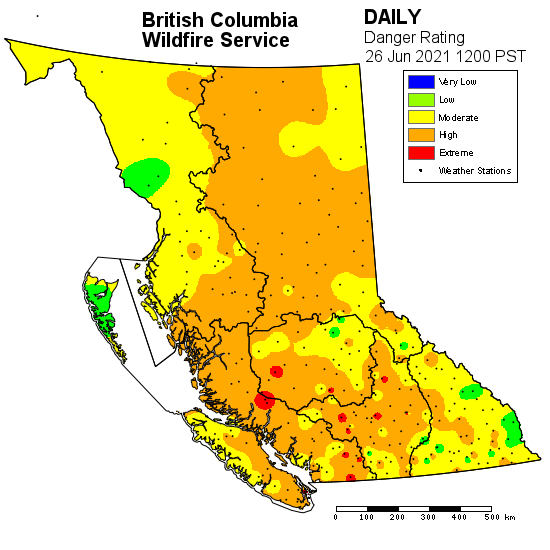 Yesterday's forecast had Port Alberni (Beaver Creek) moving to Extreme risk levels today the 27th.
It will obviously stay at extreme with other parts of the province joining it until we get some rain.
Heat Wave finally breaks Tuesday
And to end on a positive note, there is relief coming. Much cooler 13-18°C Pacific air will push in starting Monday night. Here's the progression as it moves across the Island.
Unfortunately it may not get all the way into the Interior but it will at least knock down our daily highs back into the much more manageable 25-28°C range.
Stay hydrated and safe out there everyone!