February 2015 Summary – Dry and Warm – No Snow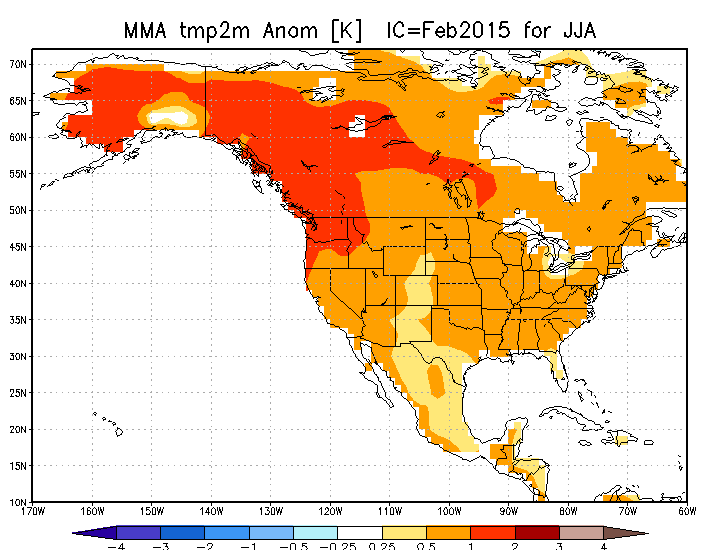 An extremely warm February provided lots to love, but extended the nearly-no-snow streak in the mountains
---
Temperatures Way High – Snow Pack MIA
Temperatures well above normal mean rain that fell fell everywhere.  No snow nearby.
As folks east of the Rockies shivered under record cold, snow, and ice, we here on the West Coast have been treated to almost an entire month of abnormally warm weather.
The snowpack data continues to tell the most important story.  The dark blue line shows that the snowpack is basically zero at Jump Creek south of Mt. Arrowsmith.
Unlike last year (in green above) when "old man winter" returned with a significant snowfall event in mid February both at low and high elevations, this year we've had nothing.  In fact, as you will see in this months record listings below, last year we got a couple days of record cold before the snow hit.  No such luck this year.  Winter is still Missing in Action.
---
Rainfall measuring woes continue at Airport.
Once again, the Airport station only recorded 6 days of values for precipitation.  All others are listed as "missing" or simply don't exist.
---
El Niño update not out yet.
Stay tuned to a later update when the El Niño report for March is released.  We're not expecting anything ground breaking.
---
Outlooks — Spring and Summer looking warm and dry.
That brings us to the monthly outlooks… this month, we'll do the Seasonal outlooks since meteorological spring starts March 1 and astronomical spring comes March 20.
The NMME outlooks are available here.  Take with a grain of salt.
Outlook for Temperature and Precipitation for Spring (March, April, May):
2ºC Above Normal and Drier than normal.
Outlook for Temperature and Precipitation for Summer (June, July, August):
2ºC Above Normal and normal precipitation.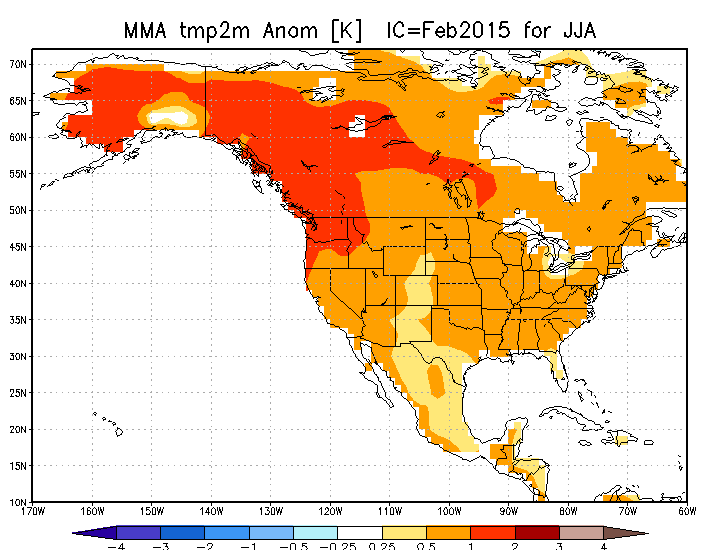 Here are the probabilities (the confidence levels) for those forecasts.
Interesting that the summer precipitation forecast (far right) is the most out of line with its anomaly forecast partner above.  Latter shows normal precipitation, former shows below normal.
That's it!  Check the data below!
---
Daily records set this month at the Airport (and compared to other stations for "All Time")
No new lows, six new Airport highs, two rain, no all time.
Feb 6 high 12.0ºC and rain 50.8 mm : #1 is 15.0º C in 1906 and 109.2 mm in 2013 at Beaver Creek and Robertson Creek respectively. (We set a record low on this day last year – 2014 – of -4.7ºC)
Feb 7 high 12.0º C and rain 22.8 mm: #1 is 12.8º C in 1910/13/24 and 79.2 mm in 1948 both at Beaver Creek. (We set a record low on this day last year – 2014 – of -13.4ºC)
Feb 16 high 13.6º C: #1 is 17.2º C in 1905 at Beaver Creek.
Feb 17  high 14.2º C: #1 is 16.7º C in 1905 at Beaver Creek and in 1934 at Port Alberni City.
Feb 21 high 14.0º C: #1 is 17.2º C in 1916 at Beaver Creek.
Feb 28 high 13.9º C: #1 is 17.8º C in 1911 at Port Alberni City.
Short Term Airport Records are compared to the 30+ year weather stations of record since 1900 at Beaver Creek, Port Alberni City and Robertson Creek.
---
February 2015  Minimum, Overall and High Daily Average Temps See last month's and last Februrary's summary.
Alberniweather: 4.5º C, 7.5° C, 12.0º C
Alberni Elementary School : 4.3º C, 7.5º C, 12.1° C
Maquinna Elementary School: 4.4º C, 7.2º C, 11.5° C
Neptune Canada Station: 4.7° C, 7.5º C, 12.2º C
Overall City Average: 4.48° C, 7.43º C, 11.95º C
Environment Canada Airport: 2.9º C, 7.0° C, 11.2º C
1981-2010 Env Can Normal (Rbrtsn Creek): -0.6º C, 3.0º C, 6.6° C
---
Precipitation for January:
Alberniweather: 222.5 mm
AES: 213.8 mm
MAQ: 246.0 mm
NEP: NA (not measured)
Overall City Average: 227.4 mm
EC: —- (155.4 mm measured from only 7 days of reported data!)
1981-2010 Env Canada Normal (Robertson Creek): 239.6 mm
---
City Stations Temperature Difference from normal:
+5.1° C, +4.4º C, +5.4ºC
Official (Airport) Temperature Difference from normal:
 +3.5º C, +4.0ºC, +4.6ºC
City Stations Precipitation difference normal:
 -12.2 mm (94.9% of normal)
Official (Airport) Precipitation difference from  normal:
—- not enough data
*Denotes incomplete data for the month
---
Comparison to recent Januarys at Alberniweather (unless specified)