Every Sensor in BC over 25ug/m3 "red" – 900ug/m3 in Houston – No significant rain expected – People awakening to Human-Caused Climate Change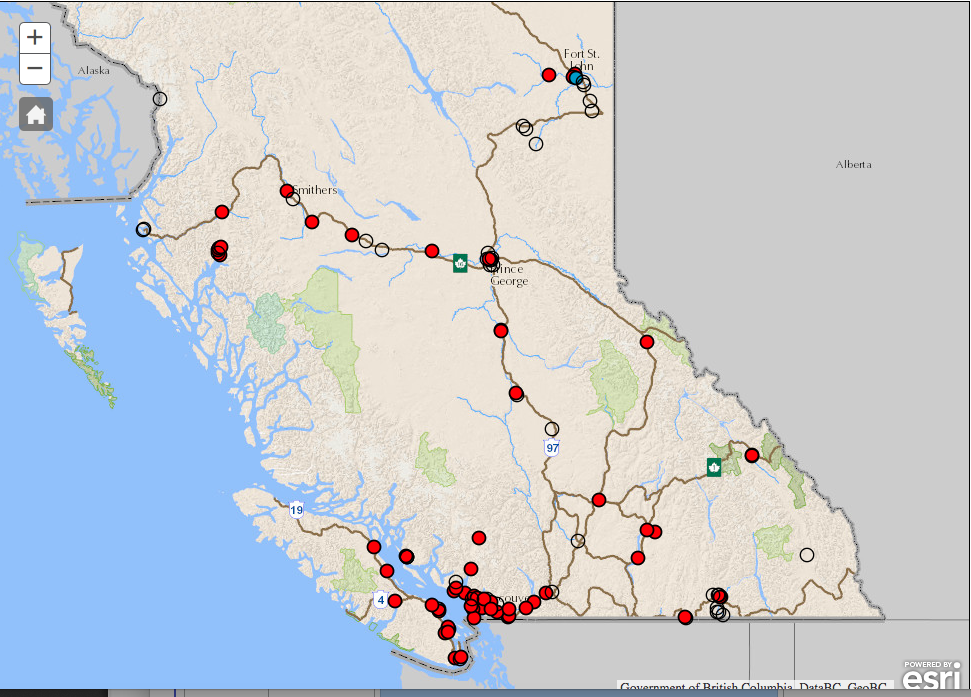 The provincial map from bcairquality.ca says it all.  There is no good air in any community measured this morning.
The entire province is under a blanket of smoke and it is affecting air quality in all regions.  
The hourly readings are not better. Only 2 stations in the province, Terrace and Smithers are currently showing readings under 25ug/m3.
Just a little ways away in Vanderhoof, the reading is an unimaginable 692ug/m3 this hour (8AM) and in Houston the 24 HOUR AVERAGE is a simply stunning 900!! (That means it was likely much higher than that at times in the past 24 hours!)
I prefer these readings to the "AQHI" index readings as I believe the AQHI to be somewhat ambiguous and confusing and they do not cover all communities like the PM2.5 sensors do. The AQHI only goes up to 10.  Most communities have been over 10 for weeks now… PM2.5 provides the larger scale to see just how extreme it is getting in some communities.
The fire danger remains extreme across most of the province.
According to the Ministry of Forests forecast sheet for the Coastal Area, as of yesterday only one subregion in the Coastal Area is moderate at Port Hardy, 11 are High, and 53 are Extreme.
The Forest Service forest casts indicate the Island is being affected by smoke plumes from fires on the North Island:
The Forecast – No Rain
I will use the forecast text from the fire service issued on Tuesday, I will update the text when the new forecast is issued around noon today.
OUTLOOK: (Thursday-Saturday) By Thursday morning the weak cold front/upper trough will lie over Coastal zones with extensive cloud cover bringing cooler temperatures and higher humidity. Winds will increase although they are not likely to be more than light to moderate but little or no rainfall is likely. By Friday this first system is well to the east and a weak ridge fills in but skies remain mostly cloudy. A second weak system arrives Saturday with clouds and increased winds but little or no precipitation.
6 TO 10 DAY: (next week) Skies clear early next week for a few days but another band of clouds and a possible isolated shower arrives by mid-week.
CONFIDENCE/DISCUSSION: The smoke continues to make forecasting afternoon temperatures difficult. The approaching front is not strong but will bring some winds. Even with cooler temperatures the increased winds are going to stir up more active fire behaviour.
The good news is that they and Environment Canada are expecting the coming weak front to at least thin the smoke in the skies. So hopefully we will have some relief from the poor air quality.
Climate Change and Fires
Finally, I wanted to write something down for the permanent record about these fires and climate change.
There is no disputing the fact that these fires have been enhanced, and the last few years of extreme fire behaviour across the province has been made more likely and caused in part by climate change, human-caused climate change.
As our Prime Minister meets with his Cabinet in Nanaimo today, they will be met with protesters of many types but likely mostly focused on the Kinder Morgan pipeline.  I hope the smoke in the skies makes the message of those protesters even more poignant.  We simply cannot grow our oil infrastructure and reduce the risks of climate change. 
Consider this:  We have now seen (including here in Port Alberni) a global temperature rise of about 1ºC.  
So these fires are what happens after 1ºC rise.  
Scientists have told us that in order to avoid "dangerous" levels of warming and climate change, we need to keep the global temperature from rising 2ºC. Is two years of provincial state of emergency due to massive, choking, wildfires not "dangerous" enough?
We must do more.  What can we do to reduce our CO2 emissions to zero in the next 30 years.  How fast are you willing to go? What big changes are you willing to make?  I posted this question on my facebook page recently. If you have ideas, please share.