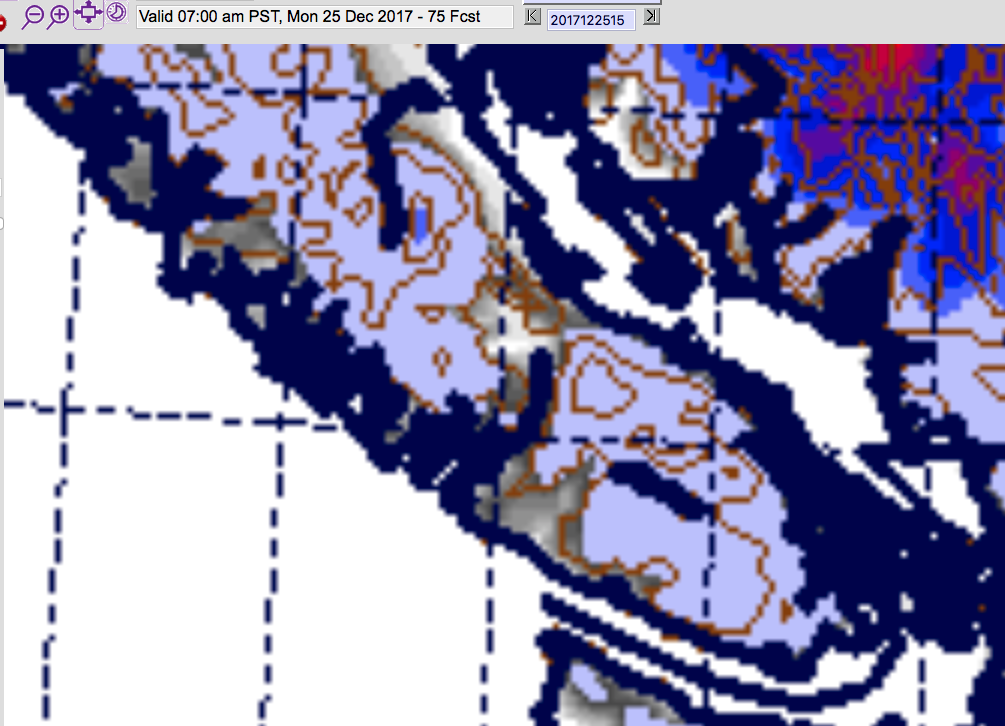 You may not have to.  Here is EC's Special Weather Statement issued at 10AM:
Issued at 2017-12-22 18:01 UTC by Environment Canada:
Special weather statement issued for:
East Vancouver Island, B.C. (081300)
West Vancouver Island, B.C. (081400)
Inland Vancouver Island, B.C. (081500)

Current details:
If you have been dreaming of a white Christmas this year, your dreams may just come true.

The likelihood of snow is increasing as a frontal system currently developing over the Pacific is set to approach the BC Coast this weekend, reaching Vancouver Island on Sunday.

A ridge of high pressure will remain over the BC Interior into at least next week, spilling dry arctic air into the Georgia Basin. Around the south coast, daytime highs will struggle to rise above the freezing mark.

At present, snow is expected to develop across Vancouver Island during the day on Sunday and spread to the mainland coast Christmas Eve. Arctic outflow conditions could combine with this system and produce locally heavier areas of snow along East Vancouver Island.

Snowfall amounts are uncertain at this point but the prospect for appreciable accumulations lies with Vancouver Island. On the mainland side, lower amounts are possible.

If you have travel plans on Christmas Eve, please monitor forecasts and statements for updates.
So the mothership is getting pretty bullish on this whole "White Christmas", but notice it says East Coast Vancouver Island has the best chance.
Lets look at the models:
It seems almost certain that there will be snowfall on Sunday, at least in the air.  The bigger question is whether it will stick. The incoming system looks a little too weak to really deliver the big precipitation we need to get some real accumulation.
Here is the snow depth forecast for Christmas Morning on the Island. The east side, from about Parksville south seems like a pretty good bet, but it looks like the Alberni Valley and Courtenay and points north might be getting left out!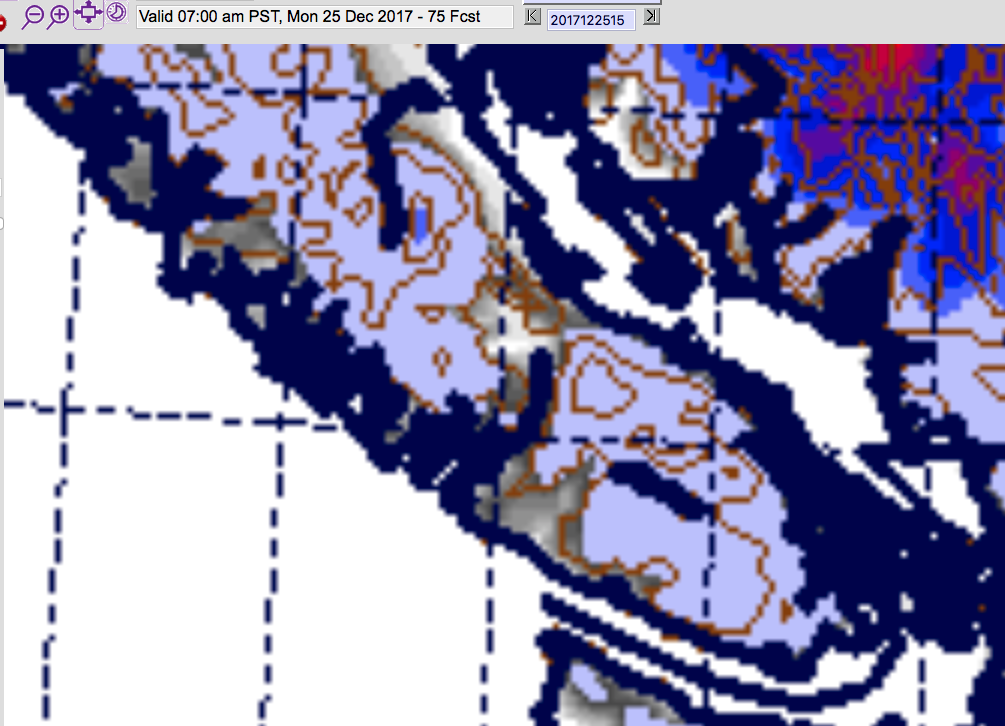 So don't lose hope.  One thing is for sure, we will definitely see snow flying in the air on Christmas Eve day or night, and that's pretty special!  But don't absolutely count on seeing that snow cover on Christmas morning.
However, if you are driving on points south of Nanaimo on Christmas Eve, be prepared and take extra care. We want to make sure everyone is home safe!