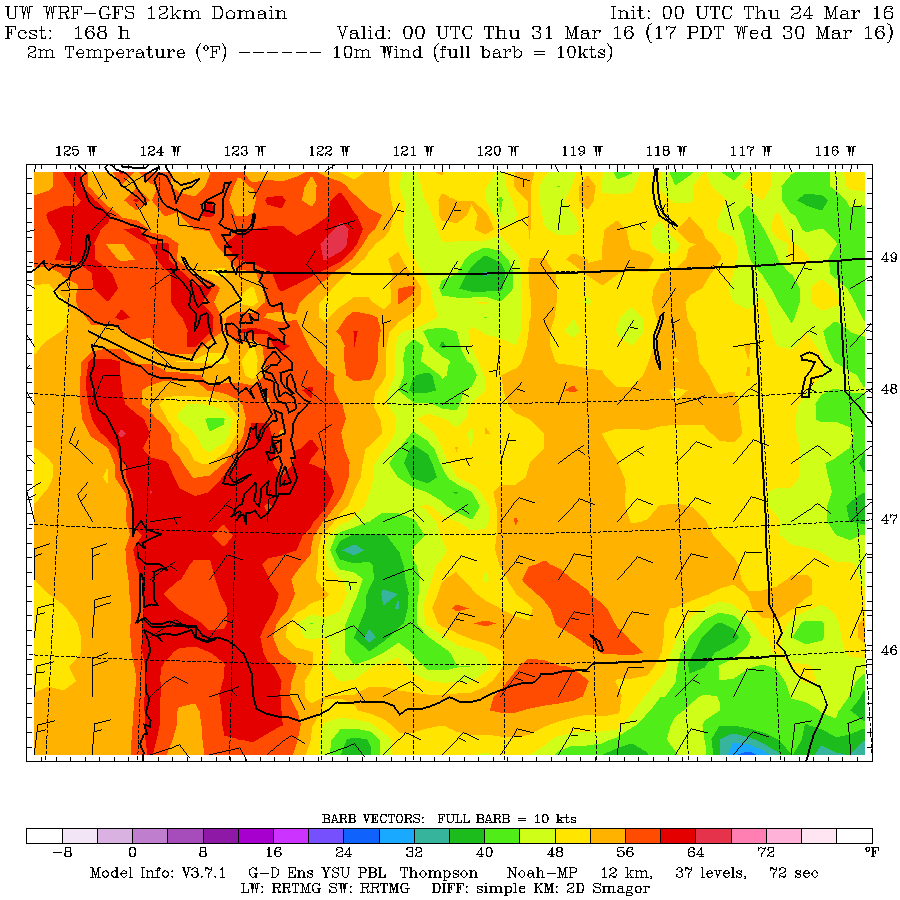 There will be a few lingering showers today as the rain clears out in anticipation for a warm and sunny Good Friday. We have a very spring like mixed bag of weather coming at us over the next four days followed by what looks like our first bit of extended heat of the year, here's the rundown:
Good Friday
It will be good!  There may be a little low cloud in the morng but it should clear and deliver a beautiful spring day.  High temperatures up to 14°C (56° F) according to the UWash temperature map.
Saturday
Some clouds and possible showers will move in Saturday morning but there is only one little blob of precipitation forecast in our area around 10AM on Saturday. Other than that, the daylight hours of Saturday look dry and pleasant.
In parts of the south coast that do not experience the cloud cover, it is might get warmer on Saturday.  Possibly into the 16° C range.
The main force of the next wave of rain will arrive Saturday night between 8-11PM.
Sunday
Showers will linger into Sunday morning and it looks like there could be possible heavier showers Sunday afternoon.
It will only get to around 10° C on Sunday but it will be clear and cold Sunday night and Monday morning.
Easter Monday
The cold air will likely mean a start to the day with fog on Monday but after it clears we should have a spectacular and warm Easter Monday to enjoy.
There does not appear to be any threat of rain and it actually looks like it will set us up for our first very warm week of Spring next week!
Beyond:
Check this out! Temperatures for Tuesday and Wednesday into the 16-19° C (60-64° F) range!
Have a wonderful weekend.
I might post again on Sunday but probably not until Tuesday.