Dry Saturday, Showers Sunday. "Historic", "Explosive", "Catastrophic" Hurricane Patricia to hit near Puerto Vallarta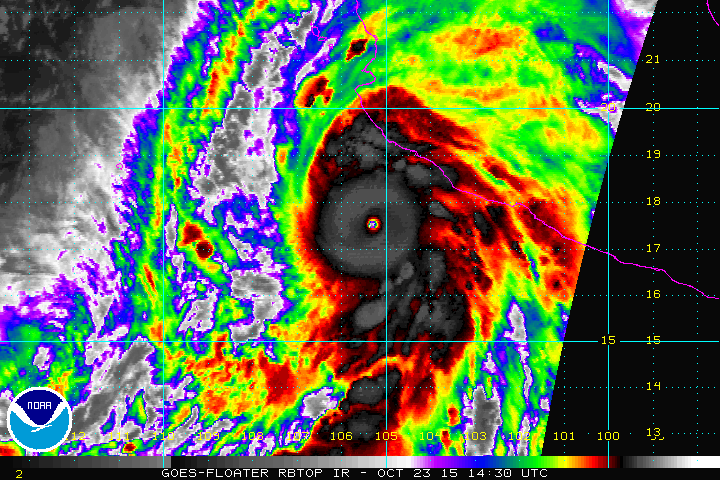 We have quite a nice weekend shaping up for us.  After the fog burns off in the morning we should get mostly cloudy skies today and then maybe some sunnier skies on Saturday.
There will be a weak front coming through on Sunday morning that might bring some showers before noon but it will be dry for the afternoon.
Strongest East Pacific Hurricane, Patricia, to slam Mexican west coast.
Much like we have had to deal with the record sea temperatures from the "blob", near record warm sea temperatures over 30°C off of the West Coast of Mexico have given birth to a historic hurricane. It is now the strongest hurricane in recorded history. Sustained Winds of 400 kilometres per hour. No, that is not a typo. I can't even comprehend that. And gusts would be higher.  Thankfully it will not make landfall (god help them) at that intensity, but still category 5.
What makes it historic? Check out microwave imagery below which shows its development from tropical storm 48hours ago to cat5 now.  According to Jeff Masters at Wunderground and the National Hurricane Centre discussion last night it is one of the fastest forming Cat5 in the satellite era.  And now, with ridiculous 205mph estimated winds currently happening, 55mph ABOVE the 155mph Cat5 threshold, and 885mb (88.5kPa) central pressure, it is one of the strongest Western Hemisphere hurricanes ever seen.
From the 10AM update: "
it is expected that Patricia will make landfall as a Category 5 hurricane in southwestern Mexico in less than 12 hours.
In addition to the coastal impacts, very heavy rainfall is likely to cause life-threatening flash floods and mud slides in the Mexican states of Jalisco, Colima, Michoacan and Guerrero continuing into Saturday.
The good news is, and you might notice it from the animation above, the eye of this hurricane is very small, only about 10-20 nautical miles wide. It is known as a "pinhole" eye.  These tyoes of hurricanes are very intense, but the most extreme winds are confined to that small eye.  The other good news is the West Coast of Mexico near Puerto Vallerta (which is in the Banderas Bay, the bay you see emerge in the top left at the end of the animation, is very mountainous, so the hurricane will get knocked down even faster than it ramped up when it makes landfall.
That said, for anyone not evacuated from the closest points of impact between Manzanillo in the South and Puerto Vallarta in the north, the damage will be catastrophic.
Here is some of the latest imagery.