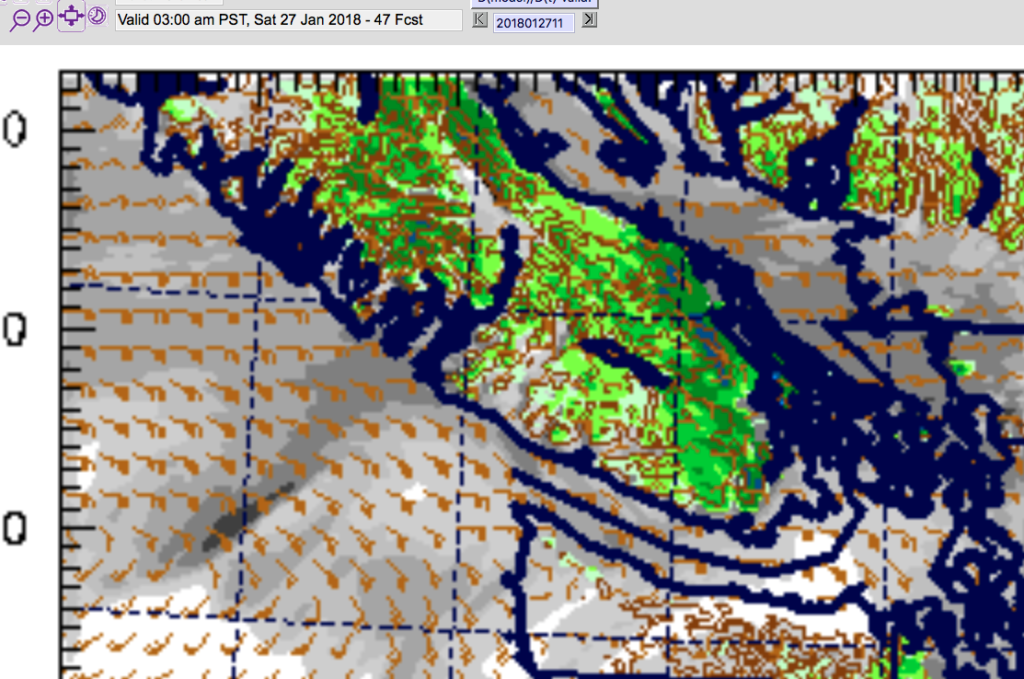 Now… back to the weather….
We are into a pretty unstable and cool pattern. Temperatures aren't expected to get above 4ºC from today until Sunday.
Showers should start Thursday evening in the 7PM hour (in grey below) with snow at higher elevations (in green).
It will be short lived though and spotty.
Beware:  There is snow predicted to fall Friday morning, in the 3AM-4AM time period but switching to rain in the following two hours.
However, the temperatures are so borderline that this could fall as either snow, or sleet, or rain.  So expect nothing, or a bit of a mess, when you wake up on Friday morning.
Spotty showers or flurries at higher elevations should continue on Friday.. the Hump, Sutton and Malahat passes or inland parts of the Island might have some messy weather so be prepared.
The main show begins on Friday night and early Saturday morning as a front sweeps in with widespread rain at lower elevations and snow at higher elevations.  Looks like another base-maker at Mt. Washington starting around 1AM Saturday!
Precipitation might be strong enough, and temperatures cool enough, for wet snow to fall, particularly on the east side of the Island. (in green)
It is also going to be windy… so driving conditions are probably going to be treacherous.
You can see the winds spinning offshore and howling in the Strait in the picture above.
It should all end as the low comes onto Vancouver Island around 10AM.
Buckle up! It's going to be another wild weekend of weather!