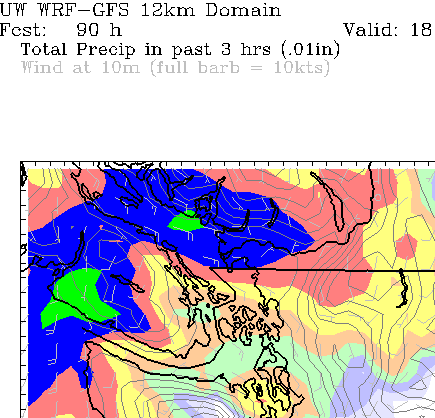 Wednesday and Thursday will continue beautiful, summery and clear. We should get up to highs of 25-27ºC both days.  With Wednesday being the warmer of the two.
The view of the Coastal Mountain range from the highway this morning just before sunrise was wonderful.  It was a painting of dark mountain peaks in the distance etched against a purple sky.
Friday will be the transition day as clouds start to roll in as you can see from the progression of images below from Friday early morning through to Saturday early morning.
Unfortunately, that cloud cover is not going to be benign.  It is coming packed full of our first good rainfall event of the fall starting between 5PM and 8PM Friday.
Here is the rain scale for reference below.
That rainfall will intensify overnight Friday into early Saturday morning.  Here is the accumulation expected between 5AM Friday and 5AM Saturday:
That certainly does look like a fall rain patter to me!
First Look (long range) at Toy Run – Saturday
Here is our first look at Saturday.  We will get a better idea once the short term model updates this morning and covers Saturday fully but I don't expect it to change too much.
There is only one image you need to see:
That image is for between 8AM and 11AM Saturday morning.    between 8-16mm of rain is expected to fall in the central Island region.  The rain will abate a little afterwards, but it will continue to be showery or raining lightly all day ending late Saturday night.  It will also bring stormy winds to the North end of the Island.
The total between 5AM Saturday and 5AM Sunday is between 30 mm and 60 mm and between 60 and 120 mm on the West Coast.
Unfortunately for the Toy Run, this is looking like a very damp bike ride.  Dress accordingly!
Thankfully, there will be some respite on Sunday as only some lingering showers are in the forecast but it will remain cool.