Counting down to Spring Equinox – A cool and variable week – Zero South Island Snowpack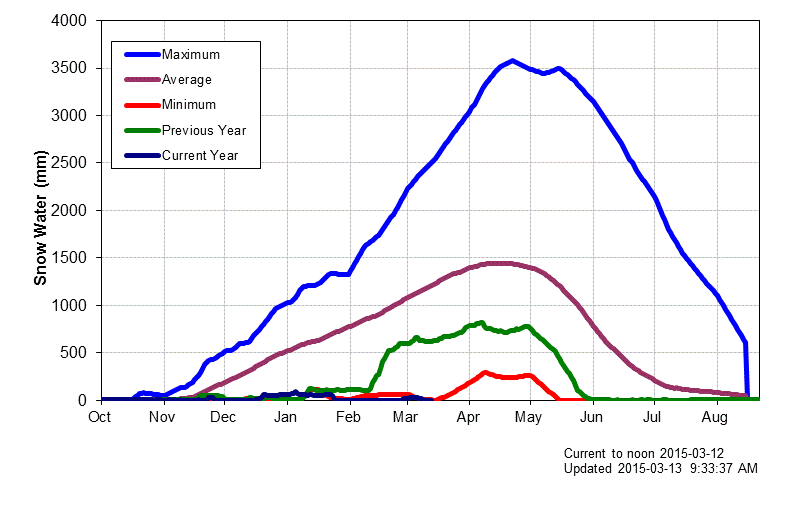 For the first time in a while we have what could actually be described as a normal span of spring (even though it's technically still not spring) weather on tap.
In case you're wondering, the first day of Spring is Friday, March 20th at 3:46PM (click for a countdown!).
We have a couple systems coming our way this week.  You can see them below:
Showers from the first system should start around 2PM on Tuesday.
Showers will continue through early Wednesday morning.  There will be a bit of a break on Wednesday before a more intense front sweeps in Wednesday night and early Thursday morning.
Precipitation totals from the Tuesday showers should be negligeable.
Totals from the Thursday morning event should be significant if these model runs validate.  Right now we could have totals over 2 days, Wednesday 5PM to Friday 5PM of up to 60mm.
That is not enough for warning criteria, but it will feel like a lot because we've had so little over the past few months.
No Snow for the mountains
It will only feel cooler because we have been so far above normal over the past few weeks.  It will actually be close to seasonal temperatures (max 10ºC) and as such, no snow is forecast to fall in the high or low elevations on the South Island.
The snowpack monitor at Jump Creek for the South Island remains at zero.
The graph shows the minimum that was recorded (it does not state the year but the record goes back to 1995).  While it is still possible that we may get a very late snowfall to at least put a little bit of snow into the reserves, with the continuing very warm sea surface temperatures off our coast, and the continued forecasts for above normal temperatures and dry conditions, I think we have a greater than 50% chance of seeing zero snowpack for this winter season at the South Island station.
That would obviously be a record, and it would present very serious challenges to our neighbours on the South and East Coast of the Island if, as predicted, we have a warm and dry summer as well.