Cool and cloudy week. Possible Thunderstorms Monday. New Alberniweather Air Quality sensor installed.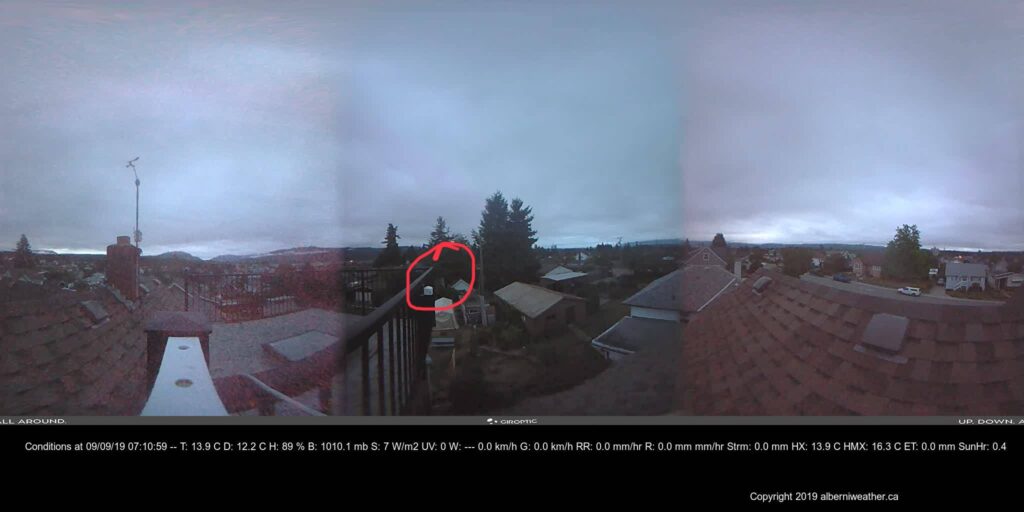 Feels a lot like fall.
We will have a pretty grey week as clouds dominate the forecast though Tuesday might see a few breaks in the cloud and will be our warmest day.
By Wednesday and onward the clouds will stay thick and the temperature might not reach over 20°C.
There is rain predicted for Monday afternoon, Tuesday morning (more on that below), Thursday and maybe Saturday morning for the Toy Run (but it is not strong, so don't lose hope).
Thunderstorms possible Monday, maybe Tuesday.
There are definitely thunderstorms in the model for Monday morning. You can see them in the two images below starting in the 2-5PM period on the east side of Mt. Arrowsmith. This could produce strong downpours on Highway 4.
Then popping up on the north end of the Alberni Valley along the Beauforts and in the Cowichan Lake area in the 5-8PM hour.
On Tuesday, a more widespread occurence of possible storm cells appears in the 2-5PM period. We will need to look at that again tomorrow as these kinds of forecasts often change.
New Air Quality Monitor!
That little roundish thing attached to my roof deck railing is the PurpleAir Air Quality Monitor I just received! You can see the raw data on their website for now. https://www.purpleair.com/map I will be adding this data to my current weather stats on the side and homepage over the coming days and weeks.
These devices started appearing on the market a few years ago. I was on the ACRD's Air Quality Council at the time (you might have seen me at their booth at the Fall Fair on Saturday). These are consumer grade devices, so they are not as high quality as the sensors that the B.C. Ministry of Environment and Climate Change use in their network.
However, they are comparable, and researchers at UNBC have deduced a formula that corrects the data from the PurpleAir sensors and created a map that has includes both Ministry and PurpleAir sensors on one map using the same measurements. Hooray for Science! My station has not appeared there yet but hopefully it does soon. http://weather.unbc.ca/aqmap/
Happy Monday!