Campfire ban lifts Thursday – 43 Years of Salmon Festival Weather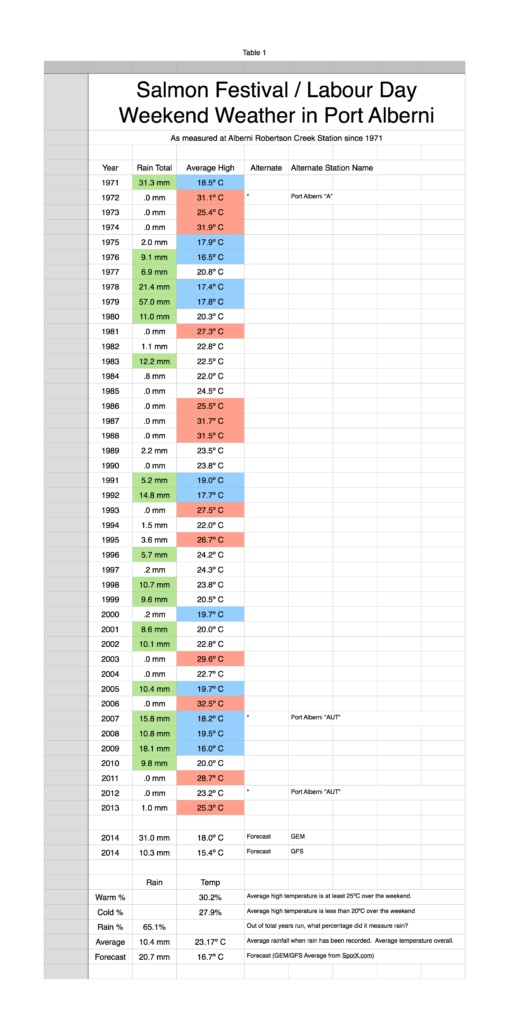 Two things seem sure in life, good things must come to an end, and the weather must always be iffy, if not downright soggy for Salmon Festival/Labour Day weekend.  And now I have the stats to prove it!
I will update again on Friday, but as of now, it's looking like the gorgeous summer weather will end today and rain will invade starting Saturday. It's not all bad though, fish like rain right? Plus, the forecast has encouraged the Coastal Fire Centre to lift the campfire ban at noon on Thursday.
Today (Wednesday)
Soak it up. The sky is clear and sun will be warm once it gets over the mountain.


I took my pair of very sleepy children out to the lake last night to see the stars and Milky Way. It was a perfect night for it and they were suitably impressed even though the light from the City still washed it out a bit.
Thursday/Friday:
We are looking at a transition to a cooler and wetter mode. We should cloud over Thursday and by Thursday night and Friday morning we may very well get some rain.
43rd Salmon Festival! – Stats say yup, it's usually a little soggy.
I will get into more detail on the actual forecast on Friday when things are more settled in the models but it looks like we are in for periodic rain showers Saturday, Sunday and Monday.
And unfortunately this is pretty typical!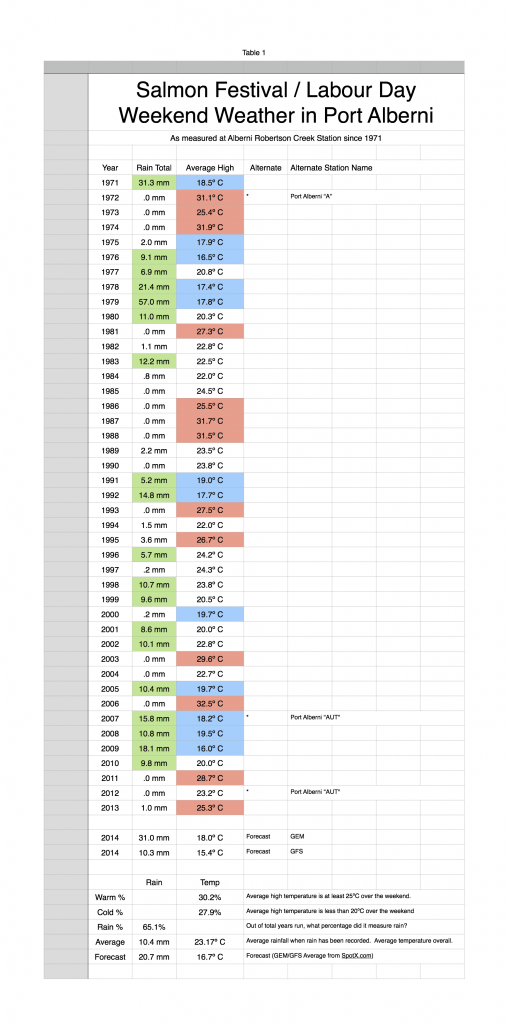 I've compiled the stats for the Labour Day weekend rain totals and average highs over the 3 days since the Salmon Festival started in 1971.  Here are the results!  There has been rain measured during the weekend nearly two thirds of the time and when it does rain it's not a small amount… over 10mm.  You'll notice that. 🙂
The good news is, the average high temperature isn't bad… 23.4ºC.  It is still summer after all.  The warm years have won slightly (30% over 25º)  over the chilly low years (28% under 20º).
That said, the die may have already been cast for this weekend and the forecast looks sure to add to the 'cool and rainy' columns than the warm and dry.
No matter what though, it will be a fun weekend.  Good luck out there!