Updated 1:35PM – California and Oregon Smoke has moved in. Record heat yesterday.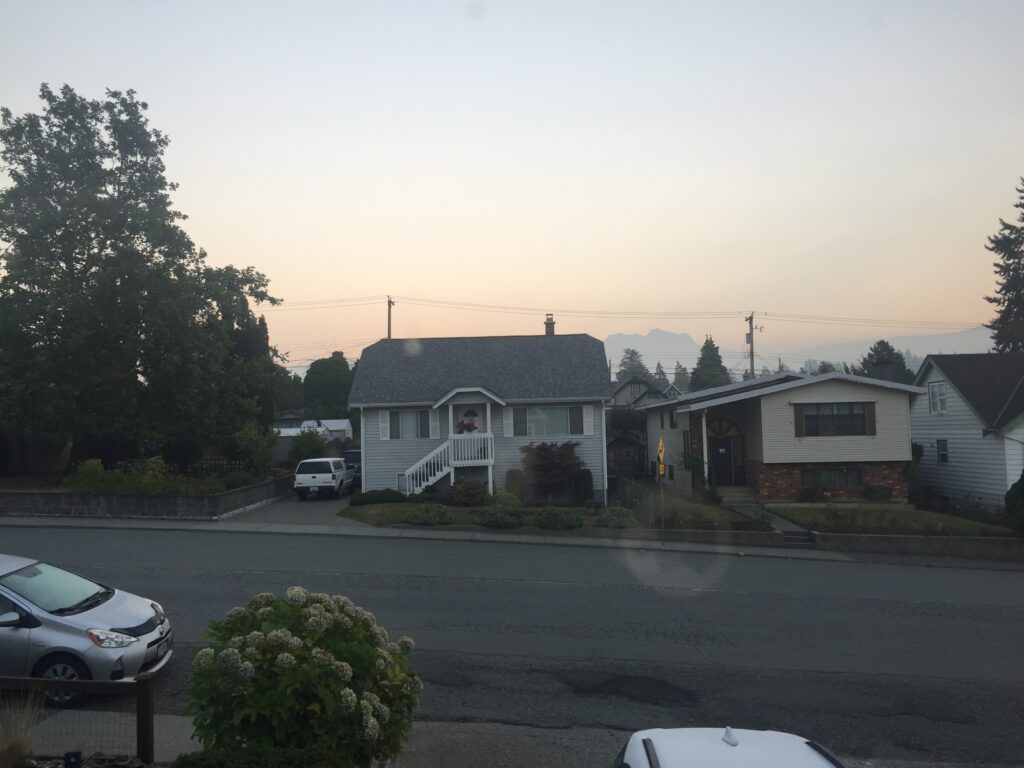 Bad Air settles in overnight.
A last update before midnight. It's bad all over the Island. Downtown Victoria and Port Alberni are currently the worst though. Both at over 150ug/m3
1:35PM Smoke has moved up the Island
The smoke has pushed north as the day has drawn on. There is no chance of us hitting our forecast high of 30ºC either. The blocking effect of the smoke is simply too strong.
Updated Air Quality Statement expects smoke worst on Sunday.
Environment Canada has expanded its Special Air Quality Statements. You can see them at the link in the box at the top of the page or I've pasted most of it below:
—–
1:05 PM PDT Friday 11 September 2020
Special air quality statement in effect for:
Inland Vancouver Island
Smoky Skies Bulletin – September 11, 2020
The Regions of BC highlighted on the map are being impacted or are likely to be impacted by wildfire smoke over the next 24 to 72 hours. The bulletin has been extended to include more regions over the weekend. Smoke impacts due to long-range transport from wildfires in the western United States have already been observed in some areas of Vancouver Island, the Lower Mainland, and portions of the Interior. Smoke forecast models indicate the potential for a significant push of smoke into BC throughout the weekend. The anticipated smoke trajectory indicates that the areas impacted will grow to the north and east as the weekend progresses with the most widespread impacts expected on Sunday. Areas at higher latitudes, such as Prince George, may have smoke passing through the region aloft. With falling temperatures overnight, temperature inversions in mountain valleys can increase the likelihood of smoke being trapped near the ground. Localized impacts from the Talbott Creek, Woodbury Creek, and Doctor Creek fires continue to be expected.
—
Updates with pictures from contributors:
Original Post
You'll want to keep yourself indoors as much as you can today in the Alberni and Cowichan Valleys especially as smoke has settled into the Valleys on the Island and is producing very poor air quality and hazy skies.
Click on the image to go to the current map. I recommend everyone use this to see current AQ readings as it takes both Ministry and consumer (PurpleAir.com) sensors and displays the corrected/equivalent data.
It appears that most East Coast areas north of Duncan are ok, but reports from the West Coast, where there are no AQ sensors currently are that they have a combination of smoke and fog.
The light keeper at Lennard Island (near Tofino) said this morning that multiple light stations have been reporting smoke this week.
The fire smoke.ca forecast has a large mass of smoke lingering off the West Coast of the Island all day.
I'm waiting for visible GOES17 satellite imagery to update so that we can see what it actually looks like out there. It should come in an hour or so.
Hot Record Yesterday
Oh ya! Speaking of things on fire. It felt like the air was on fire yesterday! We got up to a high of 34.8ºC here at Alberniweather and 33ºC at the Airport. Good enough for a new record at the Airport.
Notice the Humidex made it feel like 38.9. That's an uncomfortable level of heat according to Environment Canada.
Range of Humidex: degree of comfort

20 to 29: Little discomfort
30 to 39: Some discomfort
40 to 45: Great discomfort; avoid exertion
Above 45: Dangerous; heat stroke possible

An extremely high Humidex reading is any reading over 40. In such conditions, you should reduce all unnecessary physical activity. If the reading is in the mid to high 30s, then you should tone down or modify certain types of outdoor exercise, depending on the individual age and health, physical shape, the type of clothes worn and other weather conditions.

EC September 2020 https://www.canada.ca/en/environment-climate-change/services/seasonal-weather-hazards/warm-season-weather-hazards.html#toc7
Forecast remains warm, but some showers coming Monday. Smoke will determine heat.
Expect us not to reach our slated highs if the smoke persists through the afternoons. It is difficult to predict when and where the smoke will drop but expect there to be a chance of smoke until Monday morning when we are still expecting a rainy front to move through. That should clear things out again.
Have a great Friday and weekend and stay safe. If you have pictures you'd like to share don't hesitate to email them alberniweather@gmail.com , put them in comments here, or send them to me on twitter or by text 250-731-7930.