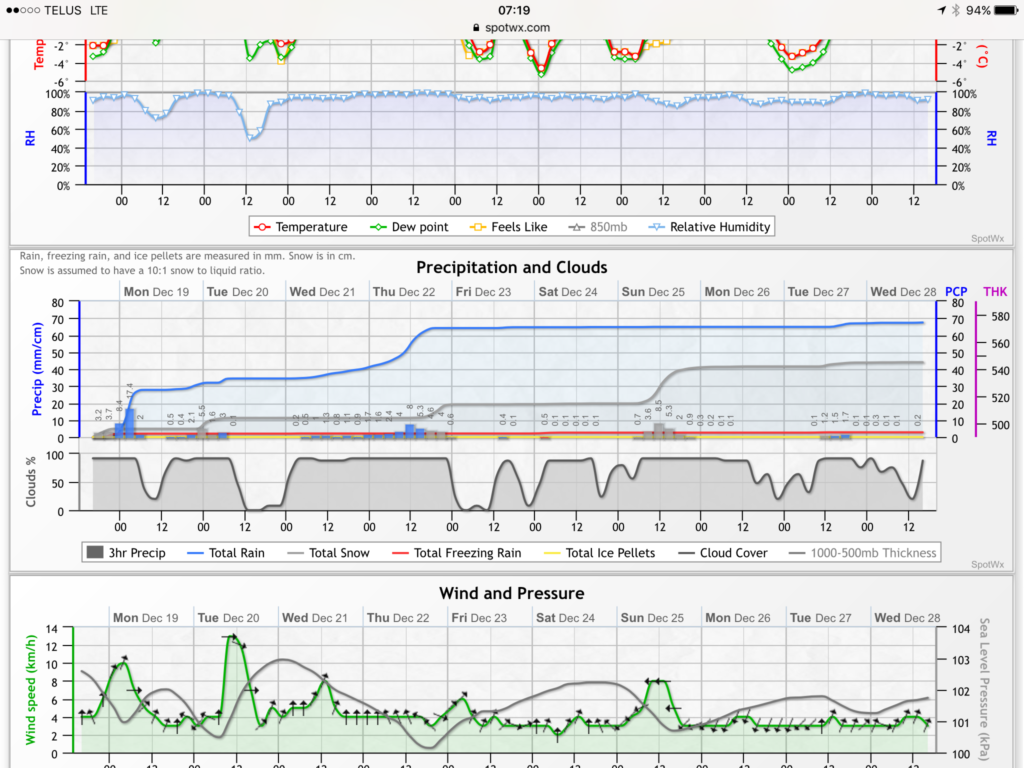 The snowfall warning yesterday was a bust. The Arctic just wasn't strong enough over the South Island and much of the precipitaiton during the day focused on Metro Vancouver.  There is over 40cm of snow in some parts of Surrey!
We will now transition to a wet and possibly windy pattern this week.  The rest of the snow piled up around town should be gone completely by Friday.
Stormy Monday night and Tuesday
We ahould stay dry on Monday and it should get up to a very pleasant 7 °C or so. It will feelmlike spring!
The rain will return after 10PM Monday night.
The storm is forecast to deliver about 15 mm of rain in 24hrs up to 4pm Tuesday.  With most of that falling overnight tonight and into Tuesday morning.
There is also a chance for some wind, mainly on the East and West Coast of the Island of course.
Gusts are forecast up to 65knots (brown) or 110kph early Tuesday morning. This will probably affect ferry schedules in the morning as well.
Looking further out to the end of the week, there are a few other rainy patches on Thursday or Friday but the weekend looks dry at least for now on the UWash models.
There were hints of maybe some rain or snow falling Christmas Eve or Day but only the Canadian long range model has that possibility now.
Who knows though, we can always hope 🙂
Happy Monday!