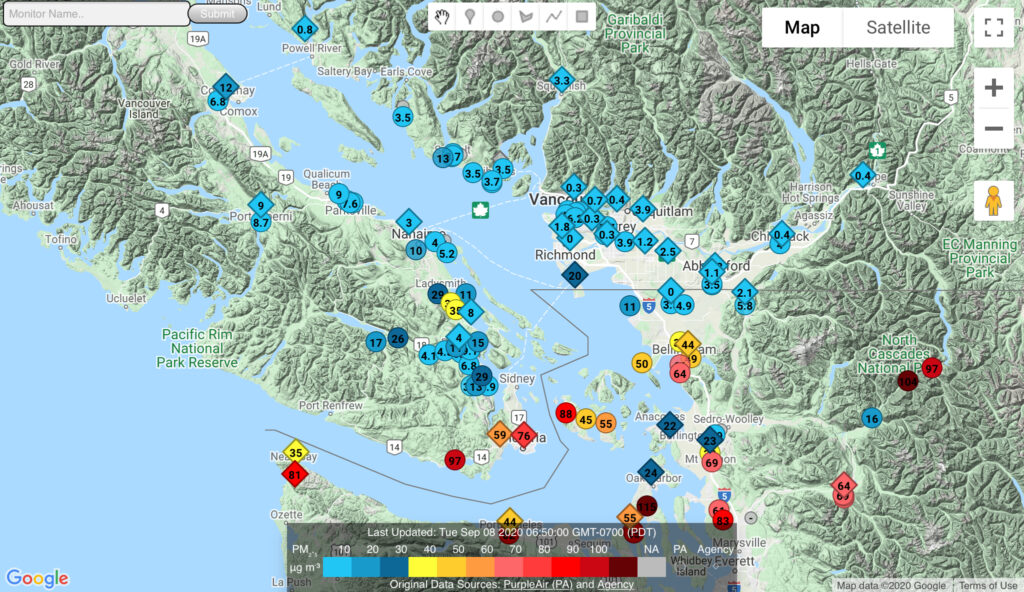 Update 12:30PM – Smoke encroaches.
The smoke has come into the Valley.
This is a snapshot of the graph, the updating graph is on the front page. We should see our values go up in the next hourly update at the UNBC page as well.
Update 11:40AM – Air Quality Advisories issued
Environment Canada has now issued Air Quality statements for much of Vancouver Island, including Central areas. Even though smoke has not yet reached Port Alberni, many areas of the South Island, East Coast and West Coast are covered in thick haze.
Best to stay inside if you can if you are in these areas and have breathing problems.
Special air quality statement in effect for:

Long-range transport of wildfire smoke from the United States has impacted air quality levels throughout much of southern BC including the Island, coastal mainland, the Okanagan, as well as the Kootenays and boundary. Localized impacts in the East and West Kootenays are expected from the Doctor Creek and Talbott Creek wildfires.
Update 11:14AM
The smoke is staying south of the 49th parallel but it is filling the Cowichan Valley and other points on southern Vancouver Island. If you're in Tofino, Ucluelet, or Bamfield, let me know what you see. Leave a comment here or reply @Alberniweather on Twitter.
Here's the UNBC link.
The Satellite animation this morning is pretty surreal.
Update 8:40AM
The poor air quality is very gradually reaching north. Can see values now increasing in the Cowichan Valley. Keeping an eye on it here:
Original post: Back to Work/School!
Hope everyone had a great Labour Day Weekend! Now it's back to school and work. What's the forecast? It is pretty easy. It will stay dry, sunny and hot through this week. There are some clouds rolling through on the weekend but they will be rainless and we should go back to sun after that.
Washington Smoke coming West and North.
This morning (Tuesday) there is some serious smoke moving out from the interior of Washington State all the way to the coast. Here's an image from the National Weather Service in Seattle.
The smoke has reached across the Juan de Fuca straight into Victoria as well.
We can see the smoke on the AQ sensors as well thanks to the UNBC map
We'll see if the smoke comes up this way. If you're in Port Alberni, look for the haze to come up the Inlet or over Mt. Arrowsmith.
COVID continues to rise
There has been no stopping the rise in COVID cases. Over 100 more on Friday. Today's update will be critical to see how we are at the start of the school year. Stay safe out there, have your masks, and keep your distance.
Take care.