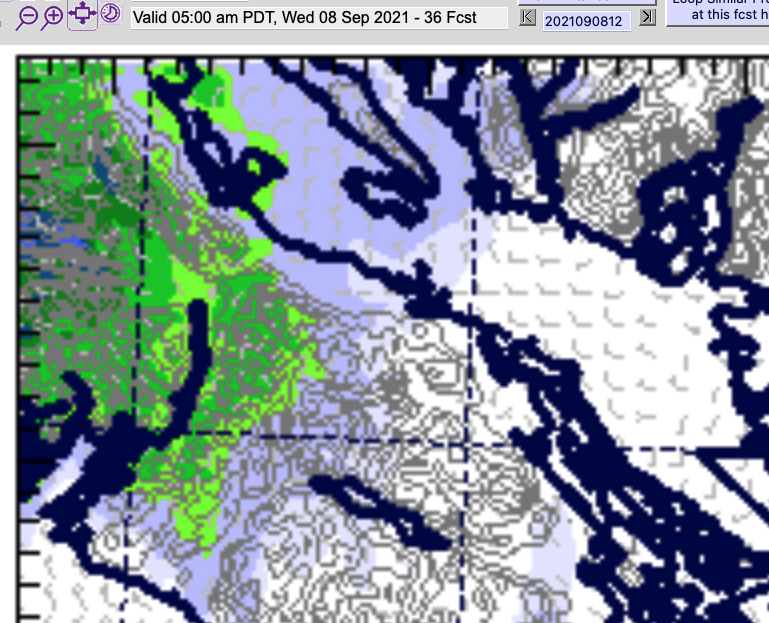 It's the first day back to school! I'm also back at VIU and having people in a classroom for the first time since last March! It's weird!
Warm week for Fall Fair
It will feel hot today as we get up to 28ºC and it might feel more like 30. Today will be the hottest day of the week. We'll cool off a little in the next couple days and might even see some showers on Wednesday and Thursday before it gets sunny and warm again for the Fall Fair weekend.
Showers Wednesday/Thursday Timing
Showers begin to roll in overnight on Tuesday. Here's the 3AM picture Wednesday morning. The West Coast gets the brunt of it, but showers will creep into the Comox and Alberni Valley as well before sunrise.
Rain is slated to begin in the 5AM hour in Port Alberni and Courtenay.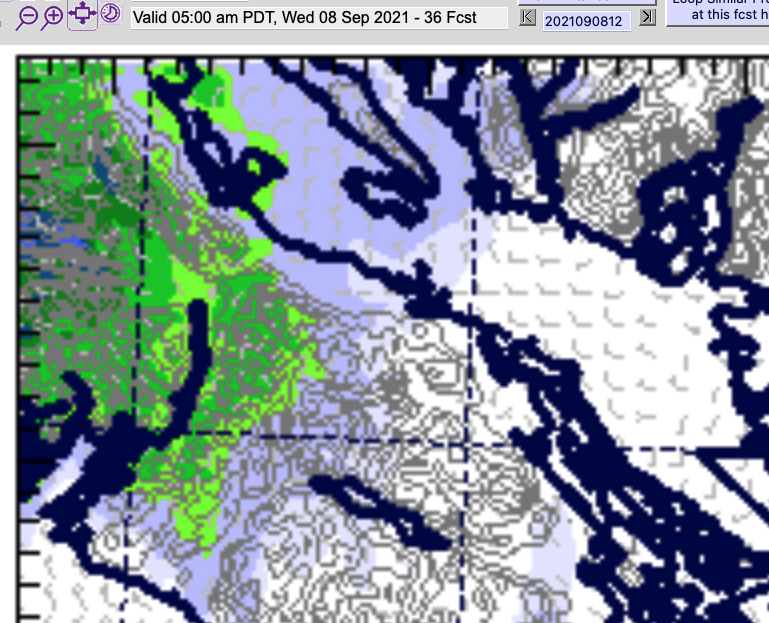 However, the rain is short lived and focused only on Port Alberni and points north. Nanaimo, and points south will likely stay dry. The picture below shows the rain starting to taper off and pull away to the north. It will be mostly dry for the rest of the day on Wednesday.
On Thursday there is much less precipitation in the forecast with only weak bands of showers stretching over the west and central areas of the Island starting Thursday morning. There will be random pockets of showers all over the Island for the entire day.
Improvements/Fixes to the Data displays.
After some prodding to the developers, the wind and barometer displays in the "Full Data" view are fixed up. Both were conversion issues and not actually bad data so thankfully no repairs are needed to the data itself. The display should default to "Canadian" units (ºC, kph, kPa) but you can always choose the units you'd like to see in the data view by going to the Data View page and using the menu in the top right corner.
Webcam Live feed back online – Working on Images – Sutton Pass still offline
Youtube removed the ability to automatically trigger a live broadcast, so unfortunately I have to trigger it every day. There is an issue with the still webcam image that I'll be working on this week. I also noticed the Sutton Pass webcam is still not back online. Hopefully the Ministry gets on that before winter!
Happy First Day Back to School!!