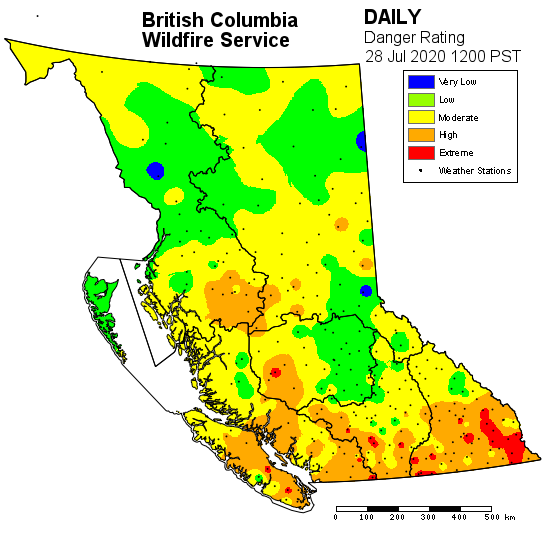 The clouds cleared overnight and the heat will move back in quickly today. The forecast yesterday was for temperatures to get up to 35°C Thursday but that has been cut back to "only" 30°C today and possibly 33°C Thursday.
Temperatures should remain in the high twenties into the weekend with clouds and cooler temperatures returning By Monday.
Island Procession for late firefighter Lt. Suits Wednesday
The family and comrades of Lt. Suits, who suffered a heart attack while working a fire at a barn near Sproat Lake recently, will be retrieving his ashes in Courtenay this afternoon. He will then be taken by Highway 19A and Highway 4 in a SLFD truck in procession.

The Times Colonist reports:
"The procession is scheduled to leave the Courtenay crematorium at 3:15 p.m. and is expected to arrive in the Alberni Valley between 5:30 and 6 p.m., he said."
Please practice social distancing and wear a mask if you are going to view the procession.
Fire Danger hits Extreme
The hot and dry weather has increased the Fire danger rating across the province. The rating in the Alberni Valley is now Extreme.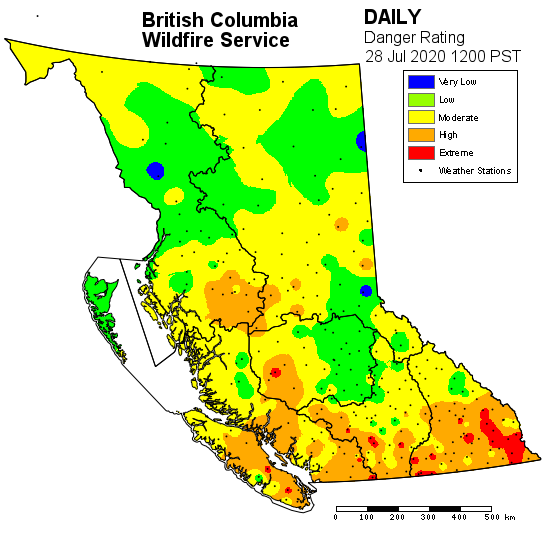 It is High across most of the rest of the South Island.
The rating for Beaver Creek/Alberni Valley is forecast to remain Extreme through August 1st.
Meteor Shower peak
The Delta Aquarids Meteor Shower is at its peak. You should be able to see the meteors as soon as it is dark. I saw a meteor just below the Big Dipper a few nights ago!