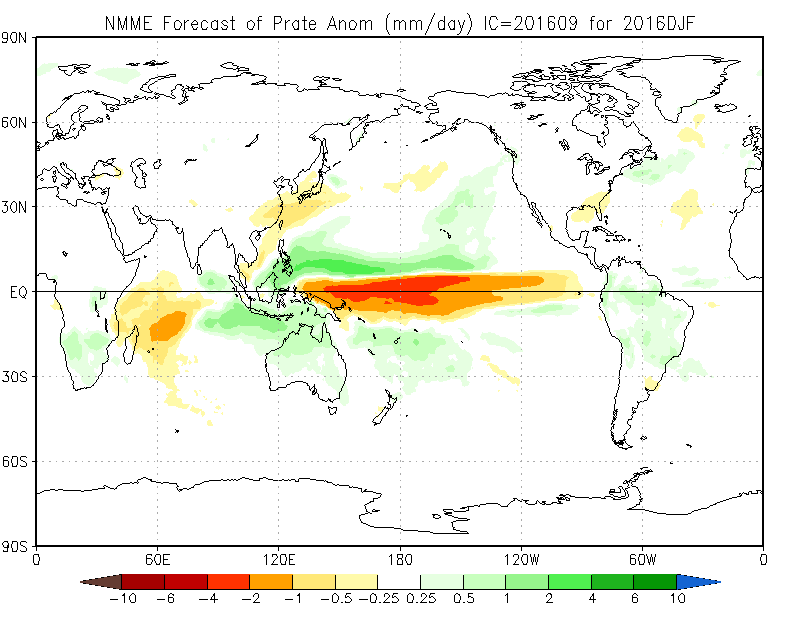 Average July gives way to Hot August.  La Niña fades, and will it be a Stormy, Hawaiian Winter?
After a couple months in June and July that felt quite cool thanks to past years of very hot weather, August returned us to a where we expected to be, with hotter temperatures than historical norms and a five short term records, all daytime highs, broken at the airport.  A couple of those came close to beating all time records but not quite.  No rain or cold temperature records were broken.
Overall, the averages were warmer than normal at the Airport by about 1ºC.  We received about 75% of our normal rainfall for the month and had slightly more days with measurable rain than normal but most were less than 5mm. We had a normal amount of days with more than 5mm of rain.
Below you will find info on continuing drought conditions on the South Island and statistics on the almost completed fire season which is likely to be the 3rd quietest in the past 11 years.
As for the Outlook, the long range forecast hints at rains coming later this month and the seasonal and monthly models are predicting warmer than normal fall and winter with the possibility of it being quite wet and stormy with the Pineapple Express track being highlighted specifically in the models.
The chances of the oceans and atmosphere switching to a La Niña from the strong El Niño last year seems to have faded and we are left in "neutral" conditions which means it is unlikely our weather will be influenced strongly by those weather patterns this fall and winter.
Read on below!
---
Drought Conditions and Angling Closures
This is just a snapshot in time but streamflows have generally improved on the central and north Island but remain low on the South Island.
Last Month
July
The overall Drought Level picture has not changed. We remain in Level 3 Drought condition while the West is in Level 2.
That means there remains an Angling closure on the South and East Island for rivers and streams.
---
Wildfire Situation
I think it is safe to say the wildfire season is officially over.
The Statistics are here to Sept 11, 2016.  There were 1029 fires burning 99,865 hectares including 178 fires burning 195 hectares in the Coastal Fire Centre.  This is compared to 1858 fires in the province in 2015.  Since 2005, only 2005 (976) and 2011 (653 "bummer summer") have had less fires in the province.
Costs for the season have not been released.  They should be ready for the October summary.
Even though we started very early in northern BC this year, overall the season turned out to be much calmer than previous years. A nice rest. I will leave a link to the  National Map as well.
---
16 day Outlook — The Rain is Coming.
Here are the 16-day GEPS consensus graphs from SpotX. The next week looks pretty good… but watch out.  As the month goes on there is an awful lot of uncertainty about us getting a lot more rain!

The Maximum temperatures are definitely starting to slide downward but the minimums are holding pretty steady which would be a function of more cloud cover.
---
El Niño/La Niña Discussion from Sept. 8:
Here is the latest El Niño status bulletin from the NOAA.  We have shifted from waiting for a La Niña to now expecting the neutral conditions to persist.  They reference the NMME three month forecasts that you can see directly below this section as strong evidence of this outcome.
ENSO-Neutral conditions are slightly favored (between 55-60%) during the upcoming Northern Hemisphere fall and winter 2016-17.

Atmospheric anomalies over the tropical Pacific Ocean largely indicated ENSO-Neutral conditions. The traditional Southern Oscillation index and the equatorial Southern Oscillation index were weakly positive during August. The lower-level winds were near average, while the upper-level winds were anomalously westerly in a small region to the east of the International Date Line. Convection was suppressed over the western and central tropical Pacific, although less suppressed compared to last month (Fig. 5). Overall, the combined ocean and atmosphere system continues to reflect ENSO-Neutral.

The multi-model averages favor borderline Neutral-La Niña conditions (3-month average Niño-3.4 index less than or equal to -0.5°C) during the Northern Hemisphere fall, continuing into winter (Fig. 6). However, the more recently updated model runs from the North American Multi-Model Ensemble (NMME) more strongly favor ENSO-Neutral. The forecaster consensus prefers this outcome, which is supported by the lack of significant anomalies in several indicators over the past month (winds, convection, subsurface temperatures). Overall, ENSO-Neutral conditions are slightly favored (between 55-60%) during the upcoming Northern Hemisphere fall and winter 2016-17…
Three-Month N-America Forecasts 
North American Multi-Model Ensemble (NMME) 3-month Temperature, Precipitation and Sea Surface Temperature.
The Temperature anomaly for the next 3 months.
The October, November, December timeframe predicted temperature anomaly continues warm just as the Fall/Sept,Oct,Nov did though it backs off a bit in the Pacific NorthWest region and heats up more in the Arctic/Alaska/Yukon regions of North America.
Previous forecast for Sept/Oct/Nov

Below is the Precipitation Forecast.
The Oct/Nov/Dec period looks markedly wetter throughout BC than the previous forecast for Sept/Oct/Nov so either the dry portion was focused on the earlier parts of September, or the forecast has become generally wetter.  This shift to wetter has been a common theme from the Aug/Sept/Oct forecast as well. Either way, this does lend some credence to the thought brought forward last month that it will be a stormy fall and winter period on the West Coast.
Previous forecast for Sept/Oct/Nov
Previous forecast for Aug/Sept/Oct
Global seasonal forecasts
Global Temp and Precip Spring, Summer, Fall and/or Winter forecast from current and last month runs. Only 1 of 2 seasons are within the forecasts in any given month.
This months forecasts: Fall 2016 and Winter 2016
Winter 2016 – Big Pineapple Express?
Some interesting developments in the Winter (Dec/Jan/Feb) forecast.   There are three past months of forecasts to compare below and they have all trended warmer for the Northern Hemisphere and a weaker (warmer) La Niña area.  But Look at the Precipitation forecasts further below.

Precipitation Forecasts
Look at the area around Hawaii. In each forecast from July to this months, the anomaly toward more than normal precipitation is spreading right along the track of our traditional "Pineapple Express".
We could be in for some big 'atmospheric river' events this winter which could, depending on the overall cold profile, either mean big snow for the mountains or big rain for all.  Time will tell.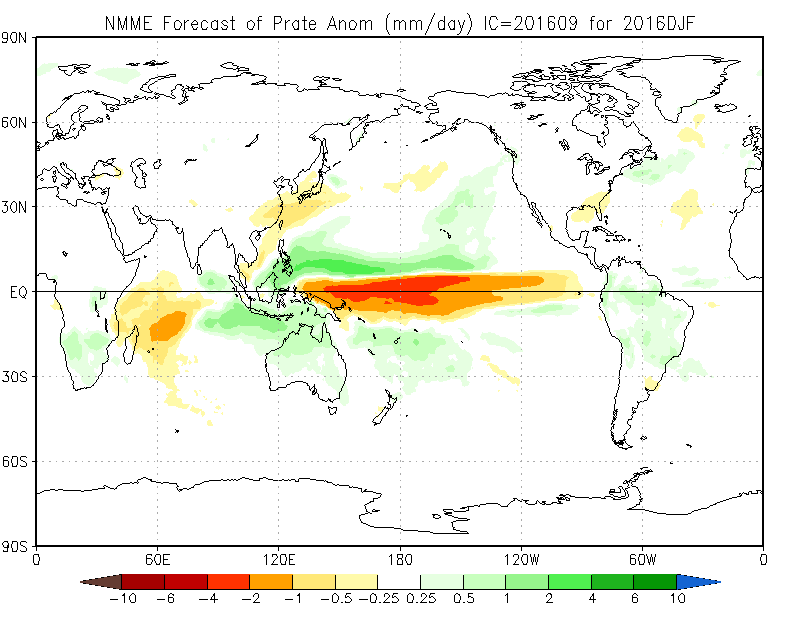 Sea Surface Temperature next 3 months
The last 3 predictions for Sea Surface anomalies show a gradual but brief return of the "Blob" of very warm water to our West.
That's it!
---
Monthly Timelapse Video
Monthly video unavailable see all days here:
https://www.youtube.com/user/alberniweather/videos
---
Daily records set this month at the Airport (and compared to other stations* for "All Time" since 1900)
Five new Airport highs.
*Short Term (since 1995) Airport Records are compared to the 30+ year weather stations of record since 1900 (1895 for rain) at Beaver Creek, Port Alberni "City" and Robertson Creek.  Note that records pre 1950 may be more likely to over-estimate high temperatures.
---
August 2016  

Minimum

, Mean, and 

High

 Average Temp and Total 

Precipitation
Alberniweather: 14.1º C, 20.2º C, 26.9º C, 26.4 mm
Alberni Elem. School : 13.7º C, 19.9º C, 26.6° C, 45.5 mm
Maquinna Elem. School: 14.1º C, 19.8º C, 26.8° C, 38.3 mm
Nick's Station (Maquinna area): 14.0º C, 19.6º C, 26.3° C, 28.6 mm
Neptune Canada Station: 14.1º C, 19.9º C, 27.5° C, NA
Overall City Average: 14.0º C, 19.9º C, 26.8º C, 34.7 mm
Environment Canada Airport* : 11.7º C, 19.7° C, 27.8º C, NA*
Normal 1981-2010 (Rbrstn Creek): 10.9º C 18.5º C 26.1° C 46.4 mm
* Airport Missing one day in report – likely missed significant rainfall.
---
Differences from Normal
City Temperatures:
+3.1° C, +1.4º C, +0.7º C
Official Temperatures:
 +0.8º C, +1.2º C, +1.7º C
City Precipitation:
 -11.7 mm (74.8% of normal)
Official Precipitation
NA

---
Amount : Normal Days : Days This Month
>= 0.2 mm: 7.8 :  12*
>= 5 mm:  2.4 : 3*
>= 10 mm: 1.3 : 1
>= 25 mm: 0.32 : 0
* Assuming >5mm rain on missing 7th according to other stations
---
Comparison to recent months of June at Alberniweather
MOST SIMILAR ALBERNIWEATHER AUGUST TO THIS MONTH? AUGUST 2015