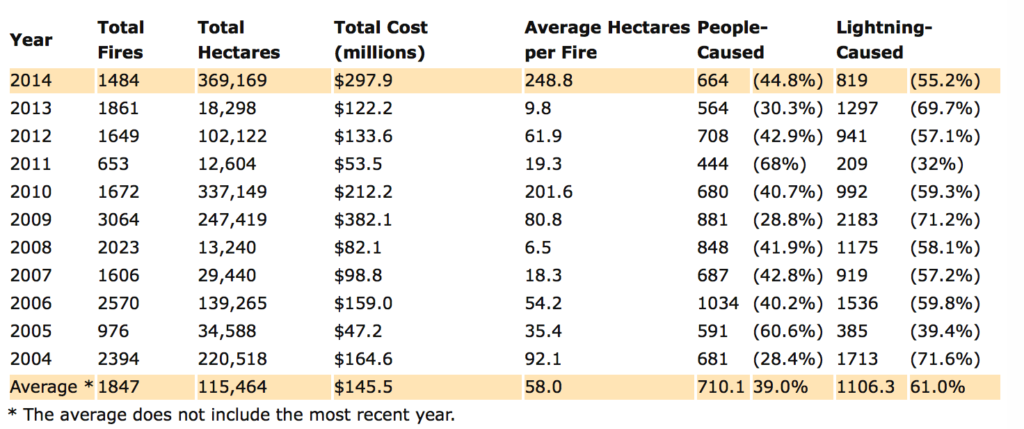 So after a bit of delay due to the insanity of the start of the school year, here is the August 2015 Summary and Outlook for the next few months.
August again was defined by fire, and I have compiled some interesting statistics on that front.  Even though it still felt pretty hot and dry (we set two station day records for heat), we actually had a significant number of days of rain and set 4 station day records including 1 all time record for rain on August 8th.  Ironically, that rain (17.2mm) didn't help the rivers and forests much, but the more persistent and widespread event at the very end of August definitely did.  Overall the Airport received almost double its normal amount of rainfall for the month even though stations in the City received just over half what fell at the Airport.
In terms of temperatures, we were very close to normal for the month, especially at the Airport.  The difference was morning minimums in the City were 2ºC warmer than they were at the Airport.
I'm going to try to get to a little deeper understanding of the storm we had at the end of August to see if we broke any records there but in the interest of time I'll publish this post and then get to it in another post.
---
Fire Danger Drops to Low after a busy month.  Costs per fire explode.
The fire season looks to be over thankfully.  Check out the maps below of the fire danger at the beginning of July, August and September  (click for larger)

What a change.  That said, the month was marked by terrible fires in the Interior as well as Washington State.  Including a fire near Twisp, Washington that killed two firefighters.  The last week of cool and rain has tamped down those fires but this will go down in history as one of the most serious fire seasons ever experienced in British Columbia and Washington State.
The average number of fires in BC over the past 10 years is 1847 and 115,000 hectares burned.
As of September 9th, we have had 1805 fires and over 297,000 hectares burned.
Interesting that we have had less fires this year, but nearly twice the area burned.  One should question whether that is a question of strategy, or change in fire behaviour.  I am willing to bet it is mainly due to the former.
If you look at the 2014 figures the disparity is even greater with "only" 1484 fires reported but 369,000 hectares burned, the most in the past 10 years.  Below is the list from bcwildfire.ca.
Also interesting is the cost per hectare.  The average is $145.5 Million/115,464 hectares = $1,260 per hectare and $78,776 per fire. The cost in 2014 when the largest land area was burned to date? $806 per hectare but over $200,741 per fire.  If we look at the worst year on record for number of fires, 2009, we see a cost per fire of $124,706.
Interesting statistics.  Perhaps it is difference in fire location and behaviour that skews the number but in general they would still indicate to me that we are spending significantly more per fire but far more land is being burned.
The cost this year so far is unknown.  It was said to possibly be able to exceed $300 Million which would put us in the same cost per fire range as 2009 and 2014 ($166,000).  We will have to wait for the final tally.
---
August Arctic Ice Decline Steady – Heading to 3rd or 4th lowest minimum.
From the National Snow and Ice Data Centre summary released on September 2nd.
August saw a remarkably steady decline in Arctic sea ice extent, at a rate slightly faster than the long-term average. Forecasts show that this year's minimum sea ice extent, which typically occurs in mid to late September, is likely to be the third or fourth lowest in the satellite record. All four of the lowest extents have occurred since 2007. In mid-August, Antarctic sea ice extent began to trend below the 1981 to 2010 average for the first time since November 2011.
The sea-ice tracking lower than 2 standard deviations below the average which in statistical math-land (That's a real place!) means it is definitely unusual.
The current rate of decline for August ice of 10% per decade.
---
Some Water Returns to the Rivers.
The late month rain allowed the River Forecast Centre to end its low-flow stream advisory for the Stamp on September 2nd.  Looking around at our various streams, there is obviously more water in them now than just a few weeks ago and Sproat Lake is definitely higher as well.  No change in Water restrictions yet but hopefully we are headed in a good direction.
---
El Niño update
The latest El Niño forecast was released July 9th. The confidence for the El Niño conditions to last through fall and winter has increased from 90% last month to 95% now.
There is an approximately 95% chance that El Niño will continue through Northern Hemisphere winter 2015-16, gradually weakening through spring 2016.
In August the forecast said:
…. There is a greater than 90% chance that El Niño will continue through Northern Hemisphere winter 2015-16, and around an 80% chance it will last into early spring 2016.
So the chances of El Niño have only grown.  But it is slated to back off by Spring
these atmospheric and oceanic features reflect an ongoing and strengthening El Niño.
So what does that mean for our weather?  Since we know that El Niño's can affect our weather quite a bit?
Across the contiguous United States, temperature and precipitation impacts associated with El Niño are expected to remain minimal during the early Northern Hemisphere fall and increase into the late fall and winter.
Check out the long range models from IMME below to see a little more detail.
---
Outlooks — September Looks Cooler, Pulses of Rain. 
Here are the 16-day graphs for September:
After this week we look to maybe get back into a rainy pattern with waves coming through every few days.  This will definitely keep our temperatures down.  It doesn't look like a forecast for a late shot of summer but the rivers and forests will appreciate it.
Three-Month Forecasts remains Warm with normal Precip.
NMME 3-month Temperature, Precipitation and Sea Surface Temperature
Here was last months forecast for the three months of August, September and October.
And here is this months forecast of the October, November and December period.  It is rather stunning to see the entire country of Canada under a blanket of 2ºC above normal temperatures.  This does not bode well for the snowpack in our area.
Here is last month's Precipitation Anomaly forecast for the period of August, September and October.
And here is this months forecast for the October, November, December forecast.
The news here is slightly better.  We have moved away from our very dry forecasts to a near normal situation.  It is interesting that California is now predicted to have normal precipitation even though El Niño is in full force.
Below is the same side-by-side for Sea Surface Anomaly from last months model run looking at August, September, October and this months run looking at October, November, December.

Three things to notice:
#1:  El Niño is predicted to be obvious and strong generating sea surface temperatures 3ºC above normal or more along the Equator.
#2:  "The Blob" of warm water is predicted to continue to sit off the shores of the Pacific Northwest and not change much.  This is likely what is bringing our predicted warmer than normal temperatures.
#3:  The only place as abnormally warm as El Niño is the Arctic Circle.  That is not a good thing as ice remains scarce and thin.
That's it!  Check the data for the month is below!
---
Monthly Timelapse Video
I got a replacement for my second camera this month and I also got new lens attachments that give a super-wide angle view (and also a kind of a 'goggle' view).  In time I'll be repositioning one or both of the cameras so that they each provide a unique view of the landscape.
 Pssst: Switch it to HD. 🙂
---
Daily records set this month at the Airport (and compared to other stations* for "All Time")
Two new Airport high temps, 4 new rain highs, 1 new all-time day rain record.
August 4 rain 6.8 mm : #1 is 28.7 mm in 1934 at City of Port Alberni.
August 8 rain 17.2 mm: ALL TIME RECORD FOR DAY #1 was 16.6 mm in 1992 at Robertson Creek. 
August 12 high 34.6º C: #1 is 38.3º C in 1920 at Beaver Creek.
August 18 high 33.2º C: #1 is 41.1º C in 1908 at Beaver Creek.
August 29 rain 27.8 mm: #1 is 76.0 mm in 1991 at Robertson Creek.
August 30 rain 10.2 mm: #1 is 37.8 mm in 1961 at Robertson Creek.
*Short Term Airport Records are compared to the 30+ year weather stations of record since 1900 at Beaver Creek, Port Alberni City and Robertson Creek.
---
August 2015  Minimum, Overall and High Daily Average Temps See last month's and last August's summary.
Alberniweather: 13.6º C, 19.7° C, 26.6º C
Alberni Elementary School : 13.1º C, 19.4º C, 26.1° C
Maquinna Elementary School: 13.5º C, 19.3º C, 26.2° C
Neptune Canada Station: 13.8º C, 19.4º C, 26.6° C
Overall City Average: 13.5º C, 19.5 C, 26.4º C
Environment Canada Airport: 11.0º C, 18.7° C, 26.4º C
1981-2010 EC Normal (Robertson Creek): 10.9º C, 18.5º C, 26.1° C
---
Precipitation for August 2015:
Alberniweather: 40.9 mm
AES: 50.2 mm
MAQ: 32.0 mm
NEP: NA (not measured)
Overall City Average: 41.0 mm
EC: 75.8 mm (Two Days Missing)
1981-2010 Env Canada Normal (Robertson Creek): 46.4 mm
---
City Stations Temperature Difference from normal:
+2.6° C, +0.8º C, +0.3º C
Official (Airport) Temperature Difference from normal:
 +0.1º C, +0.2º C, +0.3º C
City Stations Precipitation difference normal:
 -5.4 mm (88.4% of normal)
Official (Airport) Precipitation difference from  normal:
 +29.4 mm (163.4% of normal)

---
NEW: Days of Precipitation for August 2015 (As recorded at Airport*).
>= 0.2 mm:  Normal: 7.8 : This Month: 10
>= 5 mm:  Normal: 2.4 : This Month: 4
>= 10 mm: Normal:  1.3 : This Month: 3
>= 25 mm: Normal:  0.32 : This Month: 1
*Denotes incomplete data for the month
---
Comparison to recent August's at Alberniweather (unless specified)