Alternating Rain and Sun. And the Blob in 100 years of data.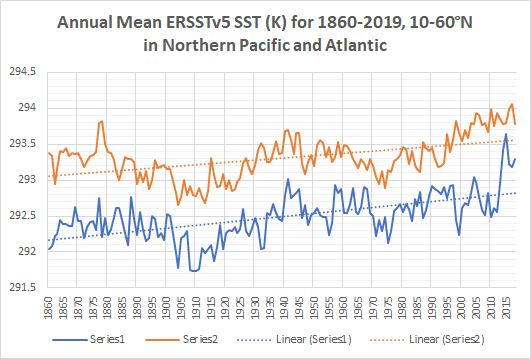 Monday rain ends tonight.
The rain will continue all day and should end around sundown tonight. Expect the heaviest rain in the late morning/early afternoon.
Totals aren't big for the Alberni Valley, more rain will fall on the east side and especially west side as you can see below.
Nice Tuesday
There is a chance of rain showers lingering on Tuesday but it should clear out and we should see some sunshine similar to Sunday.
Rain returns Wednesday evening
Most of the day looks dry on Wednesday but rain might move in later in the day but goes away overnight. Thursday looks nice!
The blob in data.
There was an excellent thread by meteorologist Anthony Masiello where he provided this chart. It is average ocean temperatures (292 Kelvin = ~18.8ºC) since 1860. The North Pacific is blue, the Atlantic is orange.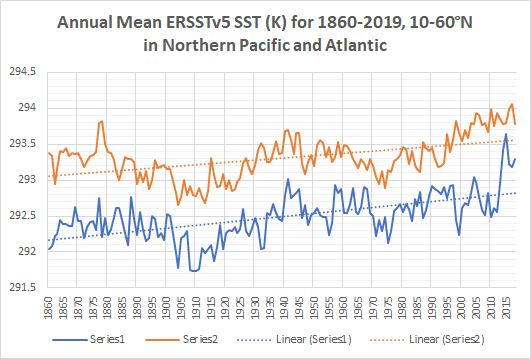 Two important things to notice:
1) the data is quite variable year to year but the dotted trend lines show clear overall warming.
2) the very high spike in the North Pacific data in 2015 was "the Blob"
The blob has returned in 2019. This will accelerate the overall warming trend.
Here is his tweet where you can dive into the whole thread. It's very informative.
Bonus data. Visualizing rising temperatures.
I love this animation! The tools we have to 'see' data are truly amazing.