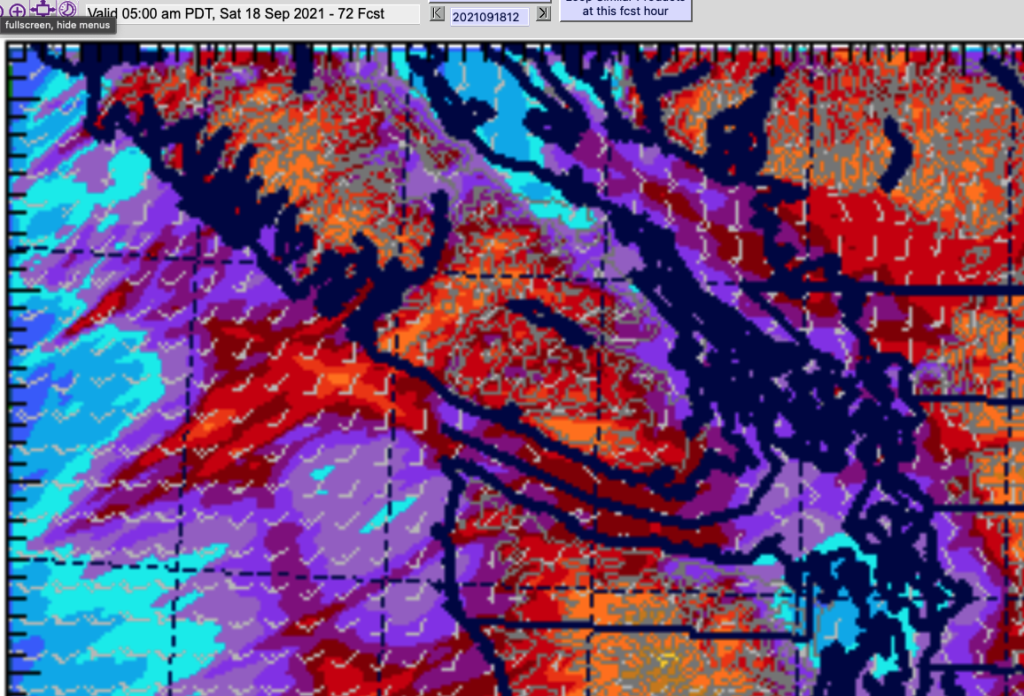 Did you hear the Thunder? Have you seen any frost?
The equinox is at 12:21PM (PDT) on September 22 but it is definitely feeling like fall already!
It has been a very interesting 48 hours! On Wednesday we had a strong surprisingly strong build up of a cumulonimbus cloud over the Valley and it delivered a lightning strike just south of the City. I got multiple reports of people hearing thunder and there was a little rain associated with it too.
It looks like the same type of thing developed near Cowichan Lake as well. But it was all short-lived.
The clouds cleared rapidly in the late evening and it got chilly fast.
It quickly dipped to our lowest temperature of the late summer and kept dropping overnight.
We bottomed out this morning at 4.9ºC in the City but just 1.3ºC at the Airport! There could definitely be some frost around.
We will rebound nicely today though as we get clear skies for most of the day. Expect a high of 18ºC.
Rain on the way.
Environment Canada is predicting up to 50mm of rain in the next 24 hours. That's more than we've had for a number of months obviously. So you might want to spend the afternoon making sure your downspouts are attached and clear and all the stuff in the yard is put away!
Here's what it looks like on the model. These are totals for three hour periods starting at 8-11PM Thursday night and ending Saturday 2-5AM. We move from light drizzle spreading over before midnight to real showers in the 2-5AM hour.
You can click each frame for a larger picture. The strongest rain in Port Alberni looks set for 8-11AM period and the 5-8PM period on Friday.
Big totals
As you can see from the progression above, the rain will begin overnight on Thursday. It is predicting 2.5-5mm of rain (dark green) to have fallen in Port Alberni by 5AM Friday. More like 8-13mm on the West Coast.
The 24 hour period from 5AM Friday to 5AM Saturday will be very wet indeed.
Expect 25-32mm of rain through the day and overnight in Port Alberni on Friday. On the West Coast it looks like up to 40-50mm. On the East side of the Island some may only see 10-20mm in the rain shadow of Mt Arrowsmith and Beaufort range. You can see that rain shadow as the light blue area in the top middle of the picture. That's why Parksville and Qualicum stay relatively dry!
The folks down at Fair Creek are going to get drenched with up to 100mm of rain there as well as near Anacla, Bamfield and Ditidaht.
Rain lingers Saturday and Sunday
Pockets of unstable rain lingers on Saturday and into Saturday night as you can see from this image. There will be scattered showers all over the region. So prepare for a rain shower at any time Saturday and into the evening.
It starts to dry up on Sunday but there is still a chance of rain, particularly in the afternoon when a very brief shower looks ready to pop up across the Island.
Mid-week another rain event
We'll dry out on Monday and Tuesday but the model has another front swooping down the coast on Tuesday night. So stay tuned for that!
Have fun, and stay dry out there!