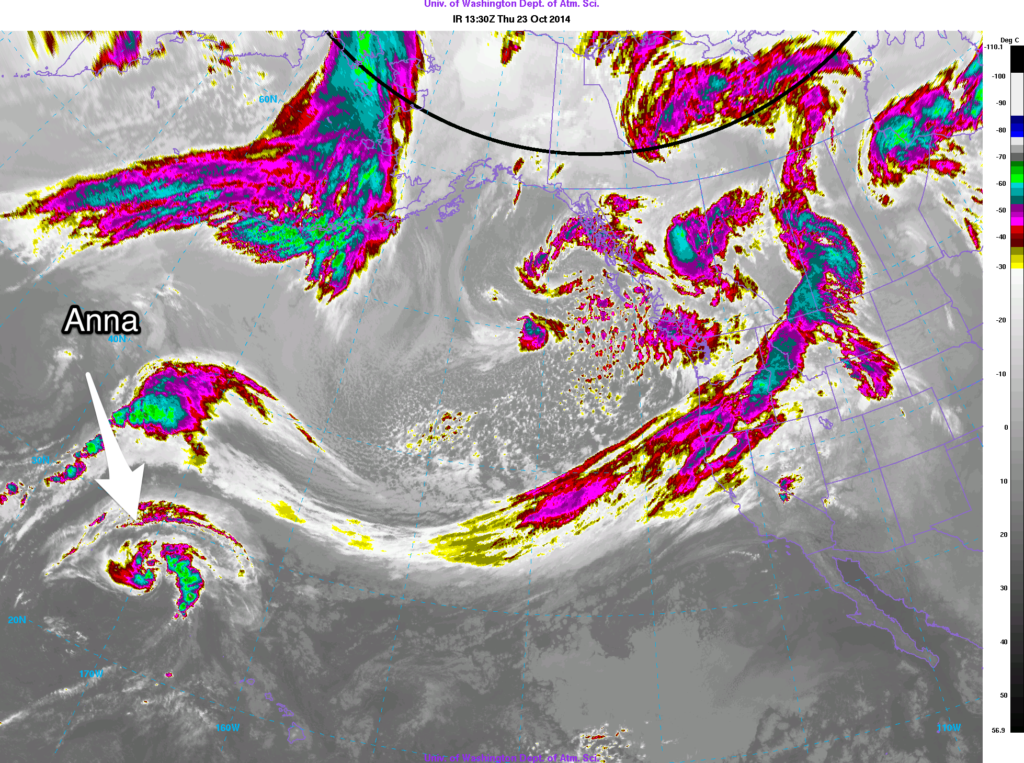 After an exceptionally dry start to Fall last year, the pendulum has swung back. In only two days we have received 134.4mm of rain at the Airport. So far for the month the total is 292.4mm. Last October we only got 25mm of rain.  The AVTimes reports today that we set a daily record and the storm caused a mudslide that has cut off Bamfield and Anacla.  But I'll have more on the history of this month next week. For now, we have more rain coming our way.
It is raining right now. Be careful on the roads and highway. There is lots of pooling and running water.
Today
We have already surpassed what the models said we would get. The system is lingering more than predicted.
It should start to ease off by around 9AM but there will be showers all day until sundown when it should be dry for the evening.
A reprieve Friday
The atmosphere looks like it will dry out completely by Friday morning and we should stay dry all of Friday.
We then have a very interesting situation coming at as Saturday.
Saturday rain from the south
Usually our frontal systems sweep rain down from the North or straight in from the West as low pressure centers head up into the Gulf of Alaska,
On Saturday a low is predicted to hit southern Washington State and Oregon and sweep a front up from the south to us.
You can see the low here:


And here is the frontal band zoomed in as it moves up to us.
Hurricane Anna Remnants on Monday night
Finally, to top the weekend off and start the week right, the remnants of Tropical Storm Anna near Hawaii are predicted to get pulled up into our Storm track, which you can see below, and into our area somewhere between Haida Gwaii and Oregon. The models are still jumping around so nothing for sure yet. But the fun never stops!
Current Satellite:

Here is the track from the Central Pacific Hurricane Center:

And here is the forecast from UWash on where it will hit Sunday… Much closer to us. The spin is so tight you can see the centre of the low from Anna in the model itself. It will be short lived, but likely pack a good punch.
Happy Thursday!