A couple more warm days then showers Tuesday night and Wednesday. Also: Measuring Ocean Acidification on Ferries.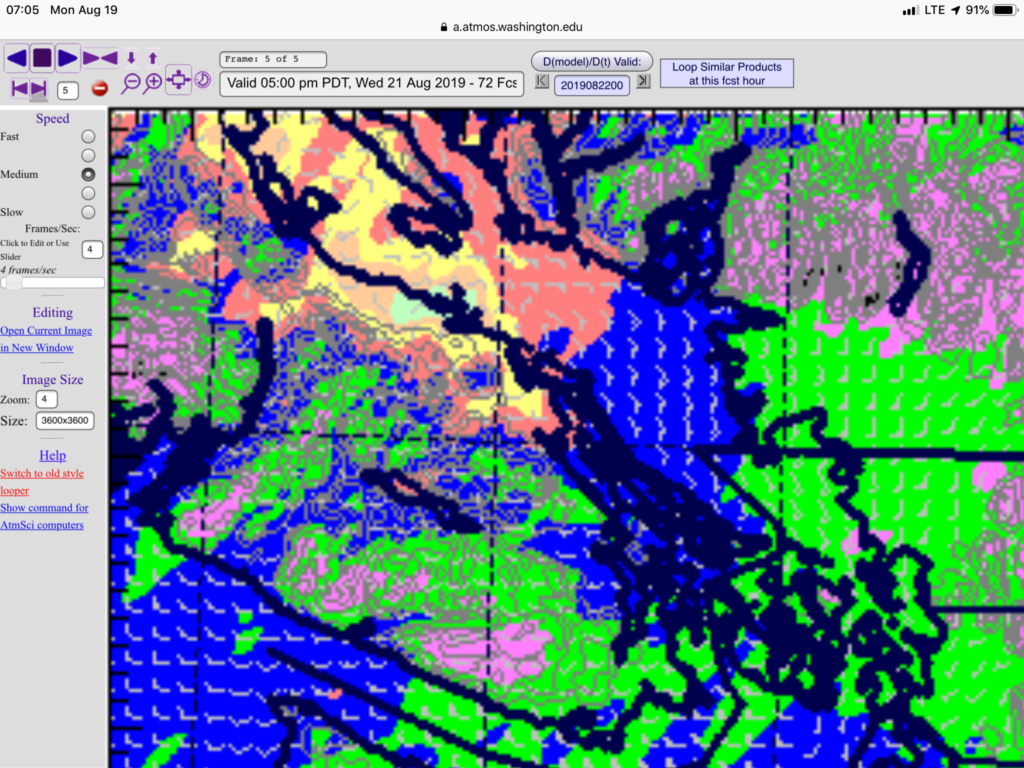 Monday Sunny and warm
I'm back! I took a bit of a break from blogging over the past few weeks…. but I'm back now! 🙂
After a warm but quite blustery weekend (especially Sunday) we will have another nice day on Monday. The clouds should burn off pretty quickly and the sun should get us up into the 26°C range. It may feel a bit warmer with the humidity.
Tuesday clouding over.
Tuesday will be warm as well but you can expect widespread clouds to start to creep into the picture late in the day as we set up for rain on Wednesday night. It will be quite warm and humid on Tuesday again.
The rain is expected to sweep onto the Island in the 8-11PM period. Folks in Port Alberni and points between Bowser and Courtenay can expect 2-4mm before midnight.
Wednesday rain before sunrise. Tapers off by noon for most.
Here is the progression of the system through Wednesday morning.
As you can see in the imagery, the Nanaimo and Cowichan area will receive the strongest rain showers as will Vancouver. We can see this in the cumulative 24hr picture best.
Port Alberni will only get up to about 8mm of rain total. Maybe a little more in select spots but likely less in most places. West Coast will receive 16-30mm with higher totals in the mountains.
The East coast will see very little rain north of Nanaimo except for some patches between Qualicum and Courtenay.
Duncan, Cowichan, and Victoria will all see between 16-30mm of rain which will be good for those dry areas.
Ocean Acidification along BC and Alaska coasts measured on Alaska Ferry.
I read a cool article in Hakai Magazine today about research being conducted using the MV Columbia which makes the journey between Seattle and various points in Alaska twice a week.
As we pump CO2 into the atmosphere much of that CO2 is actually absorbed by and dissolved into the oceans which cover 2/3rds of our planet.
When carbon dioxide dissolves into seawater, it reduces the availability of calcium carbonate, the chemical needed by certain animals to form their shells. Without easy access to carbonate, juvenile organisms need to expend more energy to put on shell. This can compromise their health by making them more susceptible to disease. It can also hinder their growth, an important consideration for shellfish farmers.
Check out the rest of the article here!
Have a great Monday!