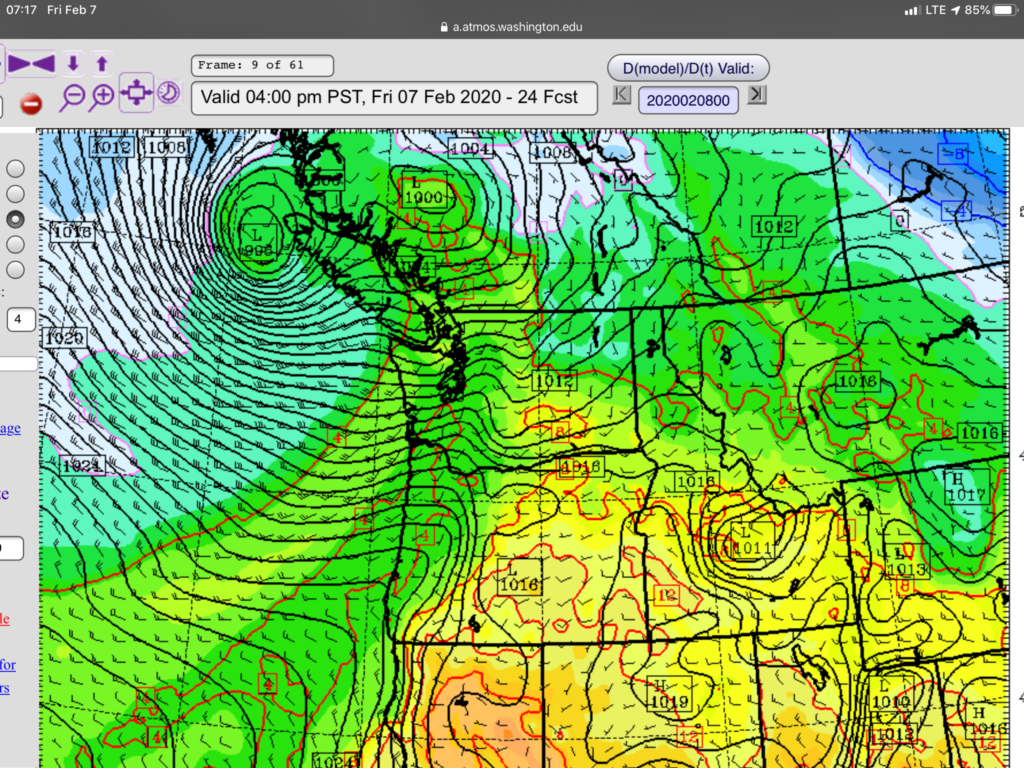 Weird storm drops down Friday night delivering wind and rain.
A strange pattern is setting up as a low pressure centre moves toward the Central Coast.
However instead of moving north and east as is normal for this storm will be following the jetstream south and east along Vancouver Island.
Consequently, the low will produce high winds along the west coast especially for much of the afternoon and night Friday. Wind Warnings and special weather statements are already posted for most areas. (Inland, West Coast, East, Victoria) Expect gusty winds to begin this afternoon. Rain will pick up in front of the storm as well.
The low should be off the northern tip of the Island in the 1-4PM period.
Winds up to 80kph in Gold River and very strong in Port Alberni possible.
The low will scrape along the Island and end up over the Island just north of Gold River in the 4-7PM period. Expect the strongest winds to occur then and there.
The low is forecast to be directly above the Alberni Valley in the 7-10PM period. This will likely be a period of more calm winds as we will be in the 'eye' of the low. Once it clears the mid-Island mountain ranges expect it to move east more quickly and winds will shift around to the northwest.
The good news is that those winds will help clear away the clouds and deliver a nice sunny weekend for the whole region! It will be below freezing again, but overall, should be pleasant in the sun!
Happy Friday!