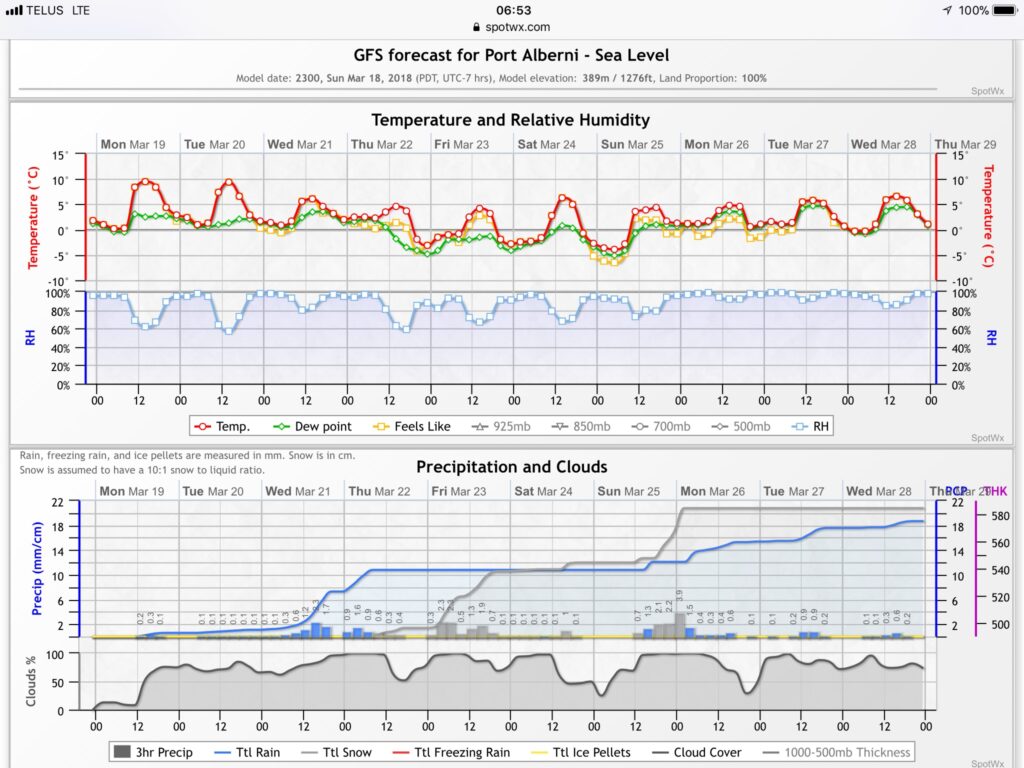 So I did a bit if a double take this morning when I looked at the forecast and models and saw *snow* mentioned!
What I will provide below is a day by day forecast for the next 5 days so you know what might be coming. The main message though is it might not feel much like spring after today!
First, here is a look at the next extended forecast out 10 days.
Unfortunately, today and tomorrow are the warmest in the next 10 days. Then it cools right down and yes… that is snowfall predicted by the end of the week! More on that below!
Monday and Tuesday
We should stay dry today and tomorrow and should crack 9 or 10°C.  I would recommend outdoor activities these days if you are looking for stuff to do. This might be your last chance for a bit without getting cold and wet.
Wednesday
The first day of spring will begin with the threat of rain as mostly moves down from the northwest.
Showers should begin around midday Wednesday.
Thursday
The rain peaks before sunrise Thursday morning and then tapers off during the morning hours.  You will want to hold any outdoor activities to the afternoon on Thursday.
It is also going to feel a lot cooler on Thursday as highs only get to the 5°C range. Bundle up!
Friday – Uh. Snow Day?
This is where things get dicey, cold air may combine with moisture early on Friday morning to produce snow, particularly at higher elevations like the Hump or Sutton Pass. We might even see some wet snow fall in town. I don't expect any serious accumulations.
The picture above is midday on Friday and shows rain possibly mixed with snow at higher elevations all day Friday.
Definitely an indoor day.
That's it for the first 5 days of Spring Break! Have a great time out there!